CBC broadcaster and host of the Early Edition Rick Cluff says he remembers the moment just prior to undergoing open-heart surgery this past June.
"I remember before being wheeled in for surgery I kissed my daughter and wife goodbye," says Cluff. "Because that's the kind of surgery it is, you don't know if you're going to make it."
Cluff spent two hours in pre-op and then underwent 6.5 hours of open-heart surgery, none of which he remembers.
"It was like the snap of fingers later, but it was 11 a.m. Saturday the next day," Cluff told the Courier during an interview at CBC Nov. 27. "And I woke up and felt like someone had shoved a set of barbecue utensils down my throat. But then with one eye I saw my daughter and with the other eye I saw my wife and my first thought was, 'Hey, I made it.'"
Cluff explains he never suffered a heart attack, but instead lived with hereditary heart disease that progressively got worse. Cluff's dad died from heart disease in 1972. As a football player at school, Cluff's heart didn't give him any problems. It wasn't until he reached his 30s that he began suffering chest pains and was diagnosed with angina (pain caused by reduced blood flow to the heart muscle) and supraventricular tachycardia (an abnormally fast heart beat).
Cluff was referred to a cardiologist, and upon further investigation it was decided he should have an angiogram because he had a number of blockages. But it wasn't until several years and angina attacks later that Dr. Jacqueline Saw, an interventional cardiologist at Vancouver General Hospital, implanted a stent into Cluff's chest. A stent is a tube-shaped device placed in the coronary arteries that supplies blood to the heart to keep the arteries open.
Cluff says that stent was implanted in November 2016, but in April 2017 his angina and accompanying pain was back. Once again Cluff met with Dr. Saw, who placed a second stent inside the first in an attempt to clear the blockage. But three weeks later, Cluff was walking up the stairs at his home when the pain returned. This time, Dr. Saw broke the news he needed much more than a stent. After conferring with cardiovascular surgeon Dr. Richard Cook, VGH interventional and structural cardiologist Dr. David Wood and Dr. Saul Isserow, director of the VGH Centre for Cardiovascular Health, it was decided Cluff needed open heart surgery, which included sawing his chest open and paralyzing his lungs and heart for 90 minutes. Unbeknownst to Cluff until later, he endured and survived a quadruple bypass.
"If I had to give some advice, I'd say that old thing, you should listen to your body," says Cluff. "When I was having chest pains I dismissed them and thought it's just indigestion, it will pass. I'm blessed to have the cardiovascular team that I have."
Since the surgery, Cluff has made several lifestyle changes, including attending cardiovascular rehabilitation exercise classes three times a week, watching what he eats, cutting back on his salt intake — and announcing his retirement. (See sidebar below.)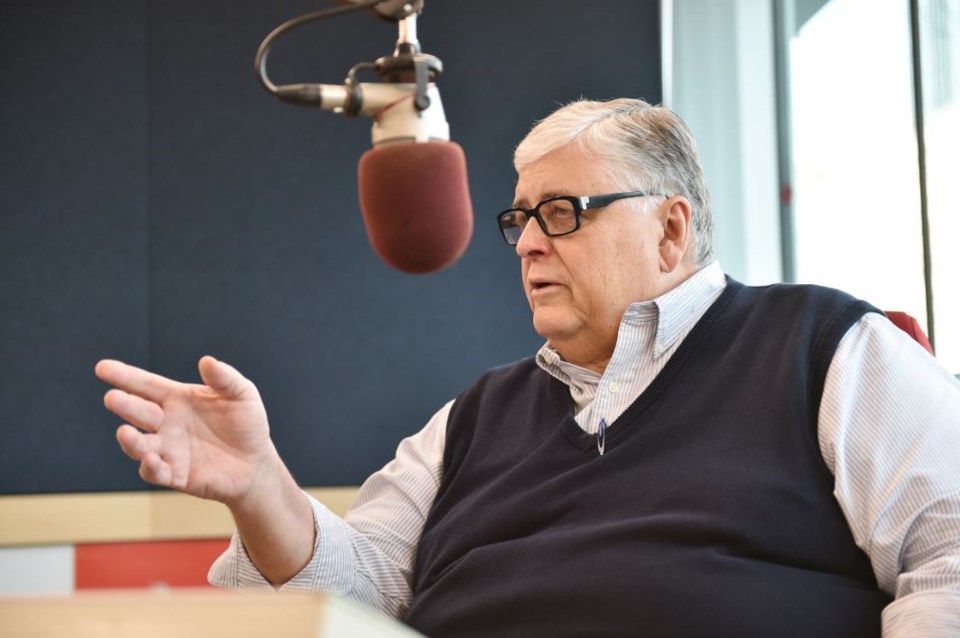 "Thank you for listening."
 "I've had a ball," Rick Cluff told the Courier about his 41-year career in broadcasting. "And I've laughed every day."
Cluff announced Dec. 4 he'll be retiring from the Early Edition and CBC Dec. 22. On that same day, listeners will be invited to share their memories of Cluff and many of those comments will air during the annual holiday request show.
Cluff started hosting the Early Edition in September 1997, leading the show and CBC Radio One to the number one morning program and radio station in Metro Vancouver's competitive broadcast landscape. While with the Early Edition, Cluff and his team received multiple awards for their coverage of local news, including the tasering of Robert Dziekanski at Vancouver International Airport, B.C. education struggles and protests over gentrification.
​Prior to the Early Edition, Cluff's award-winning career with the CBC began in Ontario in 1976 as a sports commentator and reporter. During Cluff's lengthy career, he covered eight Olympic games, five Commonwealth games, Super Bowl games, Stanley Cup runs and several Canada games, as well as various world championship events from the South Pacific to the Arctic Circle.
"It has been a remarkable 41 years with the CBC, but all things must come to an end," Cluff said in a CBC press release announcing his retirement. "It has been both my privilege and my pleasure to be part of your morning as host of the Early Edition. To be invited into so many homes every morning, to be part of your morning routine, to be allowed to tag along on your morning commute is something for which I am extremely grateful and will treasure forever. Thank you for being there... thank you for listening."
The Early Edition will announce a new host next Monday, Dec. 11.
sthomas@vancourier.com
@sthomas10