Mike Babins is living his best life.

His Kitsilano storefront has customers lined up 20 people deep as "Love Gun" by Kiss plays on the turntable. It's from a rare LP that was only available in Europe for the longest time.

The chorus approaches and Babins goes in for an extended air drum roll as three employees ring up sale after sale.

"The last month has been splendiferous," Babins proclaims. "It's exceeded all expectations. Everyone is so happy, everyone is so positive." 

It wasn't always so.

Babins' Evergreen Cannabis shop on Fourth Avenue became Vancouver's first fully licensed dispensary in early January. Almost a month later, the Courier stopped by his shop on a Friday afternoon to see what life is like in a shop that made Vancouver history on Jan. 5.

"There were three months there where was I was paying my staff and had no income coming in — I just watched the account get low. Now, we're coming back," Babins said.

Rewind to Oct. 16, 2018, the day before recreational cannabis became legal in Canada. Babins said he received mixed messages from the city and the province — maybe he could keep selling weed, maybe he couldn't.

A $250,000 fine hung in the balance and it was fire sale time. Everything was sold, or disposed of that day. Babins sold pipes and accessories only in the following three months and his shop was making about $200 to $250 a day.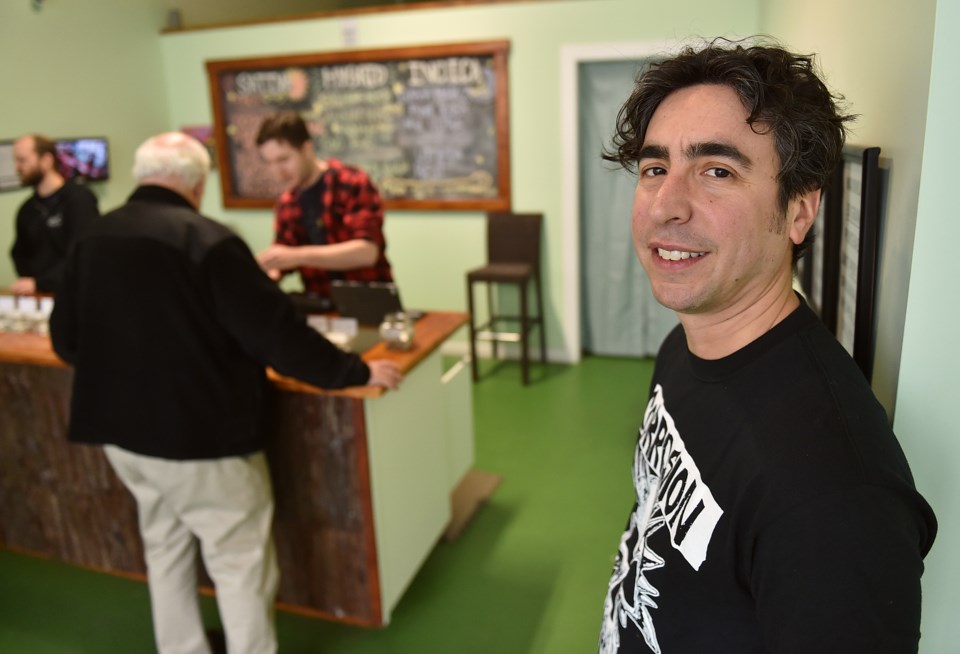 Those dark days go back even further. Babins moved to Vancouver in 2012, after two decades in the radio business in Montreal. The employment market in Vancouver was far bleaker than in La Belle province, and he bounced around from job to job.

Babins' wife and co-owner Maria Petrucci had a cancer scare in 2015, the same year Evergreen opened. It took seven months to find a location and the couple was losing money fast. Both Babins and Petrucci lost grandparents around the same time and were getting by with inheritance money and through cashing in RRSPs.

"Because we lost so much money this whole time, when we had to make that first order I remember saying to my wife, 'Let's take the money we put aside from our inheritances for a down payment for a house and spend it on weed instead,'" Babins recalls.

Evergreen's first official opening was in September 2015. Babins said three other dispensaries were operating on the same block as his, near Macdonald Street. For two years, it was just Babins and his wife making a go of it without any other staff.

Babins said he went through three board of variance meetings to stay open, all the while keeping track of all payments, transfers and taxes paid.

Meticulous record-keeping proved to be Babins' masterstroke. Audited by the province during his licensing process, Babins was asked to provide proof for 20 years' worth of transactions. Whenever police or city officials stopped by, Babins had loads of documentation to show them.

It's for that reason, coupled with the fact that only two people have a stake in the business, that Babins thinks his business was the first to open — the province and the city didn't have to comb through extensive background checks for anyone else other than him and his wife.

"It's just another ridiculous thing that I've somehow been able to pull off," Babins said. "We weren't aiming to be first. We followed the rules and we paid our taxes."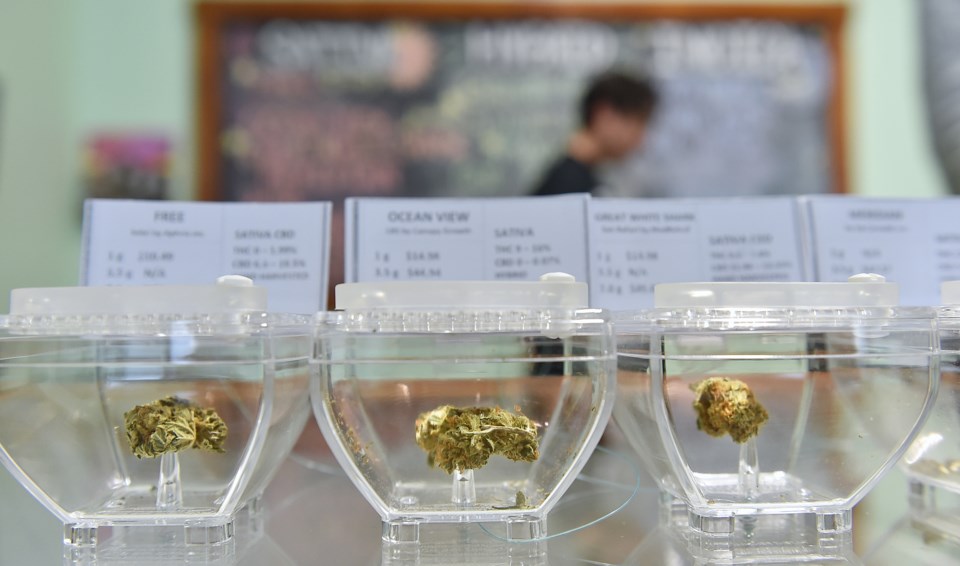 The Courier's hour-long visit saw people of all ages visiting and not once was the store without customers. Some are longtime cannabis users, others are newbie and others still appeared to be at least in their 70s. They pay between $10 and $15 per gram and upwards of $300 to $400 for an ounce.
About 20 strains of cannabis are on offer, along with oils, capsules, vaporizers and rolling papers.

There's even a "female pleasure spray."

Business is far better now than it was at any point in the last three years, due almost entirely to the laws changing late last year.

"High is good," Babins said. "Not that I'm saying to people, 'Go get high and go to work.' But we can finally say to people, it's not such a big deal — try it. And the government is finally on our side."

Yes, business is booming and yes, the books are returning to the black, but Evergreen isn't out of the woods yet.

Retail cannabis dispensaries pay far and away the city's highest business licence fees — $33,000. To put that number in perspective, the PNE pays about $18,000 for its annual licence, bars pay up to $23,000 and a casino can expect to pay about $13,000. Liquor stores are charged $418.

Kathryn Holm, the city's chief licence inspector, said that $33,000 figure "has been established to support the costs of new program development and implementation."

Only two other dispensaries are operating legally in Vancouver on Robson and Fraser streets. In order to be fully compliant, businesses must have a municipal development permit, provincial licence and municipal business licence. About 60 other dispensaries have been issued development permits.

That means competition is on the horizon, but Babins sees that as a good thing. He doesn't want to compete with other businesses playing by a different set of rules or paying different fees.

As for the future?

"We're just going to keep on doing what we're doing," Babins said. "We're going to keep on listening to records and selling weed."
@JohnKurucz