Dedicated swimmers will endure the frigid ocean water of Vancouver's English Bay for the 99th annual Polar Bear Swim on New Year's Day.
Vancouver hosts one of the world's longest running and most attended Polar Bear Swims in the world according to the City of Vancouver.
A record of 2,550 official entries was set in 2014.  Last year's swim attracted more than 1,700 participants.
The tradition began Jan. 1, 1920 when Peter Pantages, a prominent Vancouver restaurateur, began the Polar Bear Swim Club by persuading a small group of friends to take a dip in English Bay, something Pantages did every day of the year.
Every year since, Vancouver has continued the New Year's Day dip.
To honour the memory of its founder, the Pantages Memorial Swim will continue this year as an optional 100-metre swim for participants. It was added to the event in 1972, a year after Pantages died.  
Swimmers are encouraged to dress up in fancy costumes, but are also reminded to read and understand the safety tips before participating, such as:
Do not consume alcohol – it accelerates hypothermia.
Do not stay in the water more than 15 minutes. Body heat is lost 25 times faster in water than in air.
Do not participate in the swim if you have a heart problem.
A full list of recommendations is available on the event's site.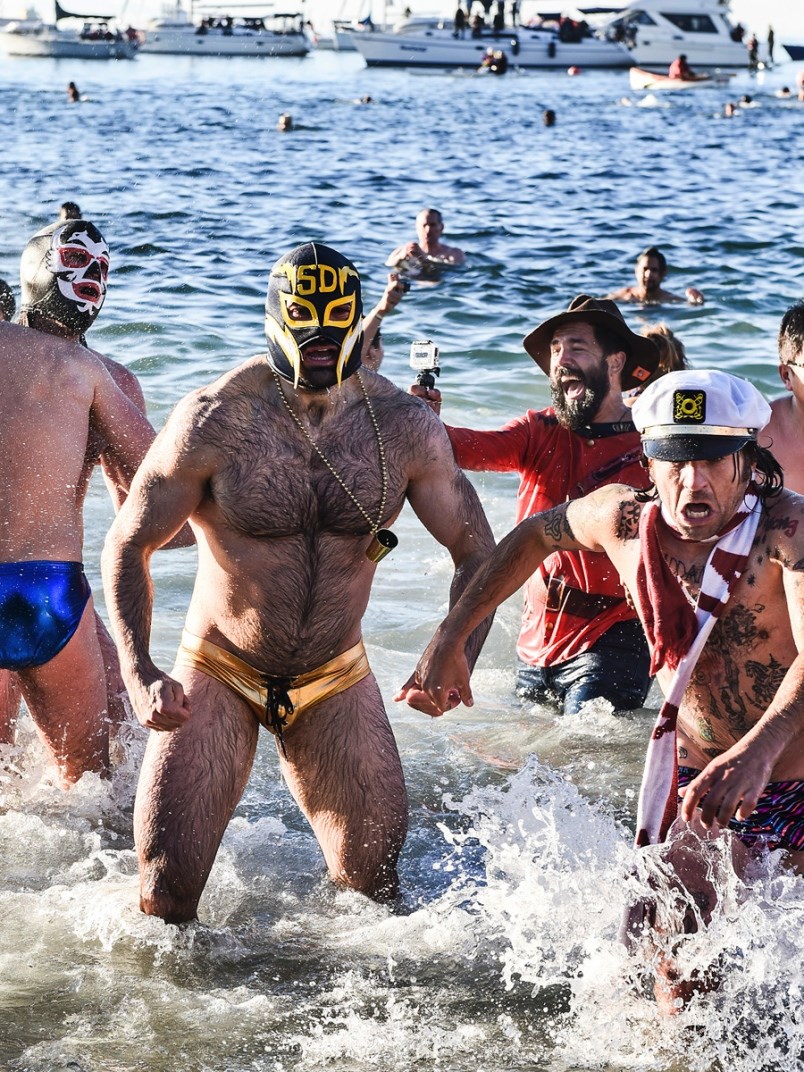 Registration for the Polar Bear Swim is required and automatically enters participants into a draw for prizes. Last year 20 prizes were won by participants.
The event is free though donations of non-perishable food or cash are accepted by the Greater Vancouver Food Bank.
The 99th annual Polar Bear Swim starts at 2:30 p.m. on Jan. 1, 2019.
A registration form the event can be found at, https://vancouver.ca/parks-recreation-culture/polar-bear-swim.aspx
More New Year's Day Swims
English Bay isn't the only place in the Lower Mainland to celebrate New Year's Day 2019 with a chilly plunge.
The Penguin Plunge starts at 12:30 p.m. in North Vancouver's Panorama Park with the actual swim beginning at 2 p.m. Live music and a costume contest accompany the plunge each year.
The White Rock Pier's Polar Bear Plunge has been cancelled due to damage from the recent storm.
Port Moody's Penguin Plunge opens registration at 11:30 before the swim at 1:00 p.m. at the pier at Rocky Point Park at 2800 Murray St. The swim costs $5 a person or $10 for a family to raise money for the Pleasantside Community Association.
Delta's Polar Bear Swim at Boundary Bay Regional Park at 541 Centennial Parkway in Tsawwassen starts at noon and the swim at 1 p.m. There are several prizes for winners and a draw for a grand prize.
Fort Langley's Polar Bear Swim starts at noon at the beach on Brae Island Regional Park in the Fraser River.
This story has been updated since first published.