Never mind the smell or obvious health concerns — the metrics behind Vancouver's smoking problem are butt ugly.

With one million darts chucked on the ground a day, they're public enemy number one when it comes to litter and the leading cause of all outdoor fires in the city.

In an effort to continue abetting the tidal wave of trash, the city rolled out yet another measure Wednesday to keep the butt battle moving forward.

The pocket ashtray pilot program is just what it sounds like — a small pouch for smokers to put their lit cigarettes in to. Once the pouch is full and the smokes aren't smoking, the idea is to then empty them into the garbage.

Thousands of pocket ashtrays are now available at community centres, libraries and city hall.

"They're intended to reduce cigarette butt litter by putting the solution right in the hands of smokers and making properly disposing of cigarette butts as convenient as possible," said Jerry Dobrovolny, the city's general manager of engineering, who was accompanied by "Ashley," a life-size cigarette mascot.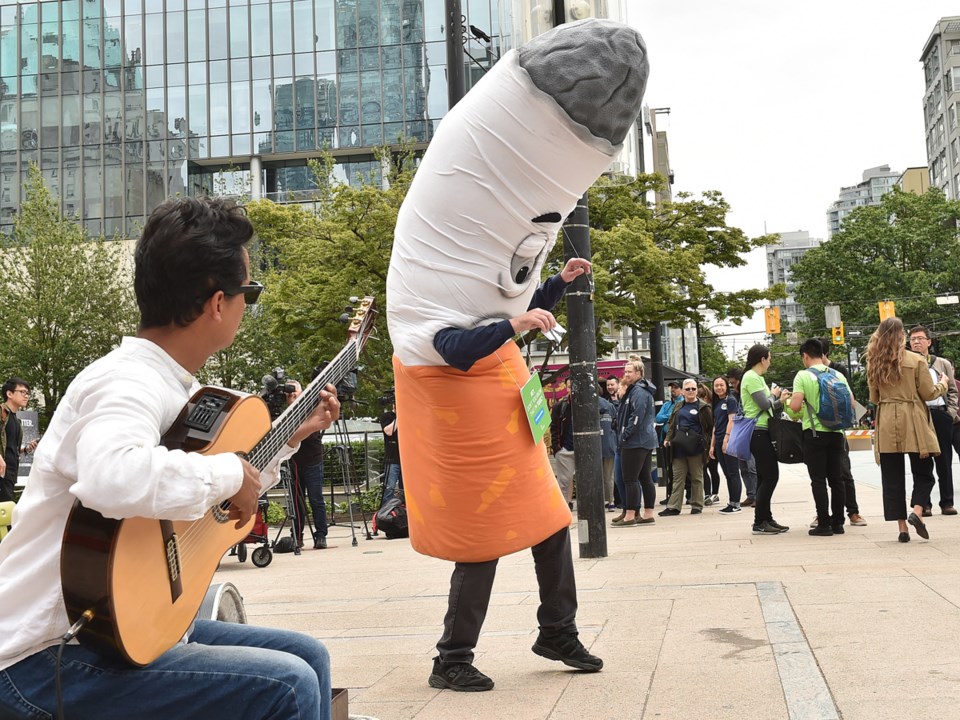 There's the visual blight of butts on the ground, but Dobrovolny also noted Vancouver's location as a coastal city and what that means in the bigger picture. Butts inevitably make their way into the ocean, rivers and lakes, exposing wildlife to arsenic, lead and micro-plastics.

Dobrovolny wasn't able to provide an exact cost for annual cigarette cleanup, but overall sanitation efforts are well into the millions of dollars.

The fine for tossing a cigarette on the ground ranges from $100 to $10,000. Dobrovolny stressed that compliance is best reached through awareness and collaboration, but fines will be assessed in select circumstances.

"It's a progressive approach," Dobrovolny said. "That's not to say you can't earn yourself into a higher bracket right off the bat. It has to do with severity and also frequency. We have the ability to adjust and use that in enforcement."

Given that it's high time for tourist season, reps from the Downtown Vancouver Business Improvement Association and Tourism Vancouver were also in on the proceedings.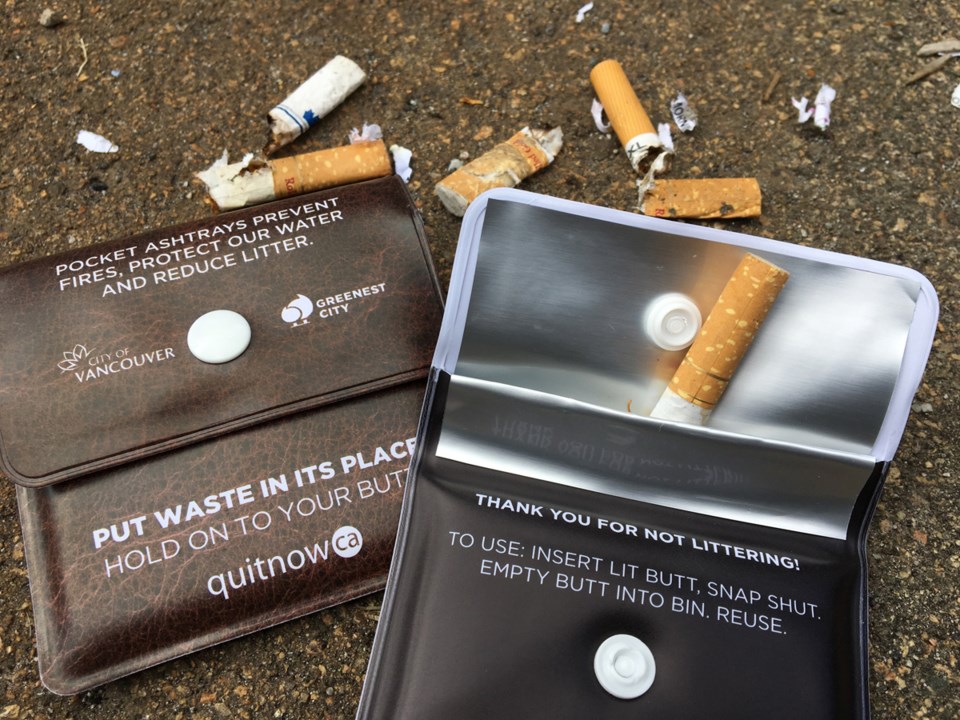 Ten million tourists are expected to hit up Vancouver this year and there's an anticipated 20 per cent jump in cruise ship visitors — those in the tourist industry would prefer they're welcomed into a butt-free city.

"Unlike graffiti, which might have cultural value, cigarette butts, I don't think have any cultural value," said Gwendal Castellan, Tourism Vancouver's manager of sustainable destination development.

The pilot program will be assessed via public feedback and a series of "litter audits," a process that counts and compares how much litter is in a given area over time. That feedback will be presented to council during the budget process later this year.
Wednesday's announcement is the continuation of six years' worth of smoking cleanup programs.  

The original cigarette butt recycling pilot program was launched in November 2013 and was the world's first at the time. About 100 cigarette recycling bins were placed throughout downtown, the West End, Robson Street and Gastown.

The program has since expanded to include a butt receptacle placed on the sides of on-street recycling receptacles.

About 1.2 million butts have been recycled since 2013.

Info about the program and where to get the pocket ashtrays is online at vancouver.ca/cigarette-butts.
@JohnKurucz