B.C. Premier John Horgan has ignited a crisis in confidence in Canada as a place to invest, as well as the country's adherence to democratic processes, a group of business and industry spokespeople said Thursday morning.
By opposing the expansion of the Kinder Morgan pipeline from Alberta to the Pacific Coast, the NDP government prompted the company to announce earlier this week that it was suspending non-essential spending on the project because of the "unquantifiable risk" it would not be allowed to proceed even though it has met provincial and federal requirements.
"This is no longer about a pipeline but whether you can rely on government and the rule of law if you choose to invest," said Greg D'Avignon, president and CEO of the Business Council of B.C. at a press conference at the Hyatt Regency. "This can have lasting consequences."
There are some people who will frame the debate as the economy versus the environment, or business versus activist government, he said. "They are wrong... We need to end uncertainty and restore our reputation as a place to do business. The stakes are high."
He cited the actions of B.C., the reaction of Alberta and the slow action of the federal government. (Prime Minister Justin Trudeau, whose government has supported the project, this morning announced he will meet with Horgan and Alberta Premier Rachel Notley on Sunday.)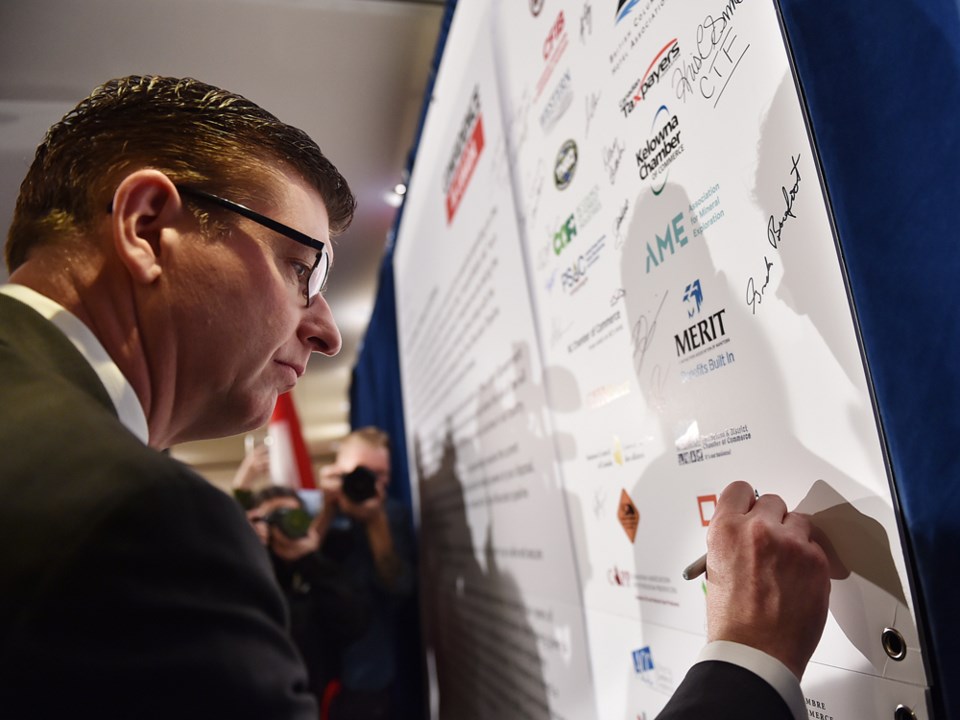 Val Litwin, the president and CEO of the B.C. Chambers of Commerce, said the implications of the NDP government going against a project that has received permission to proceed will affect more than this project alone. "It's time to restore confidence in B.C."
"It would be tempting to see this as just a big business issue. It's not," said Laura Jones, the executive vice-president of the Canadian Federation of Independent Business. Horgan is "creating mayhem and mischief to a project that has already been approved."
"I get it," she said, "that not everyone likes the decision but once a decision has been made it needs to be respected. Yes needs to mean yes. If uncertainty is allowed to continue, it risks doing serious damage to this country's reputation. We need to find a better path forward and we need to do it now."
Independent Contractors and Business Association president Chris Gardner said, "Kinder Morgan did nothing wrong. For 10 years they planned the project, underwent four years of rigorous review [and attained the approval of an independent review panel]."
"What Horgan is doing is ripping apart an agreement that was sound and was approved. He's ignited a trade war with Alberta. When we are divided, we will fail."
Gardner said the premier does not get to decide which goods will run through the port of Vancouver. "We can't have one government holding another to ransom."
Denis Connor, representing a group of clean technology industries in B.C., said environmentalists will be wrong if they think stopping the expansion is a victory.
"If [Horgan] succeeds he will likely cause the unravelling of the Canadian Climate Change Accord," Conor said.  Clean technologies are decades away from replacing our reliance on fossil fuels and, until then, oil industries have signed on to the accord to do their part to reduce emmisions.
"If protesters stop this pipeline, we believe the climate accord will go away… The protesters are not thinking clearly about unintended consequences," he said, adding that one of those consequences is global consumers turning to oil from countries that have lax environmental controls.
Asked after the press conference to clarify the link between the pipeline going ahead and the climate change accord, Connor told the Courier, "If we screw up the climate, we screw up the coastline. If they cause the pipeline to be stopped the climate accord goes away because it will cause the election of conservative governments in Alberta, Ontario and perhaps on the federal level."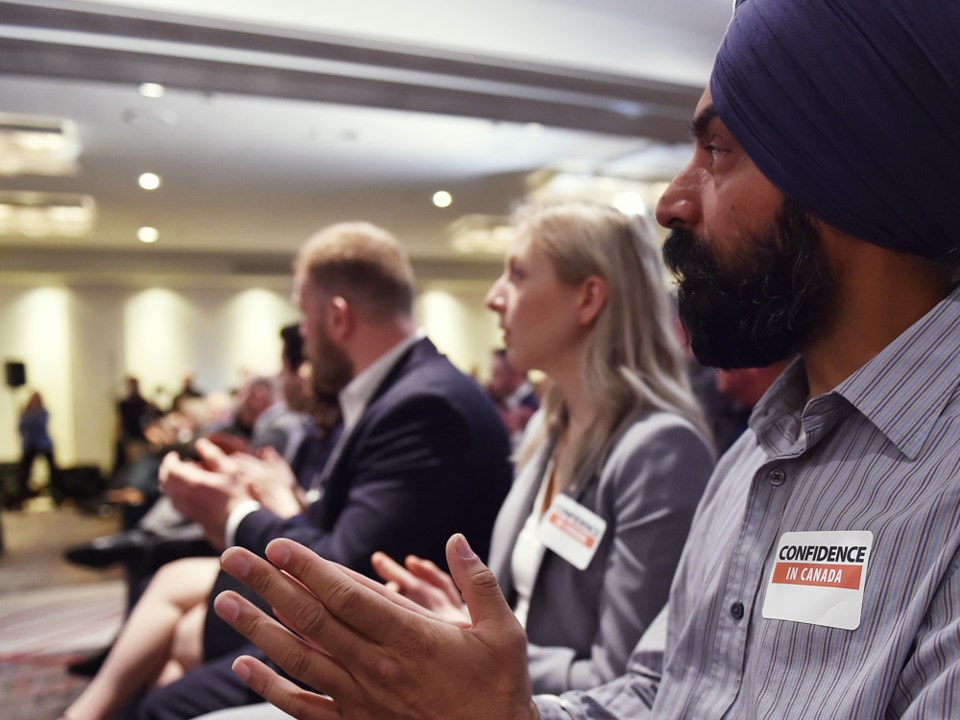 Henry Braun is the mayor of Abbotsford, which the pipeline crosses. "Our global reputation of confidence as a safe place to do business is at risk," he said. "It will create a crisis of confidence to be seen as a place to invest.
"Do I want my grandchildren and children to grow up in a world less dependent on fossil fuel? Absolutely. I also want a stable and growing economy. We can't like a light switch go from one souce of energy to another. We have to ensure the rule of law means something."
Susan Yurkovich, the president and CEO of the B.C. Construction Association, said industry needs faith in our processes. "If you get a decision to proceed we need to know it will be respected. That's why we're coming together in an unprecedented way... Today's gathering is not a one-off. We will continue to make our voices heard."
The speakers joined representatives from roughly two dozen, all wearing Confidence in Canada stickers, in signing a large print-out of a letter that has been sent to Prime Minister Trudeau.
"At stake is more than a pipeline project," the letter says, summing up the theme of the press conference. "The global reputation of our country as a safe and secure place to invest and do business is at serious risk."
The press conference began with a recognition of Jersey Day, a national day of support for the Humboldt Broncos, whose bus crash in Saskatchewan last Friday resulted in the death of 16 hockey players and team associates. "We grieve with you, se will stand with you," D'Avignon said.