While doing some research on street names for an OpenFile story on Vancouver street and public space naming, I learned that although our city's street names are often based on names of long-dead real estate speculators and their friends — they are just as often based on weird circumstances or personal whims.
Here's a rundown on some of the odd street name origins I learned by visiting the Vancouver Archives and reading the street names notes binders (copies of Major J.S. Matthews's old note cards), and also by flipping through Elizabeth Walker's amazing compendium of these names, in the 1999 volume "Street Names of Vancouver."
Leg-in-boot Square, so-named in 1976
This name was inspired by an account recorded by Stuart Cumberland in The Queen's Highway (1887):
"Just before I visited Vancouver a man had mysteriously disappeared; and, on the day of my arrival, a top-boot, containing a foot and a portion of the leg, had been found in the forest at False Creek, a place close by the town. This, it was surmised, was all that remained of the missing man, a cougar having disposed of the rest." Elizabeth Walker, in Street Names of Vancouver (1999) added: "The boot was hung up at the police station for two weeks but no one claimed it."
Why Ontario Street marks the East-West divide in street numbers
In 1871, Dr. Israel Powell was one of the more vocal B.C.-based pushers who were trying to get British Columbia to join the rest of Canada, which would result in the Canadian Pacific Railway being built out to the Pacific coast. Powell bought a large amount of (cheap) land in the future Mount Pleasant area, hoping to flip it once the railway arrived. Powell, who was from Ontario, was said to be quite "Canadian" and decided to name the streets for the provinces that existed at the time. Ontario lies at the centre (of course), in the 000 block, and the eastern provinces and the western provinces fall on the appropriate sides.
On Broadway
In May 1909, the name of 9th Avenue was changed to Broadway. The late Chuck Davis noted on Vancouverhistory.ca: "There were a number of Americans involved in the city's real estate boom and it was felt that Broadway (after Broadway in New York City) would, in archivist Major J.S. Matthews' words, 'help promote some mysterious advantage.'"
The Sir Walter Scott streets
In the middle of the city, a smattering of passages bear names chosen by a onetime city staffer and fanboy of literary figure Sir Walter Scott. Thus, we have Dinmont, Midlothian, Nigel, Peveril, and Talisman near Queen Elizabeth Park, and apparently why we have Waverley, Woodstock, Durward, Ivanhoe, Marmion and Glengyle sprinkled around elsewhere.
Worth a mention: Lulu Island, in Richmond
On Vancouverhistory.ca, Chuck Davis noted; "In 1861 Col. Richard Moody of the Royal Engineers named Lulu Island in Richmond in honor of 16-year-old singer Lulu Sweet, a visiting member of a touring San Francisco musical revue." This has got to be one of my favourite reasons for naming a place in Metro Vancouver! It certainly conjures romantic notions.
Many of the "old" street, road, and lane names that helped with bearings were replaced when Vancouver got a grid system, which was officially expanded in 1929 as Point Grey and South Vancouver amalgamated with the rest of the city. (Of course, a lot of places were named for people or features before the Euro-dominated explorers and pan-global settlers arrived!)
The multiple name changes that some Vancouver streets underwent over the years can make researching homes or properties using the old records quite challenging.
For instance, the pre-1910 Stump Shack (!), which is shown below, was located on Seacombe Road and accessed off Van Horne Road — two "street" names that are long-gone. Today, you'd have to walk down Prince Edward Street, between 26th and 27th avenues to find the spot where it was.
A different kind of tree house (Vancouver Archives)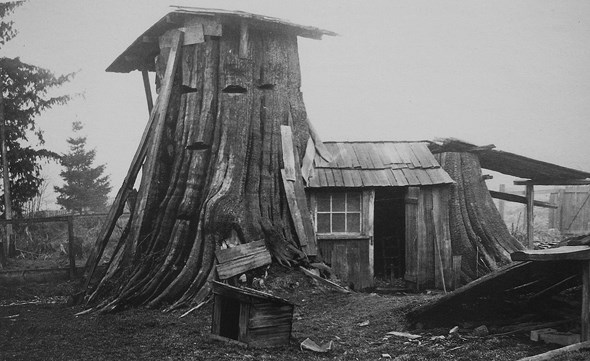 This article first appeared on V.I.A. on Dec. 6, 2011, and has been re-published with minor edits.