If the house at 4255 West 12th Ave. was a few blocks north, it would not be facing demolition this week.
The heritage house sits in West Point Grey, where zoning allows its new owner to tear it down and build a house that can take up 70 per cent of the lot.
Over in Kitsilano, the zoning laws are different. There, if you want to tear down a house built before 1940, you can build a new home only if it's smaller in size. In exchange for the restriction, you're allowed to create suites and infill housing.
Same city, different zoning rules.
It drives Caroline Adderson to despair.
Today, only 24 per cent of Vancouver's character homes are still standing, she says. Zoning laws in Lower Kitsilano, Mount Pleasant, Strathcona and Grandview-Woodland not only protect character homes but they provide incentives for owners to think creatively transforming the house and lot into more housing options. In other neighbourhoods, zoning simply encourages it.
Back when the character houses were built, Adderson says, land was cheap but building materials were expensive. That's why you got houses like the one at 4255 West 12th. The house is 3,600 sq. ft., thanks in part to a full basement, but it's still got plenty of yard and garden.
"The house today is irrelevant," Adderson says of the $3.3 million purchase price back in 2015. "They're buying the land."
B.C. Assessment bears this out: its most recent numbers say the land is worth $3.807 million and the house only $314,000.
Adderson is the woman behind  Vancouver Vanishes, a Facebook blog that highlights all the houses that are being turned to rubble across the city.
A terrible irony, she says, is that character homes were built with old growth wood and, if cared for, will be still standing 100 years from now. The City of Vancouver pegs the lifespan of a modern house at 60 years, although it's more likely 30, Adderson says. That's if the house can withstand the pressures of today's housing market. Not far from her, a house that was built 11 years ago has already been torn down to make room for a bigger one.
"It boggles the mind," she says. Because zoning laws do nothing to prevent it, she says, we're about to perpetuate today's housing crisis for generations. "We'll be in a constant cycle of throw-away housing."
She doesn't blame the owners. If the buyer of 4255 West 12th had been told he couldn't build a bigger house, he would have found a younger house to tear down. Her ire is focused on the city which even in its new character home review, does nothing to protect houses like the one on West 12th.
"I think the city just pulled a fast one on everyone."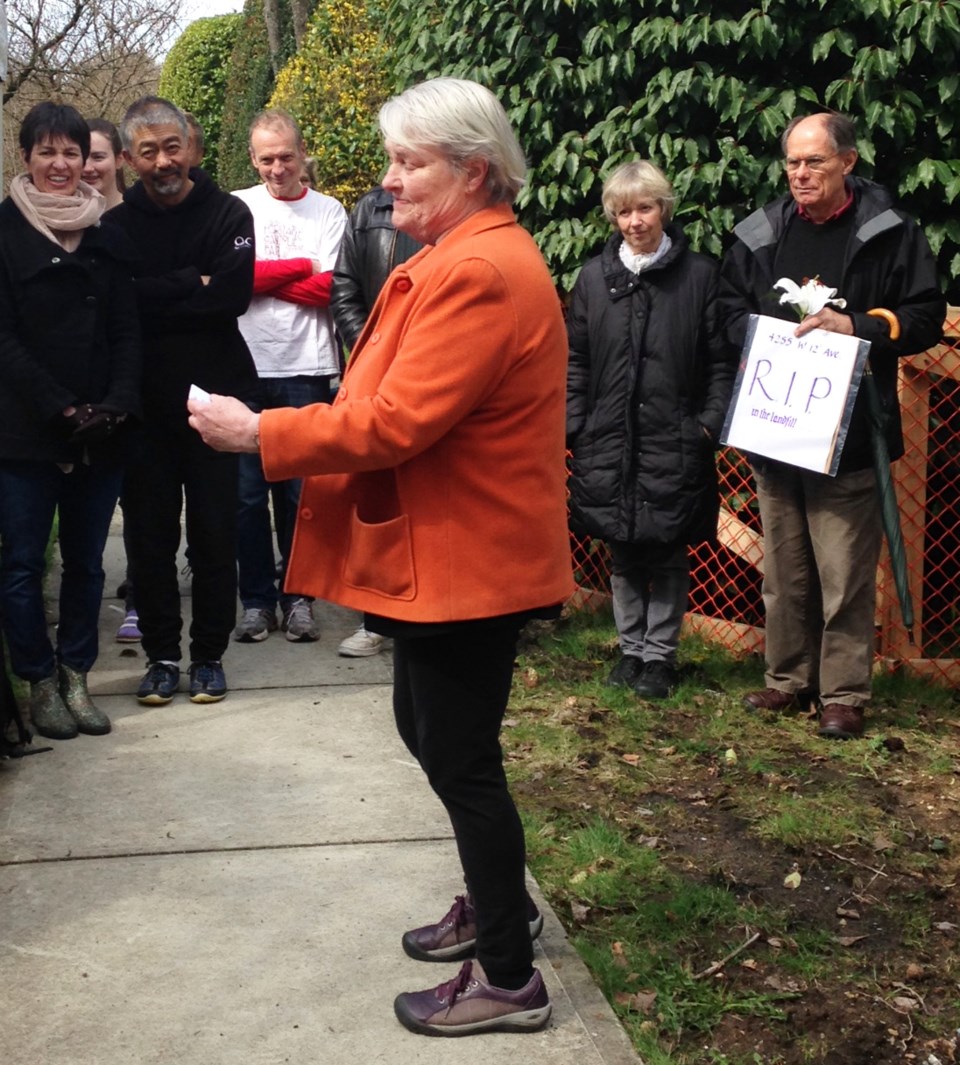 Adderson attended a neighbourhood wake for 4255 West 12th on April 9. Her message to the 60 or so people who turned up to offer their condolences: speak out.
"I blame us for not insisting that we have the laws to stop it," she says. "If we value things we have to put the laws in place."
Organizers of the wake agree. Up to 60 people came to the wake, many of them asking to be put on a mailing list for a new group called Heritage Action. In their first email newsletter, Clare Cullen and Les Leader write, "It is so gratifying that, from the ashes of the lovely house whose demolition we mourned on Sunday, this enthusiasm has arisen in us all to stop the rampant destruction of houses that contribute to the very soul of our neighbourhood. So the loss of that house was not for naught."
They add that when the city consulted residents about its character home zoning review, there was "75% support for "increased flexibility in zoning to support character home retention and significant support in three of the four study areas (64%,68%,75%). Despite the fact that more than 5,500 people signed a 2014 petition also asking for a form a rezoning (), the Director of Planning removed rezoning from the Character Home Zoning Review.  Zoning is the only effective means of slowing demolitions."
They are organizing a community workshop with local historian John Atkin. If you want to be added to the mailing list you can email Leader at lleader@telus.net.
On the Vanishing Vancouver Facebook page, Adderson encourages people to link to "Stop the demolitions" which tells them how to lobby politicians to get rezoning back in the heritage action plan.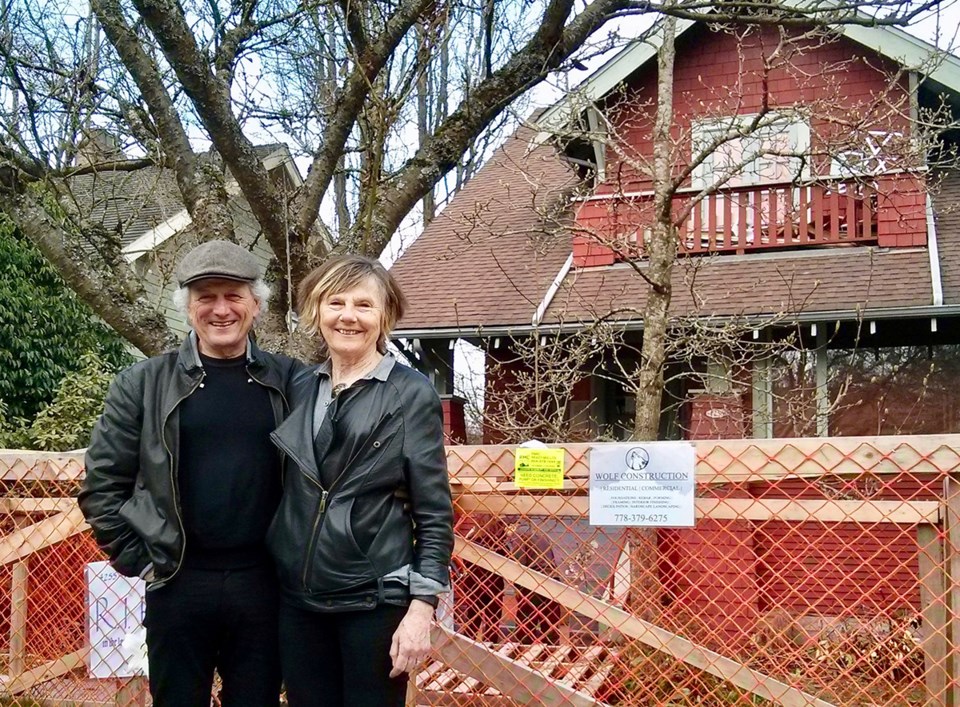 Also at the wake were Karen and Jerry Vagelotos. They were newly married when they bought the house in 1976. Both landscape architects at the time, they loved not only the house but its large lot. They took on the house and garden as a project. When each of their four children were born, they came home to 4255 West 12th.
"It wasn't just a house — it was a home and community," says Karen, noting that her son's best man was a friend he met in the neighbourhood daycare. "The community was just awesome and I don't think you find that as easily these days."
The family sold the house in 1995 and followed their passion for skiing to Whistler. They drove down on Sunday to join friends, many of whom still live in the neighbourhood.
"It was important that we were there," Vagelotos adds. "I guess it's optimistic thinking you'll have an effect on the outcome but we wanted to show it was important to us. We didn't expect to have such an emotional reaction. We had gone back to the neighbourhood before and had driven by the house but this was different, knowing that its days were numbered… Jerry had tears in his eyes and I had a lump in my throat."