In case you haven't noticed, Nick Bonino is having an incredible playoffs for the Pittsburgh Penguins. His 17 points in 20 games are good for 8th in the postseason scoring and his line with Phil Kessel and Carl Hagelin (the HBK line) has been one of the best in the playoffs.
Bonino has come through in big moments, such as his series winner in overtime against the Washington Capitals and game-winning goal in Game 1 of the Stanley Cup Final, earning an epic goal call from Harnarayan Singh, Hockey Night in Canada's Punjabi play-by-play announcer.
As a result, Bonino has become a hero in Pittsburgh. Unexpectedly, this has resulted in the revival of Pass it to Bulis's parody song, "Holding out for Bonino," originally produced over a year ago heading into the 2014-15 season. It's been played on the radio in Pittsburgh, people have recorded themselves singing the hook, and Harrison singing "I need Bonino!" gets edited over his highlights.
It's weird.
But it's also pretty fantastic. It's neat to see something we created go viral with a completely different fanbase.
It also gets me thinking about the other musical parodies Harrison and I have produced. When we moved from the Vancouver Sun, all of our old posts were wiped from the internet (unless you get clever with the Wayback Machine https://archive.org/web/) and they mostly were not on our YouTube channel, so it's not super easy to find them all. So, here they are in one convenient location.
Let's start with "Lockout Man," a parody of Elton John's "Rocket Man" that came out of frustration and boredom during the NHL lockout in 2012.
We followed that up with "Call the Union," which included the infamous music video of Harrison dancing in yoga pants. It's a parody of Robyn's "Call Your Girlfriend" and it also took place during the lockout, because we seriously had nothing else to do.
Then Brian Burke sued a bunch of people on the internet, one of whom was named "Poonerman." This gave us no choice but to make a mockumentary about trying to write the perfect parody to fit the unlimited possibilities of the name "Poonerman."
After Cory Schneider got traded, we made "Big Old Goal" to apologize to Roberto Luongo and welcome him back to Vancouver. This isn't a parody of a specific song, but of a genre: the charity single, like "We Are the World" or "Do They Know It's Christmas?" This remains one of my favourite things we have ever done.
A year later we did "Holding out for Bonino," better known as "I Need Bonino" because that's the part that gets stuck in your head for days on end until you want to punch yourself. It's a parody of "Holding out for a Hero" by Bonnie Tyler and was originally intended to be a commentary on his trade from the Ducks to the Canucks. The lines, "He strong and he's fast and he scores and he passes" have really resonated with a fanbase that actually sees that he can be strong and fast, as well as score and pass.
And then, heading into the playoffs last season, we did "Sedinery," a parody of Blackstreet's "No Diggity," during which we demonstrated an optimism for the 2015 playoffs that borders on obscene. Somehow this one didn't end up on YouTube, so here's a link to the video: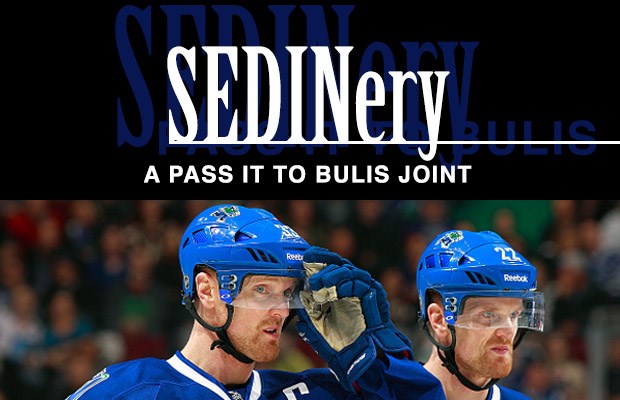 That's it for now, though there's always the possibility of more parodies in the future.