Does ICBC guard your privacy?
A North Vancouver man says no and he hopes a judge eventually agrees that a loophole should be closed.
Daryl Cook learned while disputing a speeding ticket in 2006 that the public-owned automobile insurer and driving licensor had disclosed his unlisted phone number to a Burnaby RCMP officer. Cook cross-examined the officer, who confirmed existence of ICBC's police hotline. Police can call an ICBC phone number (which is changed every six months) and provide their badge number to gain information about drivers and policy holders.
"They can get a court order, they can get a search warrant, they can go through the appropriate channels," said Cook. "To create a police line that just shares information about where you work, where your bank accounts are, what your phone numbers are — it needs to be stopped and stopped now."
ICBC operates the police line under a Freedom of Information and Protection of Privacy Act section that says public bodies can disclose personal information to other public bodies or law enforcement agencies in Canada "to assist a specific investigation that is undertaken with a view to a law enforcement proceeding, or from which a law enforcement proceeding is likely to result." Cook, however, said it is open to abuse.
He filed a B.C. Supreme Court lawsuit in January 2012 alleging breach of privacy and breach of contract against ICBC, the special investigations unit's Gene Krecsy and the Vancouver Police Department. Cook said ICBC also gathered three files from VPD in June 2009 about a kidnapping he witnessed, vandalism against his former Strathcona house and a dismissed assault charge — all unrelated to his insurance claims. The lawsuit was in court last summer on a procedural issue, but Cook hopes for a trial next year.
VPD did not respond for comment and RCMP Sgt. Rob Vermeulen referred the Courier to ICBC. Transit Police media advisor Anne Drennan confirmed officers contact ICBC, but "no statistics are kept with respect to the accessing of the databases."
ICBC denied a request to interview an executive about the police line. Instead, spokesman Adam Grossman sent an email stating the police line is handled around the clock by a trained unit of the Claims Contact Centre in Surrey.
"If the caller cannot identify themselves properly, no information is provided," Grossman said. "The most common types of information given include the registered owner's name, address, telephone number, vehicle description and insurance policy information."
As of March 18, he said there had been approximately 400 information requests via the police line in 2015, "the vast majority coming from RCMP and city police."
The line is primarily for emergencies, such as threat of a homicide or abduction, Amber Alert, hostage taking or vehicle pulled over at roadside. But, Grossman added: "The line can also be used for non-emergency situations, for example if the Canadian Police Information Centre is down or does not have current information."
The B.C. Freedom of Information and Privacy Association's executive director, Vincent Gogolek, said there are legitimate reasons for such an exception to the Act, but lawmakers need to examine this issue during the scheduled 2016 review of information and privacy laws.
"There's got to be suitable controls over this," said Gogolek. "The problem may not be with the wording, it may be with the practices. Hopefully the committee would look at both of those."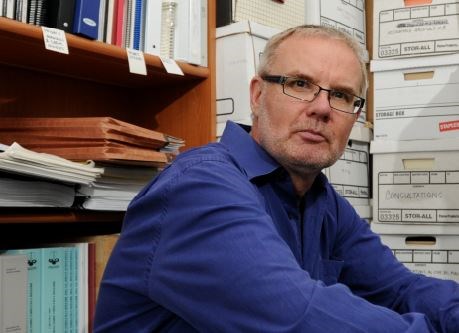 Cook was similarly disappointed that the Office of the Information and Privacy Commissioner sided with ICBC in 2012 when it concluded police had not accessed his file. The finding contradicted a 2006 ICBC letter which included the officer's badge number.
"No one's held accountable to any of these things," Cook said. "The whole organization is worthless."
OIPC spokeswoman Cara McGregor said Commissioner Elizabeth Denham was unable to discuss Cook's case or comment generally on the law because of "ongoing deliberations related to these matters."