In the span of a few short sentences, Mark Hughes travelled the full gamut of ecstasy to agony.

The document in question is highlighted with the then seven year-old being referred to as "Master Mark." Not bad when the letter writer is former Prime Minister Brian Mulroney.

The kicker comes a few sentences later, when the proverbial straw broke the gorilla's back.

"Apes are only allowed into the country if people are going to put them in a zoo or use them for research," Mulroney wrote. "This law was enacted to protect people from diseases apes sometime have which people can catch."
That back and forth between Hughes and Mulroney has blown up online in the 24 hours since Hughes posted it to his Facebook page on Monday night: massive popularity on the Internet site Reddit, hundreds of likes on his Facebook page and media attention from across Canada.

"It's kind of neat but I didn't think it was that big a deal," Hughes told the Courier. 

Rewind to the first few months of 1987. Growing up on Vancouver's West Side, Hughes is consumed by all things gorilla. He studies them, chronicles them in drawings and lobbies his mom endlessly in the hopes of owning one.

"The way she got around to saying no to me was by saying, 'No, they're illegal so I can't get you one.' And I went, 'Alright I'm going to write a letter to the Prime Minister then.' I was determined that this would happen."

Hughes put pen to paper alongside his mom, who helped with the proofreading. Though he's not in possession of the original document, Hughes remembers rattling off gorilla factoids to the former Conservative Party boss before laying out his request. 

Within two months, Hughes received his response from Mulroney. Dated for April 9, 1987, Mulroney begins by personally thanking Hughes for the letter before delivering the death knell a few short sentences later.

"An ape might not be very happy living in a house in Vancouver," Mulroney wrote.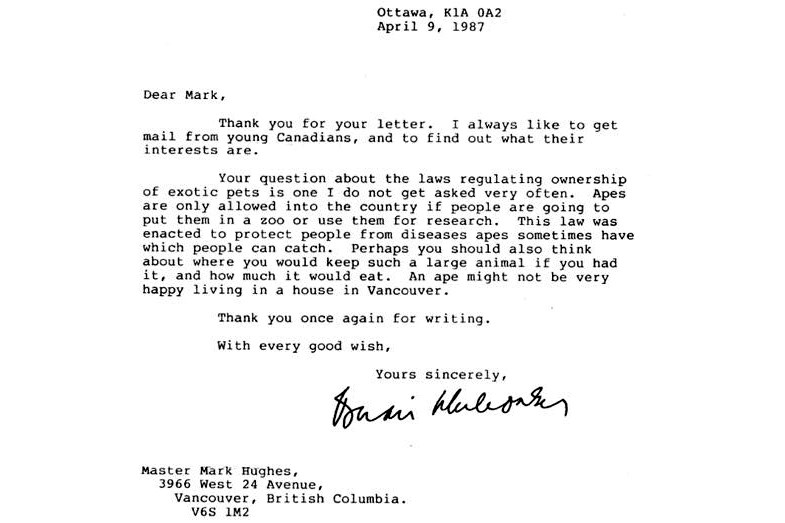 While Hughes' mom was thrilled with the correspondence, her son was not. Nor did Hughes grasp the magnitude of having a letter personally addressed to him by the leader of the nation.

"I was pissed off that he wouldn't let me have a gorilla. I was mad that the answer was still no. I didn't even give a s*** that he wrote me back. I didn't realize that the Prime Minister writing you back is kind of a big deal. It was more a case of, 'The answer is no? Well, f***.'" 

One of the many hats Hughes wears is stand-up comedian. Whether the recently unearthed nugget from his past makes it into his routine wasn't known by Courier press deadlines. 

"I guess I have to talk about this somewhere," he said.