Bo Horvat needs a contract.
The Canucks' leading scorer last season is a restricted free agent and is angling for a significant raise on his entry-level deal. Horvat is coming off a 52-point season and is the presumed future captain of the franchise: just how much do you pay him and for how long?
It's a difficult question to answer. As much as he has been transitioning into a role as the team's first-line centre, that's as much by necessity as it is merit. The Sedins are declining, no longer capable of carrying the team on their backs offensively. The only other option for a first-line centre right now is Horvat.
That's not to say he hasn't been good. Offensively, he's done everything the Canucks could ask of him, finishing second on the team in points per hour behind Sven Baertschi, hitting that nice round number of 20 goals, and breaking the 50-point barrier before his 22nd birthday. He was ranked 81st among NHL forwards in points, which already makes him a low-end first-line forward.
That puts him in the company of an interesting group of young forwards who recently signed contracts. Ben Kuzma broke down some comparable players in a recent article.
There's the 22-year-old Jonathan Drouin, who is coming off a 53-point season. He just signed a six year deal with an average annual value (AAV) of $5.5 million. Is Horvat worth the same amount considering they're the same age and had similar points? Is he worth more because he plays a more valuable position as a centre? Less because Drouin has a higher ceiling?
The Canucks would probably prefer something similar to Vincent Trocheck's new contract. Coming off a 53-point season, he signed a six-year deal with an AAV of $4.75 million.
The most recent signing was Tyler Johnson. The 26-year-old re-signed with the Tampa Bay Lightning for 7 years and an AAV of $5 million. Can Horvat and his agent argue that he is more valuable than Johnson, who has a 72-point season under his belt? Arguably, yes, as Johnson hasn't matched those numbers over the last couple of seasons.
What complicates matters for the Canucks is that Horvat hasn't been able to match his offensive production with his defensive game. Coming out of Junior, Horvat was lauded for his two-way game, but he's struggled in the defensive zone in the NHL.
It's particularly noticeable shorthanded, where Horvat is one of the worst penalty killers in the league. Of forwards who played at least 100 minutes at 4-on-5, Horvat has the highest rate of shot attempts against and only Jamie Benn allowed a higher rate of goals against.
Horvat has struggled defensively at 5-on-5 as well. Using Goals Above Replacement, Horvat was ranked among the bottom-15 in even-strength defence at -2.9. That means he cost the team 2.9 goals with his defence compared to a replacement-level player. He made up for it with the best even-strength offence on the Canucks, but it is troubling.
Taking into account his defence, who does Horvat really compare to? Using Sean Tierney's GAR visualization tool, we can find some players that are at or near Horvat's even-strength defence and offence from last season.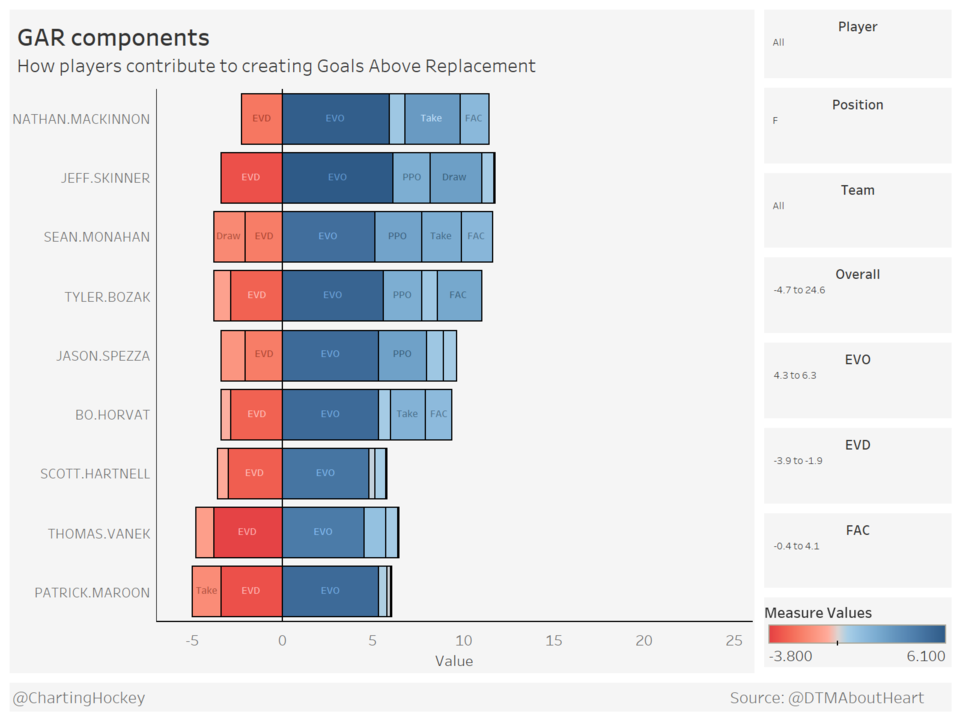 There are some tremendously interesting names in there, with Nathan MacKinnon and Sean Monahan being the most intriguing. Both are first-line centres for their respective teams in the same age range as Horvat, though both are more proven than Horvat. Monahan has a couple 60+ point seasons, while MacKinnon put up 63 points in his rookie year.
And yet, both have some defensive issues that they make up for with their offense at even-strength and on the power play.
MacKinnon is particularly notable: he's a first-overall pick with high expectations, but on a bottom-of-the-league team put up just 53 points last season. There's a comparison you can draw to Horvat's 52 points for the similarly terrible Canucks.
Horvat is unlikely to get near MacKinnon's 7-year, $6.3 million contract — MacKinnon has the stronger track record and higher expectations — but their 2016-17 seasons weren't very far apart. Likewise, Monahan's 7-year, $6.375 million contract would be a hard ask for his agent.
But does Horvat belong in the same conversation as those two centres? Does he have the same potential to hit 60+ points and be a legitimate first-line centre?
It's certainly possible. Horvat had 32 points at 5-on-5 last season. That's the same number of 5-on-5 points as MacKinnon. Monahan had 34 points at 5-on-5.
The most 5-on-5 points MacKinnon has produced is 40 in his rookie season, while Monahan hit 37 in 2015-16. That's not out of reach for Horvat, particularly if he gets deployed more as a first-line centre in this coming season with fewer defensive zone starts.
The big difference could come on the power play, where Horvat has been on the second unit behind the Sedins. He had 10 power play points last season, but led the team in power play points per hour. There's an argument to be made that he should be getting the bulk of the power play ice time.
Monahan, on the other hand, had 17 power play points last season and 20 the season before that. MacKinnon had 17 power play points in his rookie season when he put up 63 points.
With some more offensive zone time at 5-on-5, a boost in power play ice time, and a nice break on the bench during the penalty kill, Horvat could easily have a 60+ point season next year. At that point, having him locked up for another 6-8 years at Drouin's $5.5 million per season will seem like a steal.
On the other hand, what if he's more like one of the other comparable players on that chart: Tyler Bozak? Bozak is a competent complementary player who put up 55 points last season playing behind the likes of Auston Matthews, William Nylander, Mitch Marner, and Nazem Kadri.
You can argue that Bozak is worth his 5-year, $4.2 million contract, but certainly isn't underpaid. If, like Bozak, Horvat fits the mold better as a complementary second-line, or even third-line, centre on a good team, would the Canucks be making a big mistake by paying him first-line money on a long-term contract?