There are distracted drivers, and then there is this woman.
Not only was she allegedly caught driving with her phone in her hand, she had a book in her lap and Cheetos in easy reach.
The picture appeared on Reddit in the r/vancouver page on Thursday with the heading, 'Caught this lady safely driving down the freeway today' and it has attracted a bit of attention since.
The Courier reached out to the person who posted the photo, Halestorm 9. "It was taken westbound on the freeway between Kensington and Willingdon," he said. "I was in the backseat of my buddy's big pick-up truck. Riding around in large trucks really makes you realize how much distracted driving is taking place."
Disregarding the munching on Cheetos, driving with a phone in your hand — and a book on your lap, no less — is a pricey risk to take. If you get caught by the police driving like this, you'll have to empty your pockets.
The B.C. government website states a fine for a single distracted driving violation ticket is $368, along with four penalty points.
But that's not all.
"On a first infraction, these points will also result in a driver paying a further $175 ICBC Driver Penalty Point premium, for a total of $543 for a first infraction," the website warns.
And it gets worse if you're caught more than once in short span of time.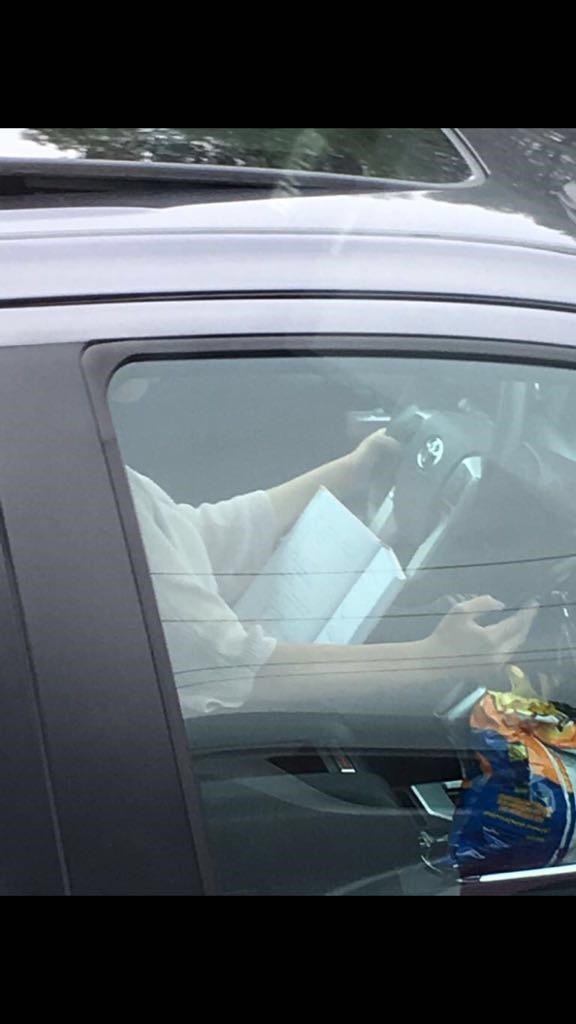 Naturally, the comments flowed in from Reddit users.
Some people made light of the situation:
"How is she going to be able to do anything after getting Cheeto cheese on her fingers!!"
"Well a car is just a living room on wheels, right?"
"Looking at the road while driving is sooooooo boring that she has to stimulate her brain 3 other ways just to get by."
"I prefer to use my knees to handle the wheel. That way I can use both hands for texting."
Others wanted her reported:
"This should be a straight up 3-month ban."
"Catch the plate? Should send this to the cops and report her."
"The real wonder is how most days all these thousands of self-centered humans manage to not kill anyone."
And some people debated whether the picture was real:
"This pic looks dodgy," one person suggested.
"Could be a parked car for all we know," another questioned.
"I want to agree but she's holding onto the steering wheel with her left hand!!" another said in support of the photos validity. 
Others pointed out that the reflection in the window suggested it could be legitimate. 
One person got technical. 
"Could be adaptive cruise control with lane monitoring so basically semiautonomous driving (not sure if toyota has it though). Which lane was she in?" they asked. 
But whether the photo is real or not, it is another timely reminder to drivers to keep their eyes on the road while travelling over the Labour Day long weekend.
ICBC has sent out a message to drivers to take caution on the roads and expect travel delays.
"On highways, expect to see many RVs, motorcyclists and trucks. If you're staying in town, expect more pedestrians and cyclists on the road," said ICBC in a press release.  
"The key to sharing the road safely is to stay focused on driving and look out for the road users around you. Avoid distractions which will take your eyes off the road and your mind off driving."
ICBC recommends checking road conditions at drivebc.ca before leaving for your vacation and being realistic about travel delays over the long weekend.