Over the past couple months, Jacob Markstrom has played the best hockey of his career. He's never had a month like he had in December, where he put up a .943 save percentage while going 8-1-0 in his nine starts. 
After a slight stumble early in January, Markstrom is showing that his December heroics were no fluke, with a .945 save percentage in his last three starts. His performance has been crucial for a Canucks team that has given up a lot of early shots and struggled to move the puck up ice. Without Markstrom locking things down early, the Canucks wouldn't be where they are right now: within striking distance of the playoffs.
Markstrom, however, bristles at the idea that something has changed for him or that he's doing something different that has caused a sudden improvement.
"In November there, where we weren't winning many hockey games," said Markstrom, "some games I was super happy with, and it was very frustrating to look back and see that you let in four goals and you lost the game. Now, it's the other way around. You know, I'm feeling really good and we're winning games. And then everybody's like, 'Oh, what are you doing different?' Nothing. I just keep working as hard as I can every time I get on the ice."
It's not just that he's winning games; he's stopping more pucks. In November, Markstrom had an .887 save percentage. Although he certainly had good games in that stretch where he played well and wasn't to blame for all the goals that got past him, it's hard to ignore the overall totals from that month. If December was the best month of his career, November was one of his worst.
When you look at his splits by month, one number jumps out: games played. Markstrom started 12 of the Canucks' 14 games in November, which is a heavy workload. Anders Nilsson fractured his finger and missed nearly a month of action between October 25th and November 23rd.
Markstrom's save percentage with Nilsson out of the lineup was .885. Outside of that stretch of games, Markstrom's save percentage this season has been .923
There are several reasons why Markstrom's performance might dip with Nilsson out. One is mental, as it's hard to dismiss the fact that the goaltender backing you up is Richard Bachman — no offence meant to Bachman, but he did give up six goals in his one start for the Canucks this season — which might make you feel like you need to be perfect.
Another element is physical strain. Markstrom may have started just three more games in November than he did in December, but that's over 100 more shots faced in games. It also means less rest between starts and, crucially, less practice time.
That last point may be the key. When asked about his confidence this season and where it comes from, Markstrom started with hard work.
"It's coming from all the work we've put in, in the summer, in the off-season, and it just continues," said Markstrom. "Also, you know, winning games. It's huge and it builds: every win you get, the more confident you get."
Markstrom added a moment later that it's the work he puts in every day in practice that leads to performance in the games.
"I've been pushing on that a lot all year that every time you get out there to make it count," he said. "Make the reps count. When you do two good ones and one bad one, it's pretty much just one good rep. Try to do as many good reps as possible. Remember, if you do a bad one, that's a bad habit.
"Every second on the ice counts and make the best out of it."
Markstrom puts in that work with goaltending coach Ian Clark, who rejoined the Canucks this season after seven seasons with the Columbus Blue Jackets.
In Columbus, Clark oversaw the development of Sergei Bobrovsky from a raw goaltender with tremendous talent to winning two Vezina trophies as the NHL's top goaltender. Kevin Woodley reported that Clark once sent Bobrovsky home in the off-season with "more than 100 pages of goaltending instruction" and helped him adjust his stance to take better advantage of his size.
"Every goalie coach is different, every goalie's different," said Markstrom about his work with Clark. "It's gonna be different stuff when it's two people trying to figure out — he has a kind of frame and an idea, but I'm not going to look like Bobrovsky and Bobrovsky is his goalie. He's himself and he's got his own way of playing and Clarky's just trying to help me build on my game.
"Obviously the more you do the stuff in practice, the more confident you're going to be with it and the more it's going to show in the game."
The work that they've done seems to be working. While Markstrom's overall save percentage this season doesn't look much better than previous seasons, his improvement is clear in a couple different ways.
First, Markstrom is giving up fewer early goals. That was an ongoing issue last season. Whether it was a lack of mental preparation or just plain bad luck, Markstrom had a habit of giving up goals in the first five minutes of the game and/or on the first shot of the game. That habit seems to be gone this season, which should give his teammates more confidence in front of him.
Second, if you delve a little deeper into Markstrom's statistics, the improvement becomes obvious. Goals Saved Above Average (GSAA) is a metric that takes into account the quality of shots faced. After all, shots from the point are generally easier to stop than shots from the slot.
This season is the first of Markstrom's career where he has a positive GSAA at 5-on-5. His 5-on-5 GSAA this season is 3.21, meaning we would expect an average NHL goaltender to give up 3.21 more goals given the same shots that Markstrom has faced.
A difference of 3.21 goals may not seem like much, but it's enough to rank him 11th among NHL goaltenders that have played at least 1000 minutes this season, between two very good goaltenders in Braden Holtby and Carey Price.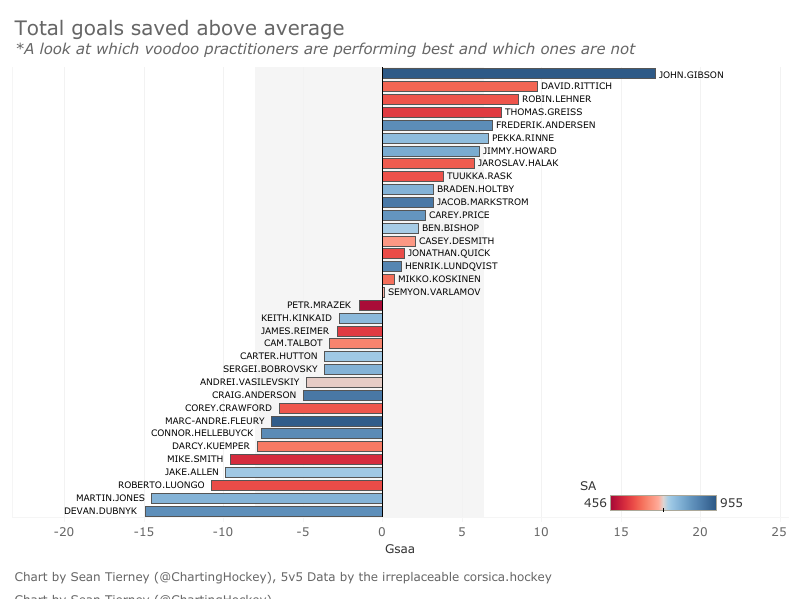 For what it's worth, Bobrovsky has slid to -3.67 GSAA in Clark's absence and currently has the worst save percentage of his career.
Looking at Markstrom's season using Goals Above Replacement (GAR) also shows how valuable he's been. Evolving Hockey's GAR metric ranks Markstrom as the 10th most valuable goaltender in the NHL this season, providing 15.4 goals above a replacement-level player; in other words, he's stopped 15.4 more goals this season than a goaltender available on waivers or in the AHL.
Markstrom's 15.4 GAR is ahead of goaltenders like Pekka Rinne, Carey Price, and David Rittich, who has been lights out for the Calgary Flames this season.
That's a significant improvement from last year, when his 14.2 GAR over the course of the full season was ranked 27th in the NHL. Even with Markstrom's November slump when Nilsson was out of the lineup, he's been among the top goaltenders in the NHL this season.
The challenge now is for Markstrom to continue his high level of play. You can't expect a save percentage north of .940 every month, but avoiding early goals against and maintaining or coming close to the .923 save percentage he managed outside of Nilsson's injury would be outstanding.
Fortunately for him and the Canucks, he has a new backup goaltender that should be able to provide him some days off throughout the rest of the season: Thatcher Demko.
The Canucks' top goaltending prospect has put in a lot of work with Ian Clark as well, especially considering the two week gap between his call-up from the Utica Comets and his first start of the season with the Canucks.
"You have to, when you're not playing so much, you've gotta treat your practices like your games," said Demko on Tuesday. "You've gotta be intense, focused, treat every puck like it's do or die. That's what Clarky likes to preach to his guys, regardless of the scheduling of games and such.
"That's just something that I like to do as well, especially when the games are maybe spread out a little bit more than I'm used to, I've just gotta go out every day in practice and treat it like a game."
Demko has enjoyed working with Clark as he strives toward becoming a true NHL goaltender.
"He's definitely got a different mind for the game, in a good way," said Demko. "He's good at putting things into terms [you can understand] and he's able to communicate that very well. He gives you the why. He tells you why you're doing something as opposed to just telling you to do it."
"It's been great so far," he added. "He definitely holds you accountable, which is something I like and appreciate. Just keep working hard with him and watch the results."
For an example of those results, Demko can just look towards Markstrom and the marked improvement in his game this season.