There's been a growing sentiment among the Canucks fanbase that Elias Pettersson has a competitor for the crown as the team's most valuable player: Jacob Markstrom.
The Canucks wouldn't be on the edge of a playoff spot without Markstrom's performance this season and he's earned accolades around the league for his emergence as a true number one goaltender. Only, there's one oddity: his save percentage is actually worse than last season.
On a pure stopping-the-shots-he-faced basis, Markstrom has been slightly worse than last season, when his .912 save percentage was right in line with the league average. And yet, this season, the perception of Markstrom has changed significantly, despite a .910 save percentage, a couple ticks lower.
Why has the perception changed? Why is he now seen as a "true number one" when last year he received no such praise?
There are a few reasons. One is that his .910 save percentage is actually above average for the NHL this season, which has seen save percentages drop league-wide. The average save percentage this season is .908, the lowest it's been since the 2008-09 season, possibly because of the size reductions in goalie equipment enacted in the off-season.
It helps, as well, that he's posting quality starts with more regularity. Borrowed from baseball, a quality start is any start in which a goaltender posts an above-average save percentage or allowing two or fewer goals against in a start with 20 or fewer shots against. You might call it the giving-his-team-a-chance-to-win statistic.
In Markstrom's 42 starts this season, he's posted 23 quality starts, which is fifth in the NHL. That's a quality start 54.8% of the time. That's an improvement from 50.9% last season, when he had 29 quality starts in 57 games.
We could also look at some advanced goaltending statistics, like Goals Saved Above Average (GSAA). Last season, Markstrom's GSAA was -2.16, indicating he was a little worse than an average NHL goaltender, given the quality of shots he faced.
This season, his GSAA is 3.07, putting him ahead of Carey Price, Braden Holtby, and Henrik Lundqvist.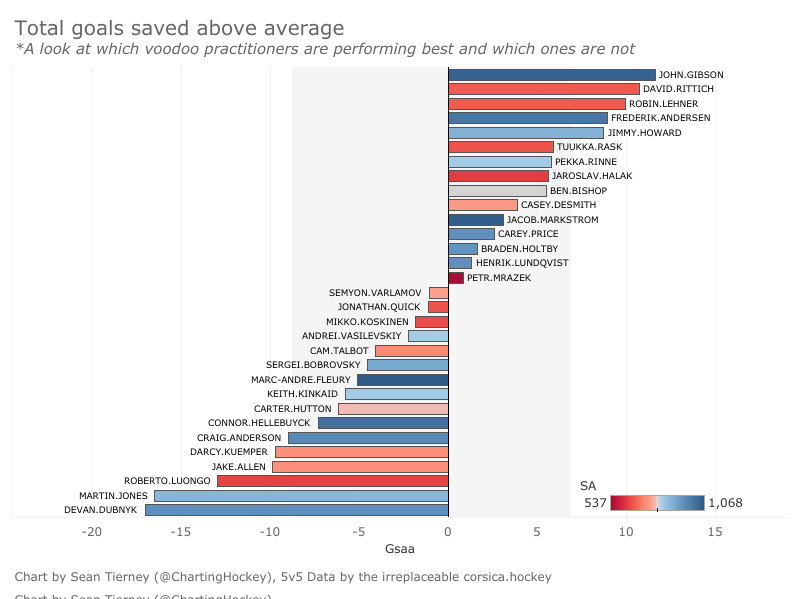 None of that fully explains the perception shift, however, as most hockey fans and TV pundits don't pay much attention to goalie analytics or even where a goaltender stands in comparison to his peers. What might change perception is what stands out on the ice: early goals against.
Giving up early goals was a major criticism of Markstrom's game last season and it's something that both stands out to everyone watching and has a major impact on the game. Giving up an early goal against puts the team behind, forcing them to play catch-up. It may even affect the confidence skaters put in their goaltender, knowing that one mistake could quickly result in the puck hitting the back of the net.
Last season, Markstrom gave up a goal within the first five minutes In 19 of his 57 starts. That's one out of every three starts: 33.3%
This season, he's given up a goal in the first five minutes in just six of his 42 starts: 14.3%.
That's a significant difference and it extends through the entire first period. Markstrom managed to keep the opponents off the board in the first period just 13 times last season. This season, he's already up to 20 games where he's carried a shutout through the first period.
The Canucks gave up the most first period goals in the NHL last season. This season they've allowed the 15th-most: right around league-average. Markstrom is a big reason why.
Shutting the door early stands out to everyone watching and gives his teammates a chance to get an early lead and play from ahead. It also means a lot fewer Canucks fans raging at him for giving up early goals.
Of course, it also helps that Markstrom is getting a little more goal support — the Canucks are scoring 2.86 goals per game compared to 2.66 last season — which means more wins, which also helps his perception as a number one goaltender. It's a bit of a chicken-or-the-egg question: does Markstrom's improved performance early in games result in his teammates playing with more confidence and scoring more goals?
What is clear is that Markstrom has been more dialled-in to start games. Perhaps that can be credited to Ian Clark, who rejoined the Canucks as goaltending coach this season. Perhaps it's simply the result of years of experience.
Whatever the case, the Canucks need Markstrom to continue to play at a high level to finish the season if they want a chance to make the playoffs. That means continuing to keep opponents off the board early in the game.