The Paper Feature is a weekly column and sidebars that appears in the print edition of the Vancouver Courier newspaper. Track it down!
---
Jake Virtanen has every tool a hockey player could want.
Virtanen has elite speed on his skates, great hands developed with skills coach Pavel Barber, a strong and solid frame for delivering body checks, a heavy wrist shot that is particularly deadly on the rush, and has even shown in recent games that he can deliver a nice pass. His backhand saucer pass to set up Elias Pettersson for a goal against the Pittsburgh Penguins last week was as neat and tidy as you could ask for.
When Virtanen is on his game, he's a boon to the Canucks, creating opportunities out of seemingly innocuous rushes with his speed alone. The trouble is that Virtanen isn't always on his game.
Virtanen has been criticized for his lack of hockey IQ, as he makes some poor decisions with and without the puck sometimes. You can see it on the rush, which should be his strength: when he has room up the wing, Virtanen can be dangerous off the rush with his speed. When opposing defenders keep a tight gap, giving him less room to go wide up the wing, he runs into problems. Instead of a quick pass to a teammate or a chip off the boards to get in on the forecheck, far too often Virtanen just skates directly into danger and loses the puck, leading to a rush the other way.
Perhaps the bigger issue, however, is a lack of consistency. It's hard to tell what you're going to get from Virtanen not just on a game-by-game basis, but on a shift-by-shift basis.
That's the most frustrating part, because when he's playing at his best, he can be a nightmare for opposing teams. Virtanen is currently tied with J.T. Miller for the most 5-on-5 goals for the Canucks, with seven. Taking into account Virtanen's more limited ice time, he's one of the team's most efficient scorers, just ahead of Elias Pettersson with 2.31 points per 60 minutes at 5-on-5.
Virtanen's fans, then, frequently wonder why he doesn't get more ice time and opportunity. While he has played on a line with Bo Horvat a lot this season, he's still averaging just 12 minutes per game and getting no time on the power play. He's played less on the power play than AHL call-up Tyler Graovac.
It's when you start to dig into the defensive numbers that Virtanen starts to look more and more suspect, a testament to the inconsistency in his game. That's the issue: as much as he puts up points, hockey isn't just about scoring; it's about out-scoring.
Among Canucks that have played at least 100 5-on-5 minutes this season, Jake Virtanen has been on the ice for the second-highest rate of shots against on the Canucks, behind only Tanner Pearson. In other words, when Virtanen is on the ice, the opposing team gets more shots on goal than when most other Canucks are on the ice. This lines up with the eye test: Virtanen's lack of puck management leads to turnovers and his lapses in defensive coverage lead to longer shifts stuck in the defensive zone.
It's more than just shot quantity, however; opposing teams get high-quality scoring chances when Virtanen is on the ice.
That is aptly illustrated by his defensive heatmap from HockeyViz.com, which illustrates where the opposing team gets shots when Virtanen is on the ice at 5-on-5. The red areas on the heatmap represent an above-average number of shots from that spot on the ice, while the blue is a below-average number of shots.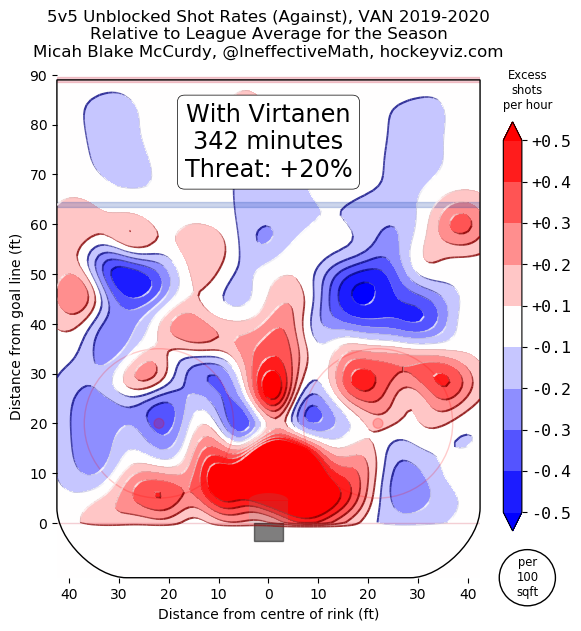 Virtanen's heatmap features a massive pocket of red directly in front of the Canucks' net, the most dangerous area on the ice. The "Threat" marked on the heatmap means that teams get scoring chances that are 20% more dangerous than the NHL average when Virtanen is on the ice. That's the worst mark on the team; when Virtanen isn't on the ice, the Canucks' defensive Threat is minus-8%, meaning the Canucks give up chances 8% less dangerous than league average.
If you're looking for a reason why Virtanen doesn't get more ice time, it's the turnovers and defensive breakdowns that lead to those dangerous scoring chances for the opposition.
It feels like the Canucks and their fans are just waiting for that lightbulb moment, the instant where Virtanen flicks a switch and "gets it," and becomes a more effective hockey player as a result. Until that happens, if it ever does, Virtanen will remain an enigma.
---
Stick-taps and Glove-drops
A tap of the stick to Alex Burrows, who was added to the Canucks' Ring of Honour on Tuesday night, which is well-deserved for fan-favourite winger. Once the Sedins' numbers are retired in February, he'll reside on their wing forever in the rafters of Rogers Arena, which feels right.
I'm dropping the gloves with former Canucks coach Marc Crawford, who was the subject of allegations of physical abuse from Sean Avery and Harold Druken this week, reflecting previous allegations from Patrick O'Sullivan and Brent Sopel. In the wake of high-profile coaches being accused of abusive behaviour, it wouldn't be surprising to see more former players coming forward.
Big Numbers
30 - The Canucks lead the NHL in power play goals with 30. That's partly their excellent power play and partly because they lead the league in power play opportunities with 112.
12 - Canucks prospect Tyler Madden is ripping up the NCAA in his sophomore year. His 12 goals are tied for first in college hockey, while his 22 points in 16 games is tied for third in points.