Early in the season, Jake Virtanen was the talk of the town. The fun and absurdity of the #ShotgunJake meme, in which Canucks fans shotgunned a beer every time Virtanen scored a goal, created a buzz in more ways than one.
#ShotgunJake began with Jason Brough of TSN 1040 boldly predicting a 20-goal season for Virtanen, which would have doubled his career high from last season. That prediction didn't seem so bold when Virtanen hit eight goals just 20 games in, but since then, Virtanen's production has slowed significantly.
For the first time all season, Virtanen's goal-scoring pace has slipped below 20 goals over 82 games. Virtanen has just three goals in his last 27 games, putting him on-pace for 19 goals this season.
Virtanen hasn't recorded a point in nine games, though he came inches away from an empty-net goal on Sunday against the Florida Panthers, hitting the post from a tough angle. He now has 11 goals and 18 points in 47 games and has been passed by Loui Eriksson in points.
That's not ideal, but just how much should we be concerned about Virtanen and his scoring slump?
"I think a couple little details in the offensive zone have slipped a bit," said Canucks head coach Travis Green after Tuesday's practice. "He's missed the net a few times with his shot that I'd like to see him hit it."
That Virtanen hasn't hit the net as much recently is definitely the case. Over his last seven games, Virtanen has 11 shots on goal in 31 attempts at 5-on-5. That means about 2/3rds of his even-strength shot attempts are missing the net or getting blocked.
The fact that he's still getting shot attempts, however, is a positive. Virtanen leads the Canucks with 8.35 shots on goal per 60 minutes of 5-on-5 ice time. He also leads the team with 14.93 shot attempts per 60 minutes. Though many of those shots and attempts come from low-danger areas of the ice, he also leads the Canucks in scoring chances per 60 minutes and shots off the rush per 60 minutes, as measured by Natural Stat Trick. http://www.naturalstattrick.com/
Essentially, Virtanen has been a dangerous scoring threat overall this season. How has he trended recently?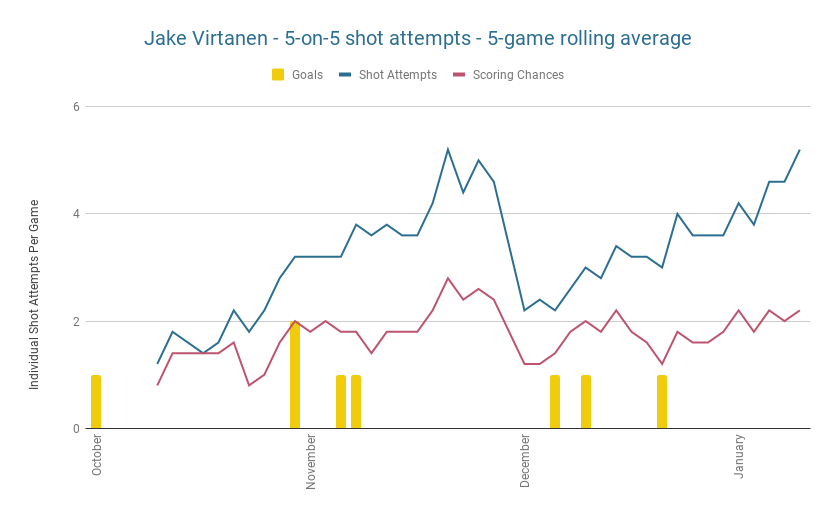 Over the season, Virtanen has averaged approximately 3.23 shot attempts and 1.72 scoring chances per game. We can see that after a dip in mid-December, Virtanen's average shot attempts and scoring chances have climbed well over those rates, but his shot attempts have climbed at a higher rate, indicating that he's taking more shots from low-danger areas.
In general, this suggests the puck should start going in for Virtanen again, but there's one other aspect to look at: his puck possession.
Virtanen's corsi percentage — which measures shot attempts for and against while a player is on the ice at 5-on-5 — is middle-of-the-road for the Canucks at 48.05%. That's good for 7th among the 16 Canucks forwards that have played at least 100 minutes this season, in the same range as Brock Boeser, Adam Gaudette, and Nikolay Goldobin.
Again, we can look at Virtanen's trends over the season with a 5-game rolling average to see if this is an area where he is currently improving or falling off.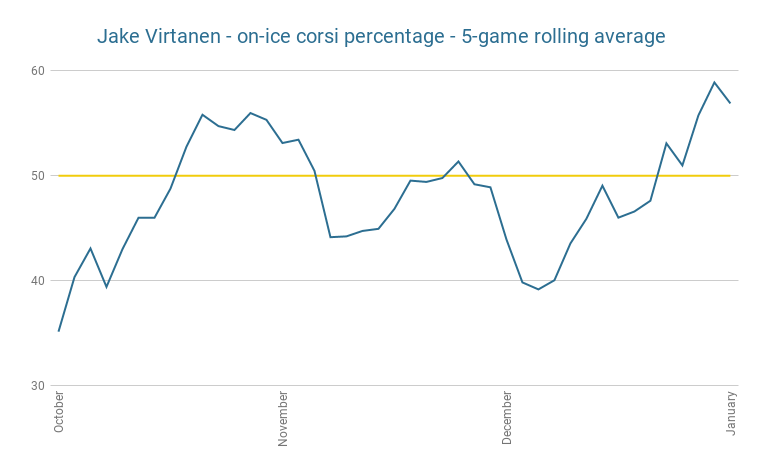 Virtanen's average corsi percentage has climbed well over 50% since the end of 2018, indicating that he and his linemates have spent a lot more time in the offensive zone at 5-on-5. That correlates with the rise in his individual shot attempts and scoring chances.
"I know he'd like to score and probably get a few more points," said Green. "He's not the only guy in our group. But he's another example of a young guy today that's having a session with one of our coaches about his game and little details in it. It's funny when those things tighten up, good things usually happen."
Tightening up on little details away from the puck can frequently lead to a better underlying statistics like corsi, which then leads to more offensive opportunities at the other end of the ice.
There's another aspect, of course, to corsi: teammates and usage.
"We've got him in a spot where he's playing against top-end players, top lines almost," said Green. He's playing on the Sutter line, on the checking line, and he's not, by no means, been a liability defensively and, for me, with his skating, that's a real bonus."
We can see from his time spent with five different centres this season that Virtanen's best corsi comes when he's playing on a line that gets more offensive zone starts, apart from around 26 minutes played with Jay Beagle, which is likely an issue of sample size.

Unsurprisingly, his best scoring rate has come while playing with Elias Pettersson, as is the case for most players that have played with Pettersson this season.
Overall, there are a lot of indications that Virtanen will start scoring again before too long, though it'll be tough for him to do so while playing a checking role with Sutter. To their credit, they have improved in puck possession together of late and, with Antoine Roussel on the other wing, there's certainly a chance for some scoring off the rush.