Jody Wilson-Raybould won a narrow victory Monday in the riding of Vancouver-Granville after taking a gamble earlier this year to run as an independent candidate in a race she won handily as a Liberal in the 2015 election.
Wilson-Raybould finished with 16,537 votes to her Liberal challenger Taleeb Noormohamed's 13,637 in what was a test of voters' allegiance to the governing Liberals and its four-year record in Ottawa.
"Holy, moly," Wilson-Raybould said from a stage at the Hellenic Centre, where more than 200 supporters celebrated her victory, chanting "Jo-dy, Jo-dy, Jo-dy" throughout the evening.
She entered the hall to Elton John's "I'm still standing."
The Conservatives' Zach Segal (11,326 votes) and the NDP's Yvonne Hanson (6,730) rounded out the top finishers, with the Greens' Louise Boutin placing a distant fifth, according to unofficial results posted on the Elections Canada website.
Wilson-Raybould's victory — which she described as "a nail-biter" — was not without some nervous moments for supporters, with early polls showing Segal and Noormohamed trading the lead in the first hour-and-a half after the polls closed.
Wilson-Raybould's ascent to the top of the polls was a remarkable feat in that she managed to shift enough of the 44 per cent of the vote she won as a Liberal in 2015 to this year's campaign as an independent.
She finished with 32.3 per cent of the vote.
That shift and voters' preference for an independent candidate bucked a historical trend of Vancouverites supporting political party-backed candidates, particularly Liberals, at the federal level.
An explanation for that shift points to voters' support of Wilson-Raybould's stance in a very public spat she had earlier this year with Prime Minister Justin Trudeau over the SNC-Lavalin affair.
At the time, she was attorney general and justice minister of Canada, a post she accepted in 2015 from Trudeau, whose Liberals won a minority government Monday night and retained three Liberal seats in Vancouver.
Wilson-Raybould's stance resulted in her being booted from the Liberal party, while Trudeau was later found to have violated the Conflict of Interest Act by improperly pressuring Wilson-Raybould to prevent SNC-Lavalin from being prosecuted in a corruption and fraud case.
For Wilson-Raybould, Monday's win was further vindication of her position in the affair, which received national media coverage for several months and put Trudeau and the Liberals in damage control.
The story continued to garner attention during this fall's campaign, which frustrated her Liberal challenger Noormohamed, a tech entrepreneur and former candidate to become Vision Vancouver's mayoral nominee in 2018.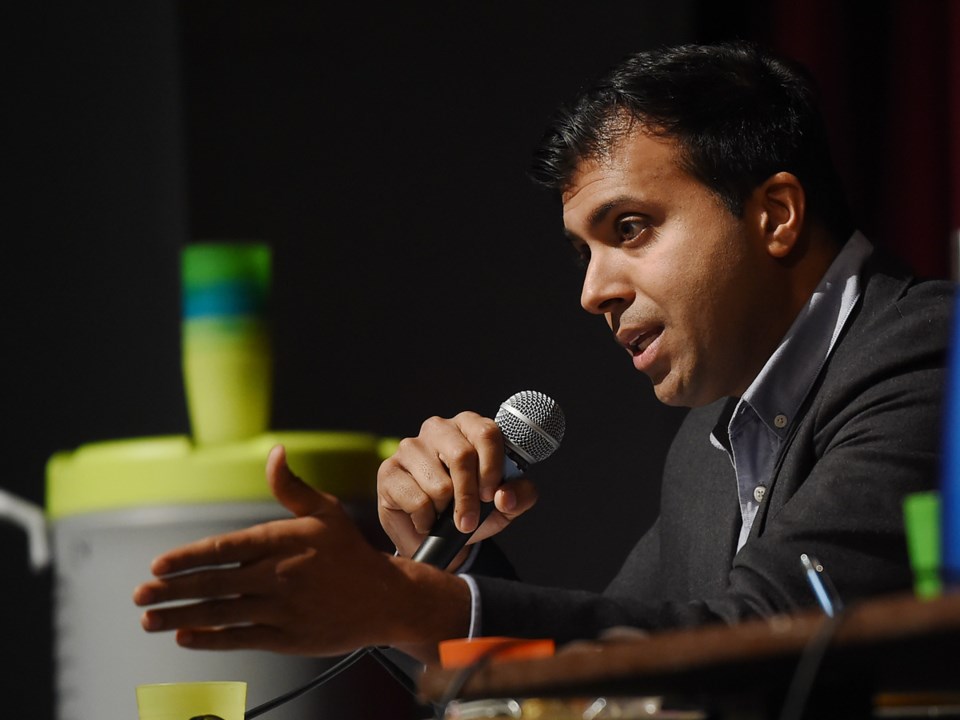 In a telephone interview Oct. 10, he argued fighting climate change, building affordable housing, investing in transit and providing childcare were issues being lost in media coverage.
"Those are the conversations I wish the media spent more time talking about because those are the real stories people are affected positively or negatively by [the] positions elected officials take," he told the Courier.
"I get the sense that people want to turn the page, they want to turn the page and to make sure this riding is not just defined by one issue or one individual. They want this to be defined as the place where Canadians can build a life and grow and not be a pawn in some kind of larger conversation."
The same day of that interview, Wilson-Raybould told the Courier she believed the facts and the fallout of the SNC-Lavalin affair would influence voters' choice of candidate in Vancouver-Granville.
But she emphasized her motivation for seeking re-election was "not geared around, or has anything to do with Justin Trudeau and the Liberal party," except that she didn't believe Trudeau could determine the longevity of her career in federal politics.
She said she wanted to retain her seat in Ottawa to tackle issues of affordability, climate change, reconciliation with Indigenous peoples and electoral reform.
But the question that dogged her during the campaign was how would she accomplish anything in the House of Commons without the backing of a party.
It was a frequent talking point of Noormohamed, who argued the Liberals were in the best position to continue delivering on housing, transit and other issues of concern for Vancouverites.
Wilson-Raybould's response was that she would get to speak directly on behalf of Vancouver-Granville residents "without being whipped [by the party]."
"I have a pretty strong voice and a pretty loud voice that I'm not afraid to use," she said.
"We need more independent voices in Parliament — people who are willing to work across party lines. Without working across party lines, we can't solve the big issues we're facing."
Wilson-Raybould said the partisan nature of politics has put parties above people and put power above achieving results for Canadians.
"And more than ever, I have learned that lesson over the last four years, particularly in the last year," said Wilson-Raybould, who was supported by Green Party leader Elizabeth May in the campaign.
"We need to do something about it. That's why I rank it among the issues that come up at the door all time — that people are yearning for something that is different, and that they want to have their voice heard."
Wilson-Raybould said she rejects the notion that an independent MP cannot be a bringer of things to a riding, noting the boundaries of Vancouver-Granville are simply that.
She pointed out housing is an issue across the city and interconnected to "so many other issues," although she didn't define which ones.
"We can't ignore one riding simply because there's an independent here," she said.
"I will always reject the type of politics that places dollars or influence in ridings where there's political power. That's not the way to build a country, or address these issues."
Despite her dismissal from the Liberals, Wilson-Raybould said she was proud of her accomplishments in government as a minister. She noted she introduced 14 pieces of legislation, including the assisted dying law, legalization of cannabis and reforms to the Criminal Code of Canada.
She was also a serving member of the government when Trudeau and his cabinet announced they would support the expansion of the Trans Mountain pipeline from Alberta to Burnaby.
The government then bought the pipeline, triggering protests in Vancouver and across the country, although the pushback didn't appear to hurt Wilson-Raybould at the polls.
She will now serve in a minority government and sit in the House of Commons with many former Liberal colleagues, which could make for some awkwardness. She was the only independent to get elected Monday, with her colleague Jane Philpott failing in her independent run in Ontario. Philpott was another Liberal cabinet minister who left the party last term.
"I'm very comfortable sitting wherever my seat will be in the House of Commons," she said.
"And I will always be willing to work with other members of Parliament — whoever forms government — and work with the Opposition and work across party lines to get things done, and to speak up when I think things can be improved. There's no awkwardness for me in doing that. There might be on behalf of other people, but not for me."
Wilson-Raybould is married to Dr. Tim Raybould, who joined her on stage during her speech, and is a descendant of the Musgamagw Tsawataineuk and Laich-Kwil-Tach peoples. She is a member of the We Wai Kai Nation.
She is a former Crown prosecutor, treaty commissioner and B.C. Assembly of First Nations regional chief, serving 10 years as an elected official before being asked by Trudeau to join the Liberals, which won 157 seats Monday — a loss of 27 from the 2015 race. The Conservatives won 121 seats and the NDP finished with 24.
Note: This story has been updated since first posted.
@Howellings