The Canucks' defence got exposed on Monday. Without Jacob Markstrom bailing them out, the Canucks' defence gave up goal after goal to the San Jose Sharks.
It's been an issue all season: the Canucks give up too many scoring chances and struggle to consistently move the puck up ice. The Sharks took advantage, poking holes in the Canucks' defensive coverage and creating turnovers almost every shift.
During an appearance on Sportsnet 650, insider John Shannon opined that Canucks fans shouldn't overreact to one bad game when it comes to the Canucks' defence.
"I don't think it's as horrific as people make it out to be, because there are some really positive things," he said. "I think [Erik] Gudbranson's had a better season than anyone anticipated."
The Sportsnet 650 producer dropped the ball by not dropping a record scratch sound effect immediately after that statement, but, to be fair, there's no possible way he could have anticipated Shannon, or anyone else, ever saying that.
I'm not sure why Shannon thinks that Gudbranson has exceeded expectations this season. Perhaps it's residual positivity from Gudbranson's five-game point streak back in early November. Back then, there was some hope that Gudbranson's game had turned a corner, as he had decent defensive numbers alongside Ben Hutton as well, but those good feelings haven't lasted.
Just one NHL defenceman has been on the ice for a higher rate of goals against at 5-on-5 this season: Brandon Manning, who was traded from the Chicago Blackhawks to the Edmonton Oilers in a widely-panned trade from the Oilers perspective. Manning has since been a healthy scratch for a couple games, which is quite the accomplishment on the Oilers blueline.
It's tough to judge a player solely on goals against, however, as goals can frequently the be the result of bad bounces, bad goaltending, or other factors out of a player's control. That's why it's good to look at statistics that have a larger sample size, like scoring chances, shots on goal, or shot attempts (corsi). We can look at these statistics on a site like Natural Stat Trick.
Gudbranson's 43.14% corsi isn't great — the Canucks have been out-attempted 883-669 when he's been on the ice at 5-on-5 — and he's been on the ice for the 9th-highest rate of shot attempts against among NHL defencemen that have played at least 500 minutes this season.
But perhaps Gudbranson has been able to help prevent those shot attempts from reaching the goal by getting in shooting lanes to block shots or playing a tight gap that forces shots to go wide? Well, no. He's been on the ice for the 4th-highest rate of shots on goal against among NHL defencemen.
Maybe Gudbranson is good at keeping those shots to the outside by playing tough in front of the net? Unfortunately, that's not the case. Gudbranson has the highest rate of scoring chances against among NHL defencemen.
If you look at a HockeyViz heatmap of shots taken while Gudbranson is on the ice, the result isn't pretty, unless you're a big fan of blobs of bright red indicating a ton of shots from the slot.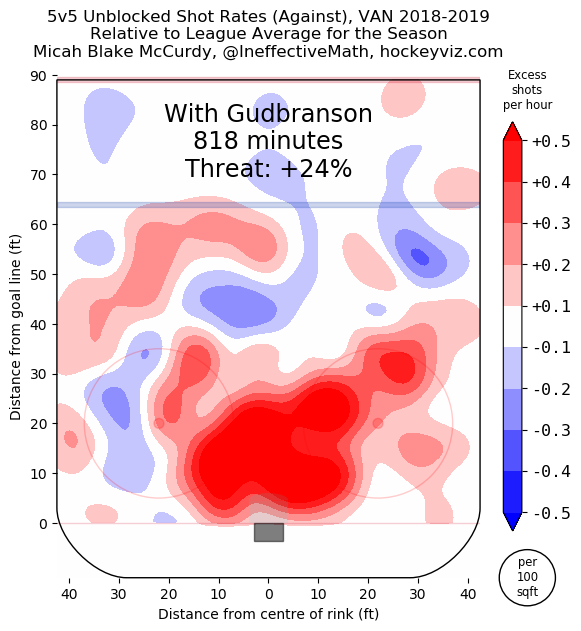 You don't need these numbers or charts, of course, to know that Gudbranson is having a rough season. That's been readily apparent from watching the games. So, I have to ask, just how bad did John Shannon think Gudbranson was going to be?
The truth is that Gudbranson has dragged down every single player that has been on the ice with him this season. Every player that has spent at least 15 minutes on the ice with him at 5-on-5 has a worse corsi percentage with him than they do without him, apart from Sven Baertschi, because someone had to be different.
Shannon went on to give his opinion on where the Canucks should go from here with Gudbranson.
"I'm impressed with how loyal they've been to him," he said. "I suspect that they think in the next two to three years, as this team morphs into a contender — and I do believe it will morph into a contender — that Gudbranson can be part of that."
Shannon suggested that Gudbranson might not be part of the team when they fully complete the rebuild, but mainly because things change so quickly in the NHL.