Bart Simpson once proclaimed that you don't win friends with salad, but the Vancouver Humane Society wants you to believe otherwise.
The local advocacy group recently launched a "Meatless Monday" campaign that's meant to curb the consumption of animal products, while at the same time calling attention to the spinoff effects that consumption has on the environment, and both human and animal welfare.
Colleges, high schools and hospitals across Vancouver have joined the initiative, which sees meat-based meal options replaced with vegetarian offerings at cafeterias in those facilities once a week.
"The impact of Meatless Monday is a really powerful way for people to make a meaningful difference for issues that are really growing and becoming more concerning," said Emily Pickett, the society's program coordinator for Meatless Monday. "These are all things we can care about. Even changing what we eat a little bit just one day a week can have a significant impact."
Three post-secondary institutions have joined the effort, including Capilano University, Langara College and BCIT, along with four secondary schools in Vancouver: Eric Hamber, Winston Churchill, David Thompson and Killarney.
Killarney's kick at the meatless can began Nov. 18, when bowtie pasta, salad and garlic bread replaced the traditional options like chicken sandwiches and spaghetti with meatballs.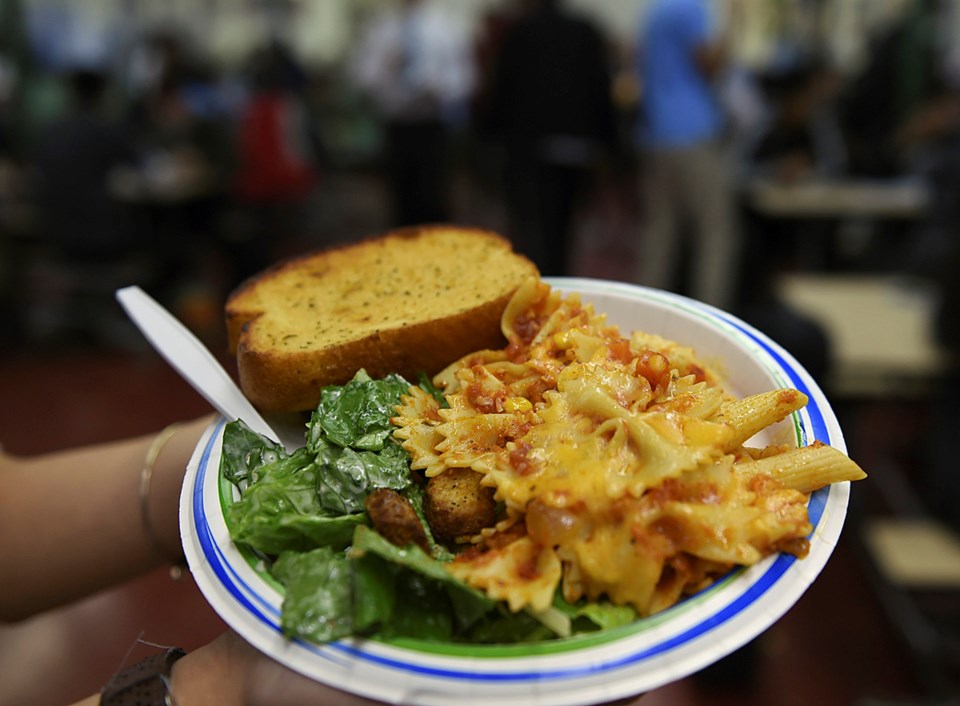 The idea was brought to life by the school's environment club, which is headed up by Grade 12 student Janelle Huinda. A vegetarian since October 2015, she presented the idea to her clubmates early in the school year to raise awareness around animal welfare and the different types of lifestyle options available to students.  
She promoted the idea en masse through social media, though there was some push back. "One person sarcastically asked if we could have Fried Chicken Friday," she said. "I just ignored that comment."
Huinda turned to vegetarianism as a means to help her cope with an eating disorder, a move that's helped her both mentally and physically.
"You don't have to worry about your calorie intake so much. It makes you feel healthy and you don't think about the negative effects of the food you eat," she said.  
Killarney's environment club teacher sponsor, Denise North, said the exercise has bolstered her students' ability to empathize and has honed their abilities to get messaging out on a grand scale.
"You don't want them to take on too much at one point, but through their initiative and word-of-mouth advertising, they've set it up for success," North said. "It really strengthens their communication and leadership skills."  
The Meatless Monday phenomenon was first introduced at Maryland's John Hopkins University in 2003. It has since taken off across North America, with the City of Vancouver proclaiming its first Meatless Monday on June 10, 2013.
Langara was the first Vancouver-based school to align itself with the humane society's efforts in 2014. The company that oversees its food service, Chartwells, began offering up tofu, lentils and the like in 2015.
Like in the Killarney context, the movement was spurred on by Langara's environment club. Since its inception, Meatless Monday has become the second most popular day of the week in the cafeteria after Indian food day.
"It's gone off like gangbusters. That really speaks to how it's been embraced by the students," said Chartwells spokesperson Stephanie Baxter.
jkurucz@vancourier.com
@JohnKurucz