The walls are the most "exciting" feature of King Edward Villa, a six-storey rental building under construction at 1568 East King Edward Ave., according to Tom-Pierre Frappé-Sénéclauze.
Frappé-Sénéclauze, a senior advisor at the Pembina Institute, considers them the most important "green" component.
"Because they're very well built. They're very well insulated, very air tight. That [means] the entire rest of the building can be very simple [including] the electrical system. The heating system is great, very simple," he said. "Here you have basically mechanical ventilation with heat recovery as the main heating source and a bit of baseboard heating. So it's mostly electrically heated, which means it's low carbon. But because it's so energy efficient, and the envelope is so good, you don't actually need a lot of electricity to heat it."
Paul Warwick, senior project manager at Performance Construction, the builder of King Edward Villa, agrees. He said every part of the wall — or envelope, which includes windows manufactured by Innotech Windows in Abbotsford, and the air barrier on the outside, work together to make a very energy efficient building.
He helped lead a building tour organized by the Pembina Institute, a think tank dedicated to clean energy and reducing the impacts of fossil fuels.
Warwick estimated the annual heating bill for a 500-square-foot studio at King Edward Villa will be $60 a year, calling it "remarkable."
The building is inspired Passive House principles and it aims to earn the highest Leadership in Energy and Environmental Design certification available — LEED Platinum.
It's being built under the city's Rental 100 program and will feature 77 units — 35 studios, 22 one-bedrooms and 20 two-bedrooms, as well as commercial space measuring about 6,000 square feet. Rents are expected to be $1,200 for a studio, going up to about $1,800 for a two-bedroom. Construction is expected to be completed this summer.
Chris Higgins, a green building planner for the City of Vancouver, said the project is important because it uses simple technology, B.C.-produced products and reduces energy use in operation.
"It greatly reduces the cost for people who will be renting in the building, it can help address affordability in a modest way, and overall it achieves some of the city's goals around carbon-neutral buildings in operation," he said.
Higgins said the city has seen increasing interest in the construction of super-insulated buildings like King Edward Villa.
"There are now about 12 buildings in the development permit process, so interest is definitely surging. It's growing, but this building is definitely an early leader. This is the largest building that's not city-built that has shown such leadership in reducing energy use, which is at this advanced stage [although] there are others that are early in the process," he said.
Pembina organized the tour to highlight the fact that the government of B.C. is expected to release a new Climate Leadership Plan later this spring, which the organization says will likely include carbon reduction and energy efficiency targets for the building sector.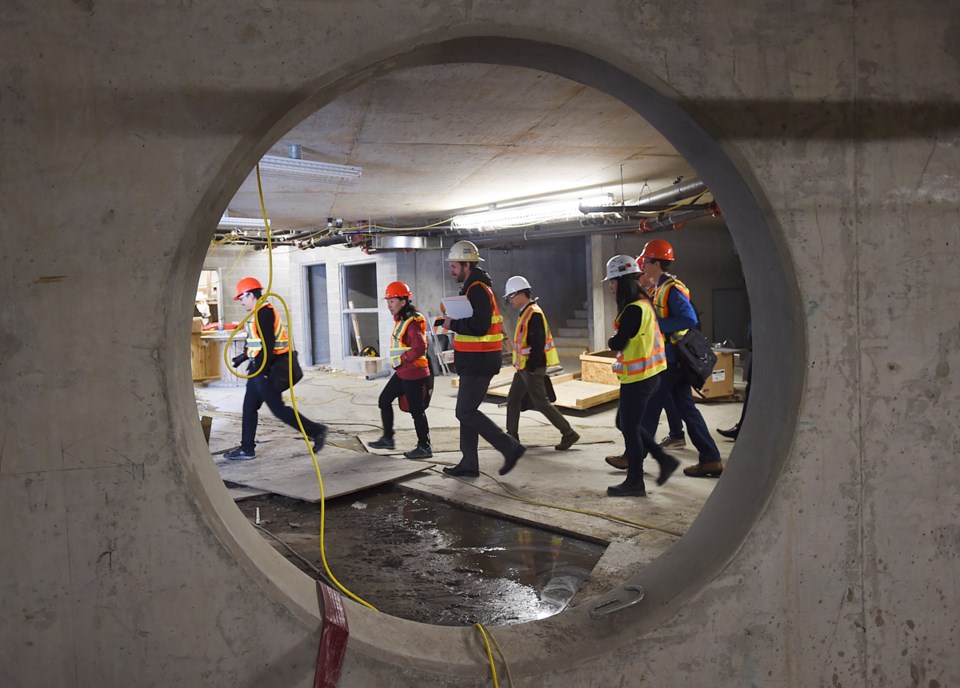 The B.C. Climate Leadership Team, a government-appointed panel that includes a representative from the Pembina Institute, recommends halving emissions from buildings by 2030.
"We want to see more buildings of this quality and design. But the reality is, when you look at the construction that's happening right now in Vancouver, most of them do not meet this level of efficiency," Frappé-Sénéclauze said. "Across B.C., that's even more true because Vancouver has a higher standard than most of the rest of the province. So we need to move quickly to where this is the norm."
Karen Tam Wu, director of buildings and Urban Solutions at Pembina Institute, said advocates are waiting with "bated breath" for the provincial government to come out with what the organization hopes will be a "strong and aggressive plan so we can meet some ambitious climate targets."
She wants the plan to include economic incentives to support suppliers, builders and local governments.
"We've come out of Paris [climate talks] in December all saying we're going to strive for around one-and-a-half degree increases in global temperatures. For B.C. to contribute its portion, we really need to see the province take the lead and put out some ambitious sectoral targets," she said. "We need to see this type of building moving from the niche to the norm."
The Pembina Institute considers the City of Vancouver a leader in what can be done through regulations and incentives.
Higgins noted the city is planning a zero-emissions new building plan — the ZEN plan, which staff will be taking to city council next month.
It will outline building code updates and a rezoning policy for the next 10 to 15 years and lay out how single-family homes, as well as multi-family, commercial, industrial and institutional buildings can meet the new requirements.
"There will both be incentives as part of that for leaders, along with regulation which will improve on a four-year basis," he said.
noconnor@vancourier.com
@naoibh