Up until last Saturday, Rick Caulfield was a barber.
Paul Cosulich was his customer.
For more than 30 years, Cosulich made the trip at least once a month from his Dunbar home to Kitsilano to have Caulfield cut his hair.
Their relationship ended Saturday.
At least the barbering part of it did.
Caulfield, 71, retired after 47 years of cutting hair, his first 22 years at Crest Barbers on West Fourth Avenue and the last 25 at Kitsilano Barbers, near the Safeway between Balsam and Vine.
Cosulich knew the day was coming. He knew it would be hard to let go. He and Caulfield developed a special bond over the years, sharing personal stories of family and the ups and downs of life.
So before Saturday came, Cosulich got to work on a plan. He contacted the barber's wife, Heather, about hosting a luncheon at the Royal Vancouver Yacht Club. Invite family and friends, he told her, and we'll surprise him.
Yes, the yacht club.
But as the 61-year-old businessman explained by cellphone while waiting to board a plane in San Francisco, his motivation for paying tribute to Caulfield was more about friendship than a financial transaction at a fancy lunch spot.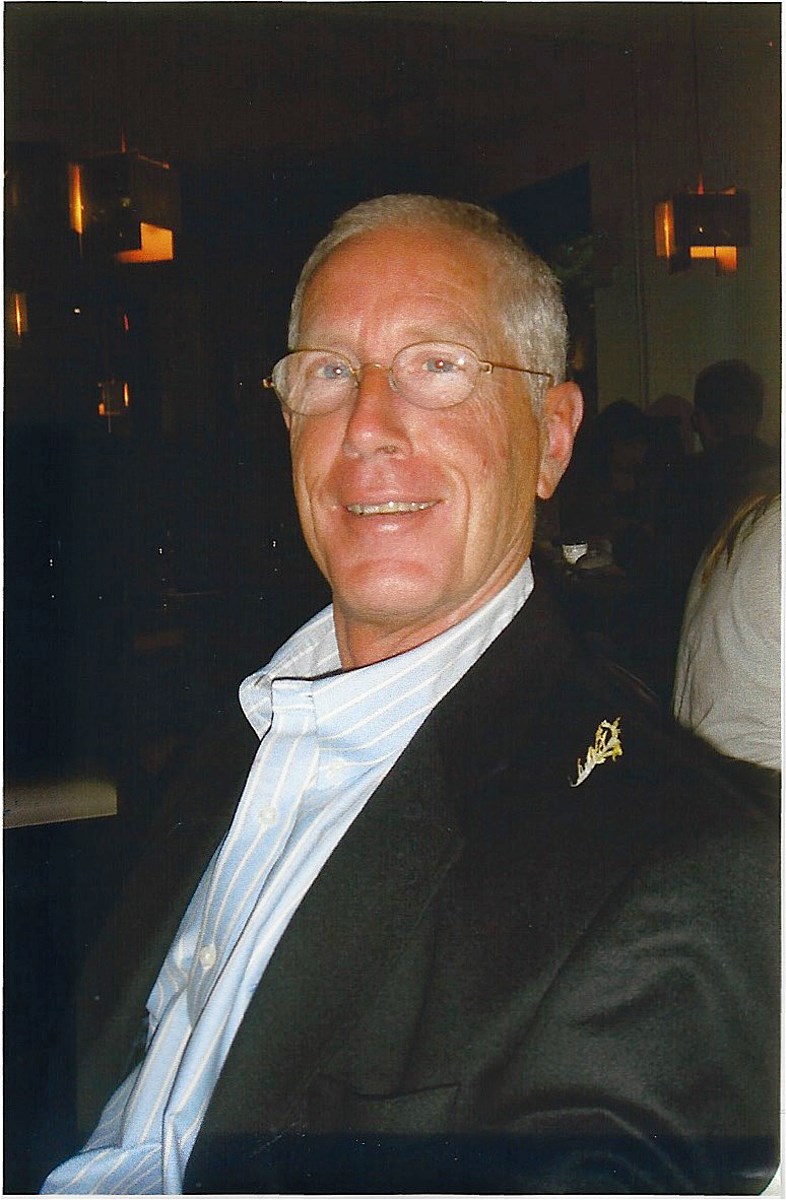 Then he told a story...
About 20 years ago, Cosulich turned an old fish pond in his yard into a small swimming pool. A man he knew as "Graham the pool guy" helped him build it. He came by regularly to ensure the pump worked and fill the pool with the necessary chemicals.
The two men got to enjoy each other's company, yakking about this and that, drinking coffee and puffing on cigarettes. A good B.S. session is what Cosulich called it. Then one day, Graham's son Scott arrived without his father.
"I said, 'Where's your dad?' And he told me that unfortunately he died a couple of weeks ago. It really hit me hard — all of a sudden this guy was gone, this guy who was part of my life."
It wasn't long after that when Cosulich got some more bad news. A man his family looked forward to seeing each time they visited a sushi restaurant at 41st and Granville had died.
 He always brought sliced oranges, made up like faces, to his kids.
"We got there one Sunday and he wasn't there. My kids were all downhearted that the friendly man was gone. So when I heard Rick was retiring, I'd be damned if I was going to go through that again. I wanted to celebrate our relationship."
So that's what he did.

Special lunch
A few weeks ago, he picked up Caulfield at the barber shop in his convertible, top down. They drove to the yacht club.
The main floor was packed. So Cosulich suggested they dine upstairs. And guess who was up there?
"My family, my friends, the people I work with — all these people, it was amazing," said Caulfield, in between haircuts on one of his last days at the shop last week. "I didn't think it would be that upsetting, but it was. People were in tears."
Video taken by one of the guests captured Cosulich's speech. He delivered it from his seat at one end of a long table draped in white linen. Caulfield and his wife were at the other end. They had all eaten lunch. Some guests were finishing their desserts.
After telling the story about Graham and the man at the sushi restaurant, Cosulich turned his thoughts to his barber. He pointed out how Caulfield knew all his children and even his deceased dog's name.
He talked about the tough times Caulfield endured when he went through a divorce and the challenge of raising two young boys, Steven and Ryan, who are now adults and were seated at the same table.
Then along came Heather, he said, a bundle of positive energy he met more than 20 years ago. She, too, has two sons from a previous marriage, Sean and Chris, who became stepsons to Caulfield when he married their mother 16 years ago.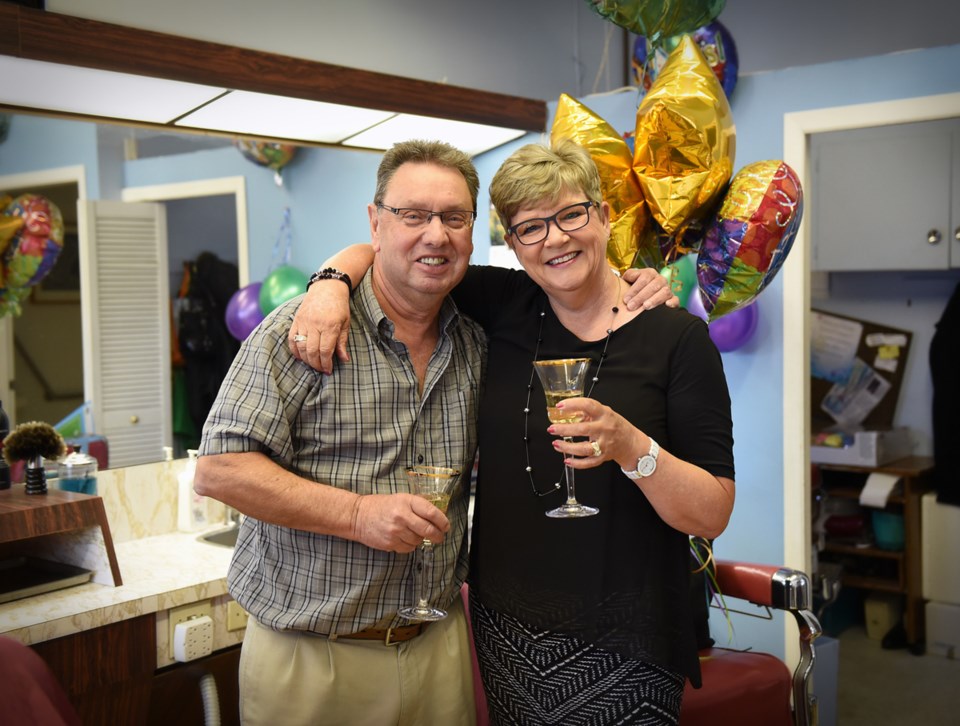 Caulfield's friendly demeanour, he said, was a trait he appreciated. His easygoing nature reminded him of an uncle who had since died. By contrast, Cosulich added, he had rough edges, was opinionated and some people use a word to describe him that he wouldn't repeat in mixed company.
"So when I thought about you retiring," he told Caulfield, "I wanted to tell you that it's been more than just a haircut."
He went on to say how he doubted he could fill a room like the one they were in with such caring people — a similar comment he made over the phone from San Francisco, when he said he wished he had a few less dollars and few more true friends.
He closed with this.
"So I wanted to celebrate you and our relationship because, as odd as it seems, you're part of my life and important to me. And so I'm going to miss you."
The camera operator panned to Caulfield, who raised a glass.
"I'm going to miss you, too."

Travelling man
The luncheon set the tone for what would be a reflective and emotional couple of weeks for Caulfield, who thought more and more about his career, his life and his customers as retirement day approached. He was still clearly moved by Cosulich's generosity and friendship during the Courier's visit.
"You know, he's gone through my whole life with me — my divorce and stress and stuff like that. Usually, it's the other way around and the customer tells me about that stuff. But not with Paul. He's just one of those guys."
Left out of Cosulich's speech was how Caulfield lost his parents, Ethel and James, when he was 12 years old (his father to cancer, his mother to a heart attack). His brother Jim, who was 25 at the time, raised him until he was old enough to join the Navy.
Ray Wood, who attended the luncheon, knew that history. He also knew Caulfield started cutting hair in 1968. That's because Wood has worked with him for 47 years. In fact, Wood's father, Frank, opened a barber shop in Kitsilano in 1946 and gave Caulfield his first haircut. He was three years old.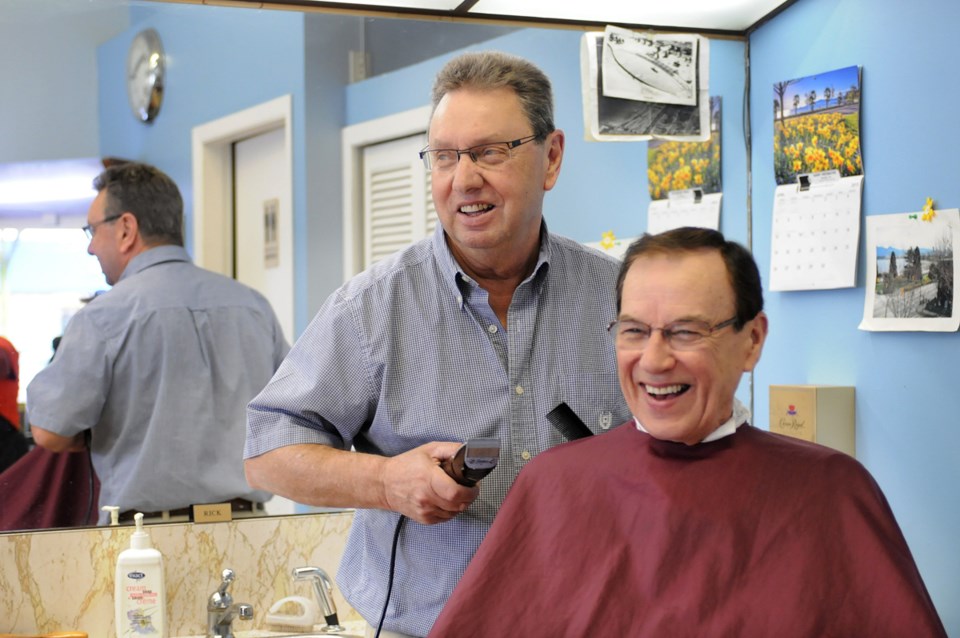 Wood, 70, owns Kitsilano Barbers and was in the shop last Friday and Saturday. So were barbers Sam Pybus, who has worked with both men for 20 years, and Nancy Posnikoff, who joined the shop almost four years ago.
After close to a half-century together, there's not much Wood and Caulfield don't know about each other. Like any good barber, they know how to listen, and when Caulfield went through his divorce and Wood's wife died last year, they were there for each other.
"He knows all about my life and I know all about his, the good times and the bad," said Wood, noting they've cut each other's hair for 47 years. "You can't work with someone for 47 years and not know about each other's lives. But you know, we've never had any real problems between us."
So what's he think about his old buddy calling it quits?
Caulfield, standing nearby, answered for him.
"He says I can't go."
Wood: "I'm in denial, I can't believe it."
Caulfield: "They figure I'm coming back."
Wood: "Oh, he's coming back for free haircuts, that's for sure."
Caulfield: "Yeah, I guess I've got to come back and keep track of these guys."
Pybus overheard the exchange.
"I've never seen them fight. I've seen Rick raise his voice a few times because Ray is a bit of a procrastinator."
Wood, laughing: "That's too late for me to change that. Once you're a procrastinator, you procrastinate about everything. I'm putting off dying, too."
Posknikoff described Caulfield — who could pass for someone a lot younger than 71 — as the calming influence in the shop, which has eight full-time and part-time employees. Caulfield is also the guy who fixes the clippers, the toilet when it's not working and the drains if they're plugged.
He's got one other speciality: He's the shop's expert on travelling, especially cruises. At a staff dinner last week, Pybus presented him with a T-shirt that said "cruise master" on the front and a list of his 19 cruises on the back.
With Caulfield retiring, she jokes that she won't have to listen to him talk incessantly with customers about his travels, which will continue in his retirement. Europe, Hawaii and New Zealand are on his list.
"I work in the corner next to him and it's always about what he's doing prior to the trip, getting ready for the trip and then it's like all about the trip. Every customer, it's almost like repetition. I said to him one day, 'Get a tape recorder and put it on, then you won't have to say anything.'"
Posnikoff added to Pybus' story.
"And with every conversation with his customers, there's always the statement: 'My wife always says, we're here for a good time, not a long time.'"
Pybus: "I should have put that on the T-shirt."

Another era
The barber shop is like most from its era, simple in its decor, with arborite counters, a linoleum floor, big red barber chairs, a wall of mirrors and editions of Time and National Geographic stacked on a small table in the waiting area.
The faint sounds of a radio station coupled with the buzz of clippers and conversation provide the day's soundtrack, all under banks of fluorescent lights.
What's unique about the shop is the large black and white photographs of old Vancouver on the walls. There's a shot of West Fourth and Yew from 1909, with a cop on horseback. A photo of the English Bay bathhouse hangs next to it. But the one image that gets the most attention is of Kitsilano pool, circa 1953.
It was taken at a time when swimming was free, when the pool was larger and lifeguards used lifeboats to monitor the activity in the water. The lifeguard in the boat that day, and prominent in the frame, was Caulfield's brother, Jim.
The 84-year-old retired law firm manager dropped into the shop last Friday morning, concealing a bottle of Crown Royal (in a box) under his coat. He pulled out the whiskey and gave it to his brother.
"Here, happy retirement," he said, adding to his brother's haul of rum, wine, scotch and other booze he received from customers in the last month.
"Thanks, bro."
The elder Caulfield was there for his last haircut. Well, his last haircut in the shop, anyway; little brother has promised to visit him at home to continue cutting his hair. (Their sister, Lillian, who was 19 years older than Rick, died several years ago.)
Although Rick joked that Jim was still his guardian, and he felt guilty about "all the stuff" he put him through as a kid, the conversation was all about days gone by at Kits pool.
"If you look at the pool today, there's not many people in there," said Jim, who worked nine summers at what was once one of the biggest salt water pools in the world. "That's because it was free back then and you didn't have all these rules that you have now. And you wonder why kids are not exercising today. That's the story I want you to write."
Rick accompanied Jim regularly to the pool and later became a lifeguard. After their parents died, he moved in with Jim in Kerrisdale, where one night when washing dishes he got the message he was driving his brother and wife nuts.
"So I went and I signed up in the Navy, and I was gone," he said, noting that he was a sonar technician for three years, working out of Nova Scotia.
When he left the Navy, he thought he'd give barbering a shot. The idea was that it was a job he could do anywhere in the world, although he laughs that he never worked outside of Kitsilano and didn't begin travelling until 1991.
What's kept him on the job for so long are the customers.
Cosulich is one them, of course. And he's got a bit of tale on how he first met Caulfield. While working on a tugboat years ago in the Caribbean, the first mate snuck up behind him and cut off his ponytail. His hair, he said, resembled actor Carol Burnett's for a while.
"When I came back into town, I went to a barber shop in Kerrisdale and I didn't think much of them," said Cosulich, whose family ran a tugboat business. "So I went driving around and found this barber shop in Kitsilano. And Rick's been cutting my hair ever since."
Don't ask Caulfield how many customers he has, or how many heads of hair he's cut in 47 years. Hundreds, thousands probably. He'll tell you they come from all walks of life — high school principals, labourers, business people, students.
They've included former premier Mike Harcourt, Lululemon founder Chip Wilson, Global anchor Chris Gailus and retired B.C. Lion Jamie Taras. Mostly, it's been regular folk looking for a good haircut at a reasonable price; when he began his career in 1968, he charged $2.50, now it's $19.
Over the years, he's seen the styles go from short to medium to long to military. When asked which haircut he prefers doing, he pointed at a customer in Pybus' chair, who was getting a closed-crop cut.
"Those ones," he said. "Just shave it off."
He's had some good chats over the years with customers. But Caulfield learned not to talk politics or religion, saying "stay away from those two things and you'll stay out of trouble."
Talking sports, however, almost got him in a jackpot 10 years ago. One morning, a young guy came in for a haircut. They got talking about the previous night's Vancouver Canucks game. The customer said he was at the game.
"I said they didn't play too bad, that they won the game," he recalled. "Another customer over there [in the waiting area] kept looking over at me and laughing. The guy left, then my other customer came over and said, 'You didn't know who that guy was did you?' I said, 'No.' He laughed and said, 'Good thing you didn't say anything bad about the team because he played defence last night.'"
Caulfield can't remember the player's name. But he knows the names of customers Tony Gill and Bill Miller, both of whom have been getting their hair cut from Caulfield or Wood for more than 30 years.
"It's just consistent, reliable and I like Rick's stories about his travels," said Gill, a retired engineer who used to live in Kitsilano but now travels from Fairview Slopes for a haircut. "I do a lot of travelling, so we have a lot in common that way. I'll miss him."
Miller, a retired salesperson, said the old photographs on the wall remind him of being a kid. He pointed out the old fish-and-chip shop at English Bay before his turn was up with Caulfield.
"You just get used to certain people and they're nice people and they do a good job, so you keep coming back," he said. "Rick's a good guy and he's always got a story to tell."

Last cut
More customers poured in Saturday, his last day.
Staff posted a sign, decorated with balloons, on a wall at the front of the shop, congratulating Caulfield on his 47 years.
There was food, champagne and cake.
As the afternoon wore on, and he finished his last haircut — Mark Knight, a seven-year customer had the privilege — he cleaned out his drawer and stuffed his tools of the trade in a black carrying bag.
He placed it in his barber's chair.
Then his seven-year-old grandson, Nathan, ran in the shop with more balloons. His wife Heather was right behind him, along with more family.
Paul Wickett walked in, guitar in hand.
The 66-year-old used to work with Caulfield for 10 years. He retired after he got diagnosed with cancer but pointed out he played soccer that morning.
Suzanne Cole, one of the longtime female customers of the shop, was there, too. She echoed what many said before her, saying she appreciated the family-type atmosphere and the staff's welcoming spirit.
"That's why I keep coming back," she said over the sound of popping champagne corks. "It's not pretentious, it's a comfortable place, they're very easygoing. We're all going to miss Rick."
For Caulfield, who looked around at his family and friends as he stood next to his barber's chair, the floor underneath him visibly worn from standing in one spot all those years, he talked about what it was like to wake up on the day he would retire.
"You get up and say, 'This is it, this is the last day.' And to have all this, with family and friends and the luncheon, it's quite a way to go out. I didn't think this many people liked me."
Wickett, guitar in hand, started strumming the chords to a Trooper song. It was familiar to Caulfield and his wife, Heather, who shared that a day never goes by without them knowing "how lucky and blessed we are because life can change so fast."
Wickett reached the chorus, and everybody joined in.
"We're here for a good time, not a long time. So have a good time. The sun can't shine every day."
twitter.com/Howellings