A nondescript laneway is magically transformed into a quirky vintage living room; a group of skateboarders gather on a set of concrete seats and watch a couple play ping-pong as cyclists whizz past on the bike route; a crowd collects beneath the Cambie Street Bridge at dusk, mesmerized by a huge projection of salmon swimming upstream.
Across Vancouver, public spaces are being reimagined in ever more creative ways.
Perhaps nowhere are these transformations more apparent than in the Vancouver Public Spaces Network's (VPSN) recent series of laneway activations.
This summer, VPSN has been working on a project called Laneway Living Room, which is "a series of one-day alleyway activations that aims to show how we could use these often under-utilized spaces to create cool public gathering areas," director Andrew Pask says.
Laneway activation involves taking an alleyway – most recently, a 25-metre-long stretch just off Commercial Drive – and "dressing it up with elements that transform it into a space where people want to hang out and linger."
At the Grandma's House Laneway Living Room, pieces of furniture were brought in, lace tablecloths and vintage tea cups were set out, and a selection of art supplies, records and board games drew hundreds of passersby.
"Our purpose was to show that you can do these sorts of engaging, community-friendly activations without spending a lot of money, and also that we have a lot of potential spaces that could be transformed like this," Pask explains. "This is especially important in a growing, densifying city like Vancouver."
He notes that laneways and alleyways make up a good part of the city's land base, but they are mostly used for garbage or parking. Pask urges people to be more creative when imagining the potential of laneways.
The VPSN works on a variety of different types of projects, including placemaking events involving activations, research and advocacy. At its essence, its goal is to improve the city's public spaces.
In the last few weeks, the VPSN has "undertaken a small research project looking at how the three neighbourhood plazas along Bute (at Davie, Haro and Robson) are being used," says Pask. They are close to releasing an inventory and beta map of all downtown public spaces, and they are working to encourage strong public space planning for new neighbourhoods like False Creek South and False Creek Flats.
"Successful public spaces provide a forum for lively, engaging public life, a welcoming place for a diverse array of people," Pask says.
Some things he would like to see include a book market and better use of blank walls – though he credits the Vancouver Mural Fest for "taking things leaps and bounds ahead in Mount Pleasant."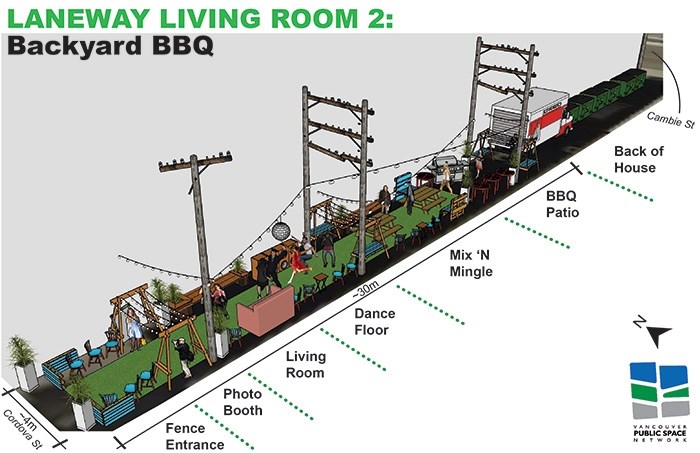 Still, Pask believes broader changes need to be made, including creative rain-proofing of public spaces so they are useable in the fall and winter. He also yearns for better night-time uses of space so Vancouver can shed its after-dark ghost-town image.
More support for community groups "to help program and steward public space, a better culture of opportunity," is also needed, he says.
Pask sees public space as "the thread that weaves together city life," offering a public forum and a place to hold big events and celebrations, "but it's also where the theatre of the everyday takes place."
The next laneway activation takes place Saturday, Aug. 26 between Cordova and Cambie in Gastown. VPSN is always looking for volunteers. Sign up here.
• Amy Logan is a Vancouver writer, editor and English instructor with an ear for trends in the arts, community and environment. She is a regular contributor to Metro News, and joins the Westender for the summer to explore the artists, creatives, environmentalists and adventurers who make Vancouver tick.