Tom Oliver is very much used to the view from the deck of the second floor of Splashdown Park's offices.
While the cluster of blue waterslides churned out kid after kid with the bravest hitting the water like torpedoes in the receiving pool, the president of Splashdown Waterparks Inc. remembered an elderly fellow who lost his dentures upon landing, popped the teeth back in when he found them, and headed up the stairs for another go.
Oliver motioned towards the substantial evergreens on the dirt hill that gave the slides their 425 feet of twists and drops. The trees were only six feet tall when they were planted 33 years ago when he, his brother and his father built the park.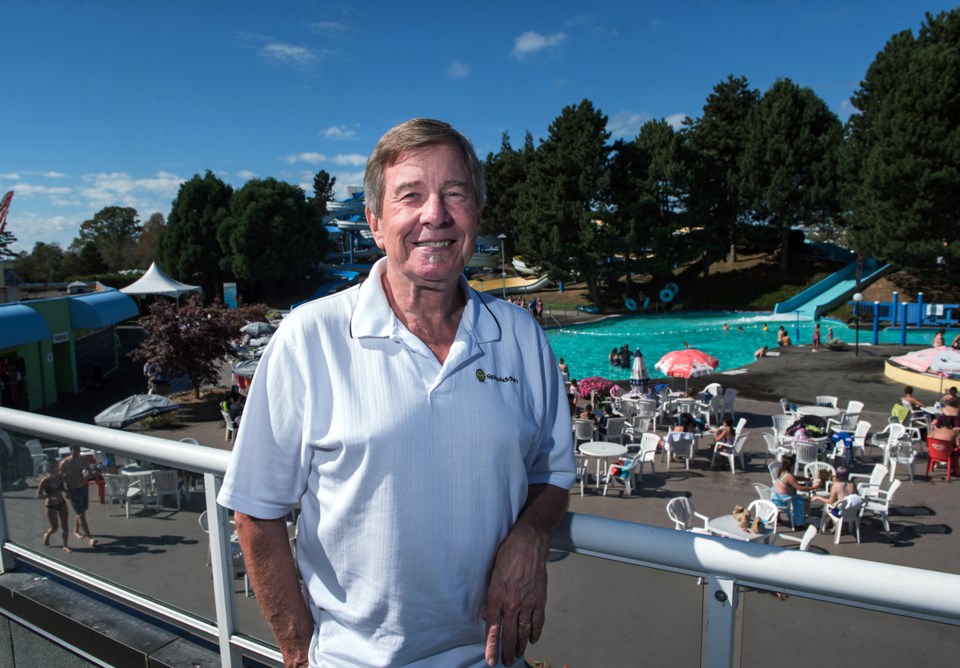 Oliver told these stories on his last day of work at Splashdown. It was Saturday (as a church-goer he doesn't toil on Sundays), which worked out great since park manager Harold Frederiks is a Seventh Day Adventist and doesn't work Saturdays. So Frederiks had Sunday's last shift at Splashdown before it closed for good.
The lease for the land expires at the end of September, and Oliver figured it's good timing as he turns 73 next month. Plus land around the old waterpark has changed, even more than the waterpark itself.
The top of the slide towers look down at the sprawling Tsawwassen Mills mall by the highway of speeding cars en route to the ferry terminal while in the near distance backhoes swish dirt around in sprouting subdivisions where a go-cart track once was and, before that, potato fields.
"There's part of me that's sad but I'm ready," Oliver said. "I've loved it 99 per cent of the time, people are here laughing, having a family time, playing, enjoying themselves… I'm getting to an age where I don't want to get involved in another development. I'd like to have a little more relaxation time, a little bit more time with my wife and grandchildren."
Oliver, born and raised in Kerrisdale before moving to Kitsilano and then to Ladner three years ago, got his career start with the family real estate development company. It took a left turn into waterparks, a new idea for Canada at the time, and built its first in Salmon Arm in 1981. After the opening in 1982, it was sold and the family decided to build another. They found the piece of property in Tsawwassen which was unused by the neighbouring RV park, and made a deal with the Tsawwassen First Nation (of which a member owns the Splashdown land). WhiteWater, the largest waterslide designer and builder in the world, which happens to be based in nearby Richmond, built Splashdown and unveiled it July 1, 1984. The waterpark hosted approximately 100,000 visitors every year, including the band Blink-182, which used Splashdown for its "First Date" music video in 2001.
Oliver kept on top of the business of waterslides and acknowledged Splashdown is old-fashioned in terms of technology — hardly anybody wants body slides any more instead favouring tube slides, he pointed out, though it was no longer his concern as he locked up for retirement.
"Our feeling was that Splashdown is a fun, safe place but things have changed over the years," Oliver said. "If we were building a waterpark now, it would be very different."
However, some of Saturday's visitors said they preferred the low-key and outdated waterslides to some of the more intense and modern experiences found at parks such as Cultus Lake Water Park where ski-hill classification of green to double-black diamond is used to rank a slide (Splashdown's slides were mostly green and blue).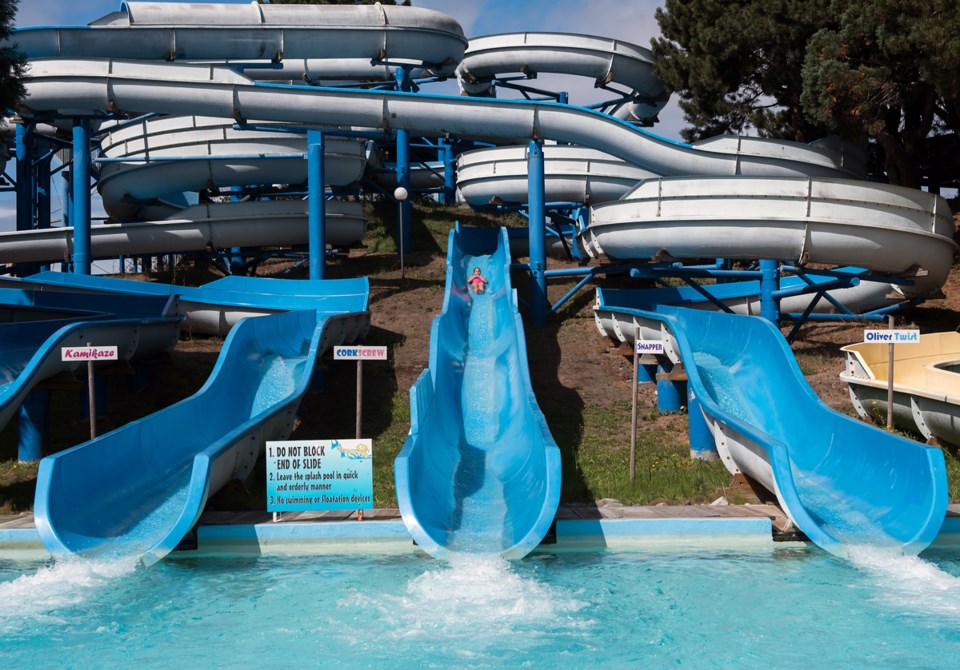 "Personally, I'm a big fan of the traditional waterslide. The fancy and thrill-seeking stuff, I don't really care for," said Scott Bandy who made the trip from Vancouver along with his girlfriend, Sara Colliss, and their friend, Kyle De Ville, who drove from Portland, Ore. to attend the park's final weekend.
"At Cultus Lake, it's so extreme. Their rides are more like amusement rides," added Colliss who was in good spirits despite nursing a knee that popped out when Bandy crashed into her on the River Run.
"I didn't even know I really loved waterslides until a friend invited me to go to Cultus and I didn't realize how much fun it is," she continued. "As an adult, I've acquired a taste for waterslides. If I was going on vacation and going somewhere that had a great waterpark, I'd definitely hit it up."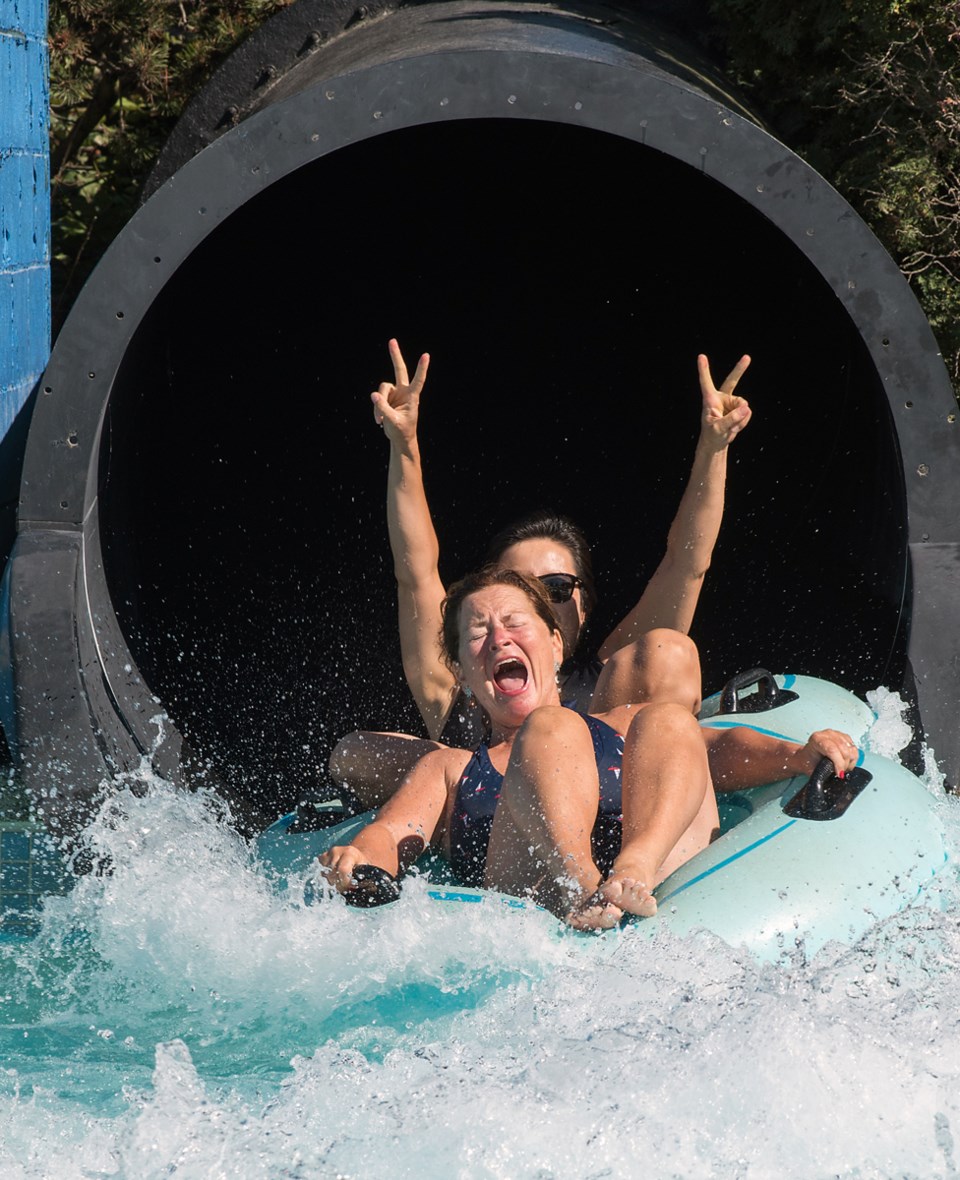 For De Ville, who grew up in Vancouver, the trip was motivated by childhood nostalgia — even though he and his friends don't have kids of their own.
"Problem is, you want to go to a waterslide park and you don't have kids and people are weirded out by that," he said. "I think we're the only people here without children."
Oliver might disagree. The Splashdown president said he'd have one last slide himself before closing the doors.
"We can be kids all our life, if we want."
@rebeccablissett
rvblissett@gmail.com