Some of Vancouver's oldest buildings are located near Mount Pleasant's original intersection, where 7th Avenue, Main Street and Kingsway meet. And, thanks to a unique set of metaphysical forces, so are some of the city's most vocal residents.
Ten thousand years of First Nations history, the pre-automobile development of the Victorian-era "Village Feel", the industrial boom of Brewery Creek and the pioneering (gentrifying) artists of the '70s made Mount Pleasant an ideal site in the '90s for the city's first artist live/work studios.

Now, just outside those fiercely protected studio doors, the shadows of the False Creek condo developments stretch across Main towards the 15 high-end art galleries of the newly established Flats and the future site of the United We Can bottle recycling facility.

The colonies that built up around independent businesses intimidate the uninitiated while "friendlier" big name chains are relegated mostly to throughways, where locals might loiter only while waiting for the bus.

The forces at work on Main Street have resulted in both coruscating diamonds and workaday coal. And inside the Vancouver Brewery Garage at 255 East 7th sits 21st century cultural carbon.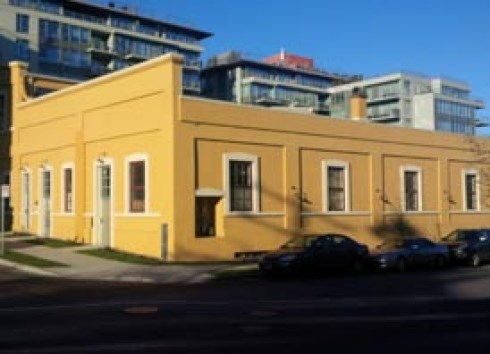 The building is a Mission Revival-style auto body turned mixed-use heritage space that, as you go door to door, introduces you to LPY Studios (home of acclaimed Canadian artists Lawrence Paul Yuxweluptun, Shawn Hunt and Graeme Berglund), Make (a full-service creative agency) and the long-awaited, soon-to-open Main Street Brewing.
It is the perfect cross-section of the Main Street family tree.

So, one sunny March afternoon, representatives of each branch — fine arts, marketing and manufacturing/hospitality — sat down to offer their perspectives.

It would be impossible to recreate the hour-long round table here, so the transcript is available online. But as the conversation went on, a number of pressure points were struck.

Make owner Sarah Tesla, a Main Street resident for 10 years whose agency employs seven other people, got the discussion going by saying she opened in the area to stay connected to an artistic community and offer her clients a less stressful experience than downtown.

For revered Coast Salish artist Lawrence Paul Yuxweluptun ("man of many masks"), his studio sits on the land of his ancestors.

Paul, a graduate of Emily Carr and one of Canada's preeminent political First Nations painters, (or simply Vancouver's "oldest hipster" if you believe his studiomates), merges Native iconography and surrealist influence to address West Coast Native issues.

In his 17 years living in the area, he says he's seen an influx of human beings, bars, beers and beards. (Main Street often looks a lot like Middle Earth, he joked.)

Despite her amusement at the imagery, this promoted a surprising declaration from Tesla that Main Street is no longer the hipster epicentre of Vancouver.

And the group unanimously agreed, with Berglund — musician, painter and founder of The Cheaper Show ("Buy Art Not Cocaine") — saying that particular Main Street trend peaked five years ago, with financial pressures such as lease rates and renovictions "displacing and dispersing" the hipster demographic into Chinatown and Strathcona.

Moving in, continued Berglund, are the "Wealthy White People" (WWPs), including (his claim, not mine) post-modern Heiltsuk artist Shawn Hunt, who moved to Vancouver from the Sunshine Coast in 2012 to paint with Paul and Berglund.

Main Street Brewing owners Nigel Pike (The Union, The Cascade Room, etc.) and Cameron Forsyth (Portland Craft) believe the WWPs could be a good thing for restaurateurs such as themselves, but Pike expressed concern that, with the relatively small size of Vancouver, there's not necessarily any incentive to eat, drink and socialize where you live.

"People tend to go where their friends are," Pike explained. So, even with two decades of area experience between them, it's still a carefully calculated risk to open their new business.

Forsyth feels, though, most of the new people moving into the area are still artists — be it theatre, film, food, music or canvas; artists who have had success and are drawn (or drawn back) to the vibe of the community. This is likely one of the reasons why, despite the changing demographics, the much-acknowledged sense of connectedness has remained.

Berglund then raised the point that the creatives currently living in the Main Street area are also the people that were "able to survive", drawing a round of agreement from the entire panel.

"There's a new sense of affluence here," he continued, referencing the top-tier area galleries all around them, "and it's very much reflected in the arts community."

"We're not here in isolation," added Tesla. In fact, the building is walking distance from artistic incubators Gene Café, Antisocial Skateboard Shop, Western Front and Grunt Gallery.

"It just so happens that we're all kind of business owners," she continued. "We're here for a reason and we're all relatively similar in age. We've grown at our own pace to get to the level we are at in the businesses, and we're all reciprocating back to our community. Just, kind of, fostering the next cycle, who are maybe just fresh out of art school. Of course you can't afford a lease on Main Street, but you can still have connections and outlets and things that are happening that we're helping to facilitate, I hope."

Paul is a perfect example, being in a position to buy into the big yellow building (which he playfully calls District 9), then leasing the space to share with Berglund and Hunt, who, in turn, mentor art students such as Andrew Oliver.

Berglund though, despite being an incumbent coming into Main Street's 'Age of Affluence', is still years away from being able to buy a place to live where he works — an issue facing many of the Original Mains in the development-wary 'hood.

Even the division of their building into 50 per cent commercial space — after it was initially earmarked only for artists — was contentious. Although, the dozens of jobs Pike and Forsyth create through their combined restaurant holdings potentially helped calm the waters.

Berglund certainly believes it was the right call. "Studio space is equally important to social space. We need places like Gene, Cascade — those meeting places where people commune and discuss things are really the most important part of life."

Tesla agreed that, almost two years in, their building is a completely successful model. But one that might only make sense where it is.

"I'm trying to imagine it in Kits; I'm trying to imagine it Yaletown... The statement of truth here is that we're all committed to this being a creative community. So, regardless of your business, if it's craft brewing, you have art in your restaurants and you're connected to that community through the people who work [for you]. Make has launch parties and shows artists. And [LPY Studios] is making the art in the finest sense and giving back in their own way, through The Cheaper Show and making sure that people are coming out and supporting. It's this reverberating effect."

One that reaches far beyond the confines of its Main Street microcosm.  
Click here for transcript.