There's a decidedly Seinfeld-esque vibe about Lisa Suggitt's latest retail foray.

Save for a few display racks, her 3,000-square-foot retail space off Main Street is mostly nothing.

Suggitt and her husband are the only constants, while other people only show up periodically — similar to how J. Peterman, Newman and the Soup Nazi came and went in 1990s New York City.

None of this is by accident and is instead central to the Pink Flamingo Pop-Ups ethos.

Located just west of Main and 11th Avenue, the pop-up shop opens its doors for the first time Saturday, June 15.

Seven vendors will divvy up the floor plan, selling everything from clothes and hats to furniture and trinkets.

Come next week, those same vendors will all be gone.

"It's almost like we're competing with the markets in town, but we don't want to be seen that way — we want to be a shared retail space," Suggitt said. "We want people to feel like they can have their own little store down here that is their space."

Suggitt's shared-space retailers can come and go as they please: spaces are rented for a day, a weekend, or week. Those stays max out at five months, though vendors can renew after the fact. Plots range in size between roughly 100 and 400 square feet. At the high end, a 364-squre foot space costs about $1,900 per month. Day rates go for as little as $30 and a $200 deposit is required.

Retailers, however, must be in retail through and through to satisfy zoning and licensing requirements: no tattoo artists, manufacturers, hairdressers or food prep is allowed, nor can renters make any modifications to the building.

Curtains and other separators can shift the use of the space, changing it from seven spots down to four, if needed. Suggitt also owns the business above her new pop-up shop, a roller skate shop called RollerGirl.ca.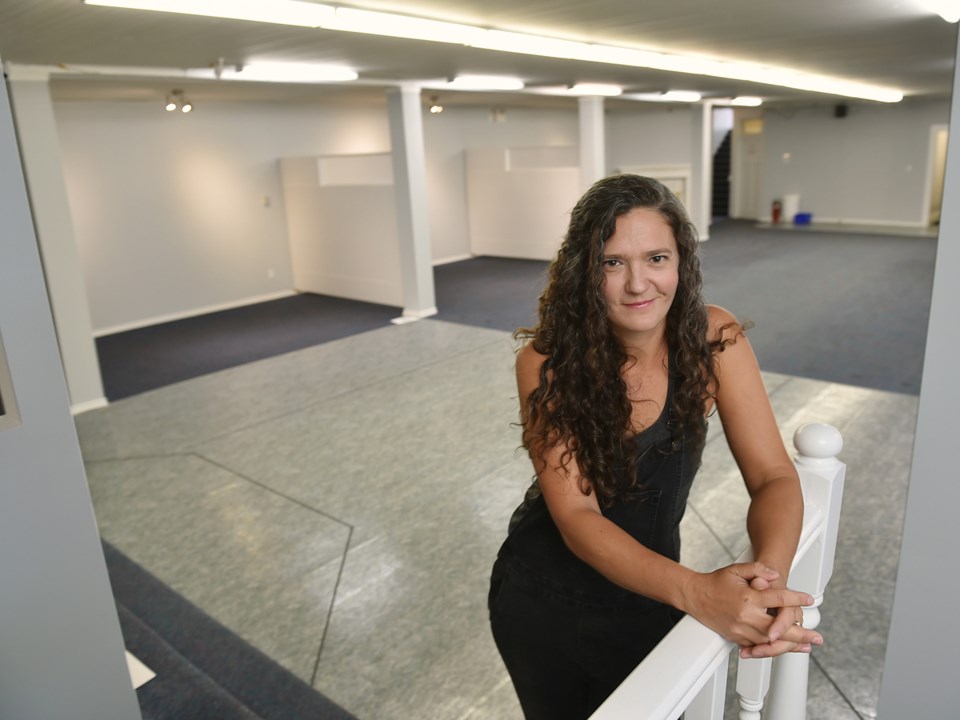 Come December, Suggitt is banking on attracting the crafters and artisans of Vancouver. In the meantime, clothing companies are her bread and butter.

"Unless you really know a brand and how those clothes fit, you need to try them on," she said. "And some women need a mirror so they can see how their butt looks in jeans."

Suggitt is targeting transient, new and online businesses — they need not worry about leases, exorbitant rents or property taxes. 

It's the latter point that pushed Suggitt in this direction to begin with. Her property taxes have gone up $10,000 over the last two years. Once home to a furniture store, the building 75 feet away from hers on the southwest corner of Main and 11th has been empty for around two years. The asking price for new tenants in what is a large, multi-storey building is around $65 per square foot.

"So many of our neighbours have left. People can't afford to be in this neighbourhood," Suggitt said. "We're doing this because property taxes have gone up by thousands of dollars for us. Rent's going up. We like the side of it where we can offer affordable spaces to small businesses."
Besides a pop-up further south on Main Street — one that's smaller and more expensive — Suggitt can't think of any other business similar to hers in Vancouver. Her clientele is predominantly young entrepreneurs in their 30s who are almost exclusively women.

Those people aren't flocking to the larger, more established retailers, largely because there's so few left. It's for that reason the lack of stability in Suggitt's business model isn't really a big deal.

"Those who really need [stability] are not our clients," Suggitt said. "With the changes happening in the retail environment anyway, retail is moving towards a less stable model. People are not getting 20-year leases anymore, and big companies are closing everywhere." 

The Pink Flamingo party gets going from 11:30 a.m. to 6:30 p.m. on Saturday, June 15. The shop is located at 187 East 11th Ave.
@JohnKurucz