They came by the hundreds to Chinatown Sunday to hear in English, in Cantonese and in the Chinese dialect of Sze Yup how Vancouver's civic government was truly sorry for the historical discrimination that previous city councils caused and perpetuated against the Chinese community.
The long-awaited apology was delivered by Mayor Gregor Robertson (in English) and former city councillors Maggie Ip (in Cantonese) and Bill Yee (in Sze Yup) at the Chinese Cultural Centre of Greater Vancouver on Pender Street, where more than 500 people sat and stood to witness the historic event.
Outside, dozens more stopped in the streets to watch the proceedings broadcast on large video screens positioned near the Keefer Memorial Square, where a monument stands in recognition of the contribution Chinese war veterans and railway workers made to Canada.
"On this day, on behalf of city council and the City of Vancouver, I sincerely apologize for these past injustices and their cruel effects on individuals and their families, and commit to ensuring that similar unjust practices are never again allowed to fall on any group or community," said Robertson from the centre's stage, which he shared with 10 other members of city council and city manager Sadhu Johnston.
Those injustices date back to Vancouver's first civic government, which made it clear at its first meeting in 1886 that "no Chinaman or Indian shall be entitled to vote in any municipal election for the election of mayor or alderman."
That position served as a launch point for decades of legislated and targeted racism by city leaders, including restricting where Chinese people could own and run a business. Housing covenants, including one on the house owned by Coun. Raymond Louie, were used to prohibit Chinese residents from purchasing property.
Councils of the day also lobbied the federal government to pass racially discriminatory immigration policies, including the Chinese Immigration Act in 1923, which formally kept Chinese people from immigrating to Canada.
Through its contracts and grants, council policies also forbade people of Chinese heritage from working or doing business with the city. It wasn't until 1952 that a Chinese person was hired at the city.
"For the first half of the City of Vancouver's history, racial prejudice and discrimination against our Chinese-Canadian residents was commonplace," Robertson said. "And yet for those 60 years, rather than standing up against the injustice of racism, many of our elected officials including mayors and councillors used the legal power of the city to enact and expand laws targeting Chinese residents."
Sunday's event attracted a mix of generations from the Chinese community, including veterans, business leaders, academics, artists, young people, politicians, city bureaucrats and police officers. Members of the Consulate General of the People's Republic of China in Vancouver also attended the event.
Three people—retired Canadian Forces Lt. Col. George Ing, Hilbert Yiu of the Chinese Benevolent Association and 17-year-old student Melody Choi—took turns at a microphone to thank council for the apology and to give context to its importance.
Ing, who is in his eighties, spoke of the sacrifices made by Chinese-Canadian soldiers who served in the Canadian Forces during the Second World War, despite not being allowed to vote on the soil on which they were born. Some were in attendance, including 99-year-old Ronald Lee who Ing convinced to stand up before the crowd and be recognized; it brought a standing ovation.
"Some lost their lives…and never returned," Ing said. "Those that did survive and returned home took up the fight for the right to vote."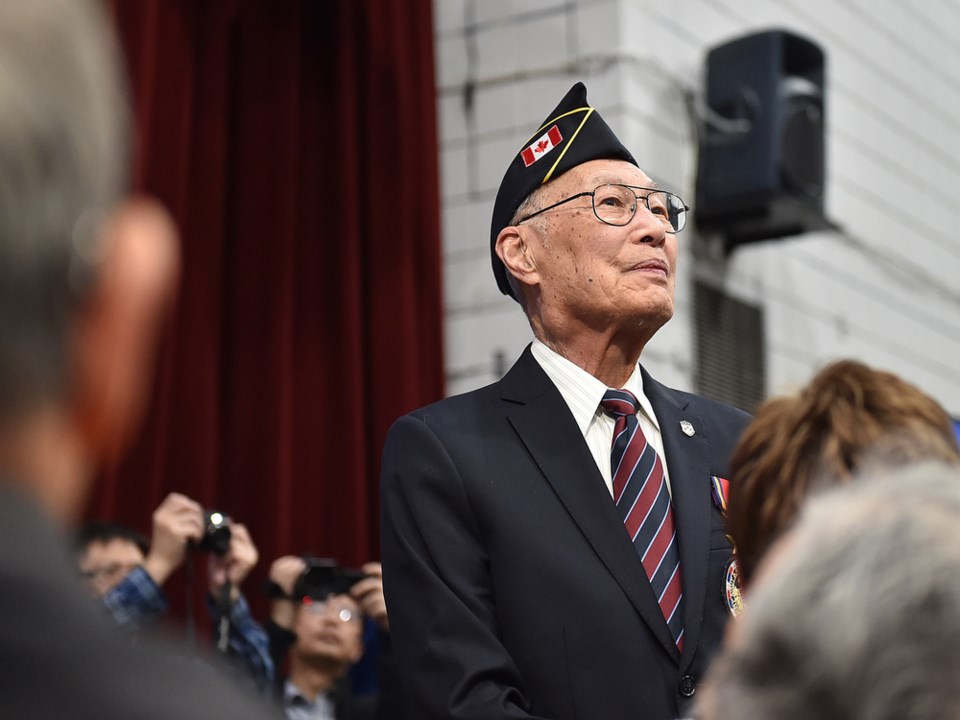 Full voting rights were not granted to Chinese-Canadians in Vancouver until 1949.
Yiu noted the provincial and federal governments earlier apologized for past discrimination against the Chinese. He applauded the city's move to do the same, saying it was an "important milestone" in the history of Vancouver's civic government.
"It is hard to imagine, in today's context, the sufferings endured by early Chinese," said Yiu, president of the association. "But the impact of family separation, economic hardship and social isolation is still deeply felt by their descendants. Today, the descendants of the early migrants are integrated members of society and are making huge contributions to a society that did not welcome their ancestors."
Added Yiu: "Unlike the past, let us now welcome all newcomers to the city and treat them with respect and acceptance."
Choi's great grandfather had to pay a head tax when he came to Vancouver in 1912. She also has great uncles and aunt who are war veterans. Unlike her relatives, Choi's  experience in Vancouver is that it is one of the "most progressive cities in the world."
"As a fifth generation Chinese-Canadian, I can sincerely express my deepest gratitude to all those who have laid the foundations for me to live my life now with the liberties and rights that were denied to those before me," she said. "The hardships and discrimination endured by previous generations should be things of the past. Our lives—my life—is better because of them."
The event was emotional for many, including Louie who made a brief speech near the end of the formal proceedings. The son of immigrant parents from China, who ran a bakery on Commercial Drive, was clearly moved by the ceremony when he spoke about the trail blazed by previous generations.
"Most important is to thank the many Chinese that came before us--the people that suffered and endured many challenges but kept the belief that this Vancouver had not only room for them…," said Louie, his voice breaking before continuing. "…but they also belonged."
Louie and the mayor later told reporters the apology is one commitment of the current council to strengthen relations with the Chinese community. They cited the city's ongoing work to have Chinatown designated by UNESCO as a world heritage site and supporting a redesign of Keefer Memorial Square as other initiatives.
Andy Yan, director of the city program at Simon Fraser University, welcomed the apology but said Vancouver still has much work ahead to bring all communities together. Standing on a balcony as he overlooked the crowd at the centre, Yan said the story of struggle and triumph in the Chinese community is an ongoing one that he and others concerned about the city's future will be watching.
"There's a challenge towards going beyond spectacles of apology and into the job of building an inclusive, multi-ethnic metropolis," he said. "Whether it comes to housing affordability, access to our democratic institutions and employment inclusion, we have a sizeable job in front of us. It's an issue facing a lot of cities, but it's these moments that we remember how we got here, and from the lessons of the past, we move forward."
@Howellings