Mayor Gregor Robertson says he will continue to work towards honouring a pledge he made 17 months ago to have tenants pay only $375 per month for rent in a massive social housing building to be built in the Downtown Eastside.
Robertson signed a pledge Aug. 2, 2016 in front of housing advocates at the Carnegie community centre to have a proposed 231-unit building at 58 West Hastings St. rent at pension and welfare rates.
On Tuesday, the mayor and rest of council unanimously approved the rezoning of the city property, recognizing the current plan for the 10-storey complex only allows for half of the units to be rented at $375 per month.
"The community has been loud and clear since August of 2016 that 100 per cent at welfare and pension rates is the goal and that certainly continues to be my commitment," said Robertson, noting he will work with the provincial and federal governments to "deepen affordability" of the project. "I'm very confident that we're going to close this gap. We're not done yet."
The provincial government announced Jan. 16 that it will fund $30 million of the estimated $90 million cost. The Chinatown Foundation, which is negotiating to be the leaseholder of the building, has set a goal to raise $30 million.
So far, the funding commitments allow for the project to proceed with 50 per cent of the units to be rented at $375 per month and the other half at 30 per cent of a household's income level, but not to exceed $1,272 per month.
Robertson described the project, which will include a large community health centre, as "a breakthrough" and "turning point" for the neighbourhood. The property is directly across the street from Save-On-Meats.
The mayor thanked advocates for their "relentless advocacy" and "passionate support to make sure this gets to 100 per cent." Robertson got an earful Jan. 16 from residents at a public hearing, with several dozen speakers imploring him to keep his promise. One told him to "man up" and keep his commitment.
"We've taken lots of flak for not delivering yet, we've taken lots of flak for not solving all the problems that we face on our streets — regardless of the circumstance, regardless of the fact that we have raised the bar continuously over and over to address affordable housing beyond any other city in Canada," he said. "The problem is still a big, big one for us. So we've got more to do. We can't slow down, we can't back off. We've got to keep stepping up and I appreciate the community's pressure to do that. It comes from a really honest and passionate place to make sure that people are looked after."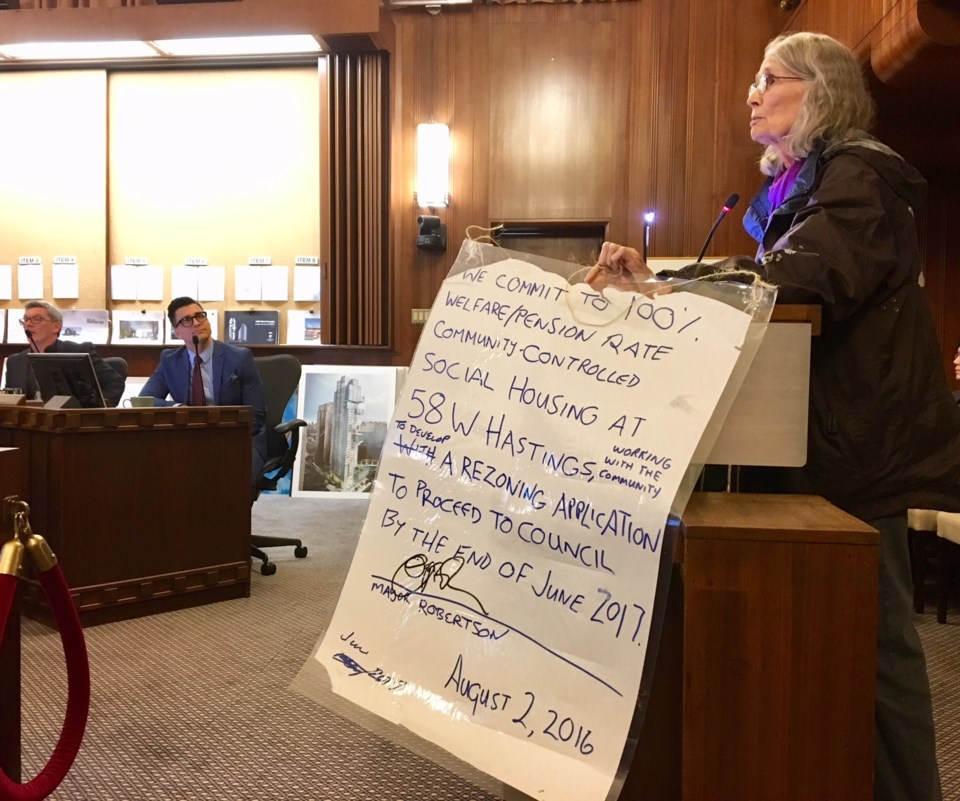 Jean Swanson, a longtime housing advocate who unfurled Robertson's poster-sized pledge at the hearing, said by telephone after Tuesday's meeting that she was disappointed the mayor didn't honour his commitment to residents.
"It should be 100 per cent," she told the Courier. "I'm just afraid that they'll get it going and then it won't be 100 per cent. That's the only problem. But there is a chance that it could be, which would be good."
Swanson said if the mayor is serious about his commitment, he will have to make good on it before the municipal election in October.  Robertson has said he won't be seeking re-election.
"He'll be history and the building won't be built until after that," she said.
Vision Vancouver Coun. Andrea Reimer, who was with the mayor when he signed the pledge in August 2016, reminded council Tuesday that she verbally agreed to the same commitment. Reimer will also not be seeking re-election in the fall.
Reimer said she didn't want to further delay the project, noting construction costs continue to escalate in the city. As every month goes by, the less affordable the project becomes, she said. 
"I feel morally that I must vote to move this project forward so that we can continue to get money in to make it affordable for the people for whom it needs to be affordable," she said. "If we don't get going, someone will be back at a public hearing next year talking maybe about having 90 or $100 million in the bank and still needing another $50 million to get to that level of affordability."
mhowell@vancourier.com
@Howellings