Mayor Gregor Robertson got an earful Tuesday night to make good on a pledge he made almost two years ago to have a $90-million social housing project planned for the Downtown Eastside be rented at welfare and pension shelter rates of $375 per month.
Robertson signed the pledge Aug. 2, 2016 after meeting with housing advocates at the Carnegie community centre regarding a 231-unit building proposed for a large city property at 58 West Hastings, directly across the street from Save-On-Meats
Speaker after speaker at Tuesday's public hearing reminded the mayor of his pledge and how the city's current plan for the 10-storey complex only allows for half of the units to be rented at $375.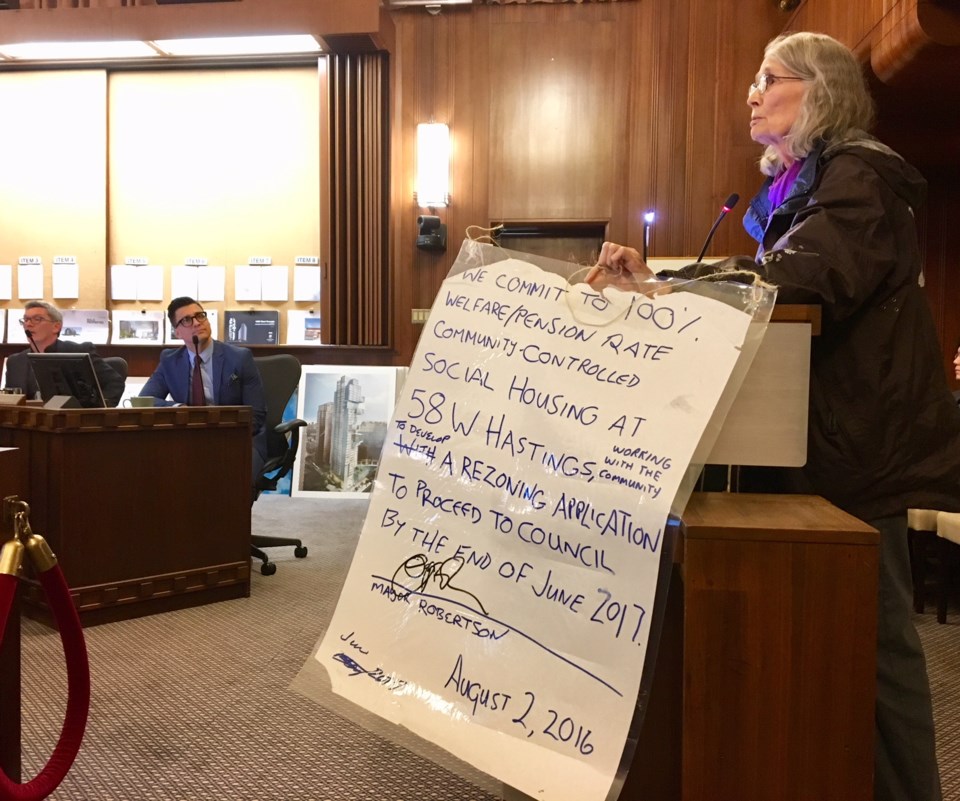 Longtime housing advocate Jean Swanson hid the poster-sized pledge in her jacket before she unfurled it in council chambers as she challenged the mayor to fulfill his promise on the project.
"We're expecting you to keep this commitment," said Swanson, noting advocates fought for 10 years for this type of housing at the site, which was originally owned by Concord Pacific Developments and destined to become a condo development.
Several of the more than 40 speakers were Indigenous, including Elaine Durocher and Erica Grant, a former homeless person who began to cry as she recalled her time on the street.
"A person begins to feel inhuman after a while," she said, citing widely known facts that Indigenous people are overrepresented in homeless populations and more likely to die than others without homes. "We begin to feel like second-class citizens because we don't have homes of our own."
Durocher said she was homeless 10 years ago, which was around the same time Robertson and his Vision Vancouver council candidates first won a majority at city hall.
"You need to just like man up — man up to why you wanted our votes and how you wanted us to stand beside you," said Durocher, who joined other women in singing a "women's warrior song" during the hearing. "Well today we want you to stand beside us."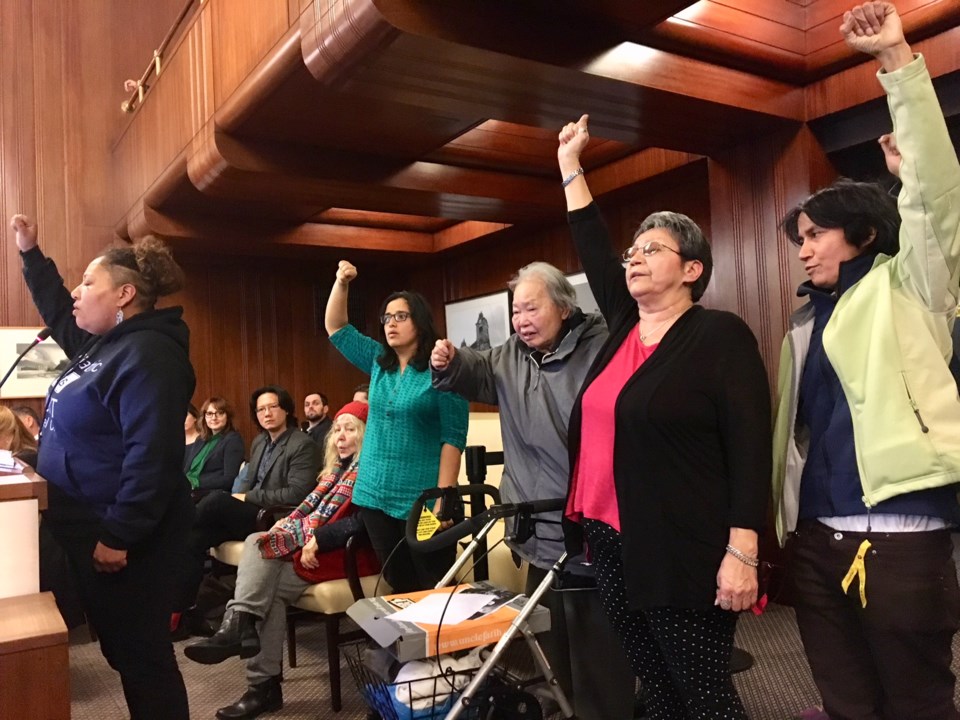 The hearing began four hours after Housing Minister Selina Robinson announced in Vancouver the provincial government will contribute $30 million to the project on West Hastings.
Though the land is owned by the city, the non-profit Vancouver Chinatown Foundation is negotiating to become the site's leaseholder and driving a fundraising campaign to get the project built.
Vancouver Coastal Health is also a partner in the project, with plans to operate a large community health centre in the building. The centre and commercial space are planned for the first three floors and the 231 homes would be spread over seven floors above.
City staff told council at the hearing the $30 million allows the project to proceed with 50 per cent of the units at $375 per month and the other half at 30 per cent of a household's income level, but not to exceed $1,272 per month.
Those figures are subject to change if the provincial government contributes more to the project. The city is also waiting to hear whether the federal government will contribute dollars.
Robertson attended the provincial government's announcement Tuesday afternoon. Asked by the Courier about his pledge, the mayor said the $30 million "starts to make up the funding gap to get to the 100 per cent mark." He said he couldn't speak to the details of the project because of the public hearing.
"In terms of the outcomes, we'll wait and see once we get all of the investments together where that ends up," the mayor said. "But I'm even more hopeful today based on the significant investment."
'Not the final answer'
Penelope Tham, a volunteer with the Vancouver Chinatown Foundation, along with Queenie Choo, the CEO of SUCCESS and community activist Shirley Chan were among a small minority of speakers Tuesday who told council they supported the project.
Tham pointed out the Foundation is not a developer and is committed to building and providing housing for people of all needs, including low-income seniors and people struggling to make ends meet.
"There's a lot more work to be done, but what I would say is that if we don't proceed with this now, then the move-in date for those people in the housing units will be moved back even further," she said. "This is certainly not the final answer to these huge problems that we face. But to paraphrase an old saying, 'a journey of a thousand miles begins with one step.' And I implore the council today to take that first step."
Choo said Vancouver is a growing and diverse city with significant housing challenges. Building a range of housing options is critical to the social and economic health of the city, she said, adding that "modest market and rental housing is key to the economic well being of the city."
"We need housing that is accessible, affordable and suitable for all income levels — seniors, families, residents challenged by disability," Choo said. 
Chan, a former manager of the city's housing operations, said she's worked for the last 50 years to build a city that has a place for low-income people. She echoed Tham's concerns about delaying or scrapping the project.
"This is not a condo project, this is a 100 per cent social housing project," she said. "I speak for all of Vancouver when I say homelessness is not good for business, homelessness is not good for any of our citizens and homelessness is definitely not good for the people who are homeless. But unless we build one project at a time, and approve one project at a time, we won't get there."
Council concluded the public hearing Tuesday night and is expected to decide on the project at its Jan. 30 meeting, which begins at 9:30 a.m.
mhowell@vancourier.com
@Howellings