Michaelina Teo has grown produce for many years, from mangoes in Brunei to the Swiss chard at her Renfrew home, but last year was the first time she ever won a prize for the sexiest squash.
The prize was awarded to her by Collingwood Neighbourhood House for its harvest festival. But for the 72-year-old, who likes to be called Mee Mee, the fruits of her labour were always their own reward.
"I'm a very casual gardener," she said, although she's known in the neighbourhood for her green thumb.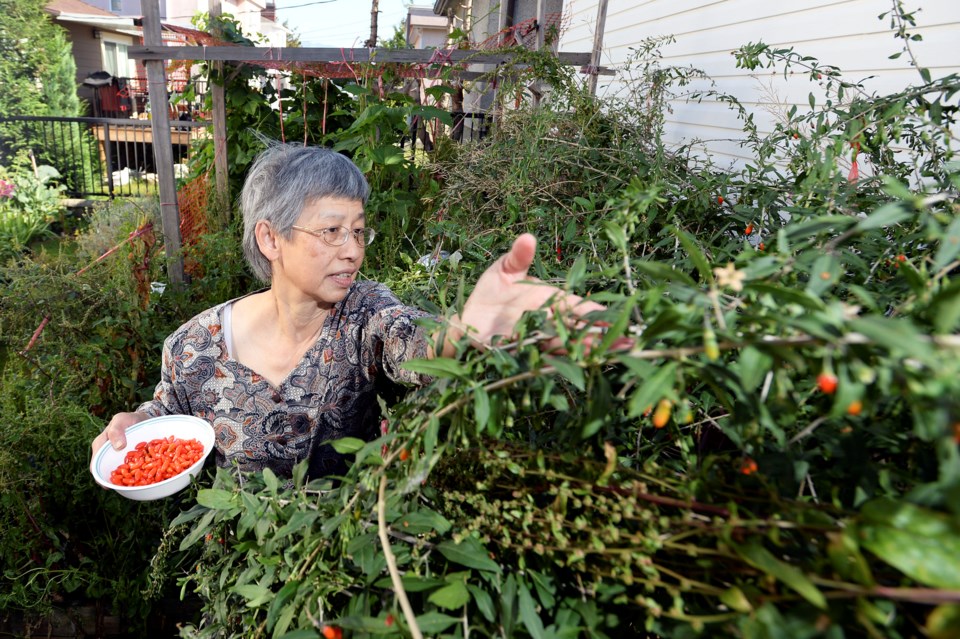 Mee Mee waters the goodies in her backyard everyday, always wearing one of her many colourful bucket hats. Chinese celery and Chinese mustard. Green beans and green onions. Potatoes and tomatoes. Strawberries and Swiss chard (her favourite). She even has goji berries, which her young grandchildren love to pick with their little hands.
Mee Mee insists she's not an expert. She worked as a technical drawer for Brunei Shell, nothing to do with growing things. The mangoes she once grew in Brunei were for fun. When she moved to Vancouver in 1988, she started her garden very casually: throwing seeds randomly into her backyard.
"If it grew, then it grew," she said, with a cheerful shrug.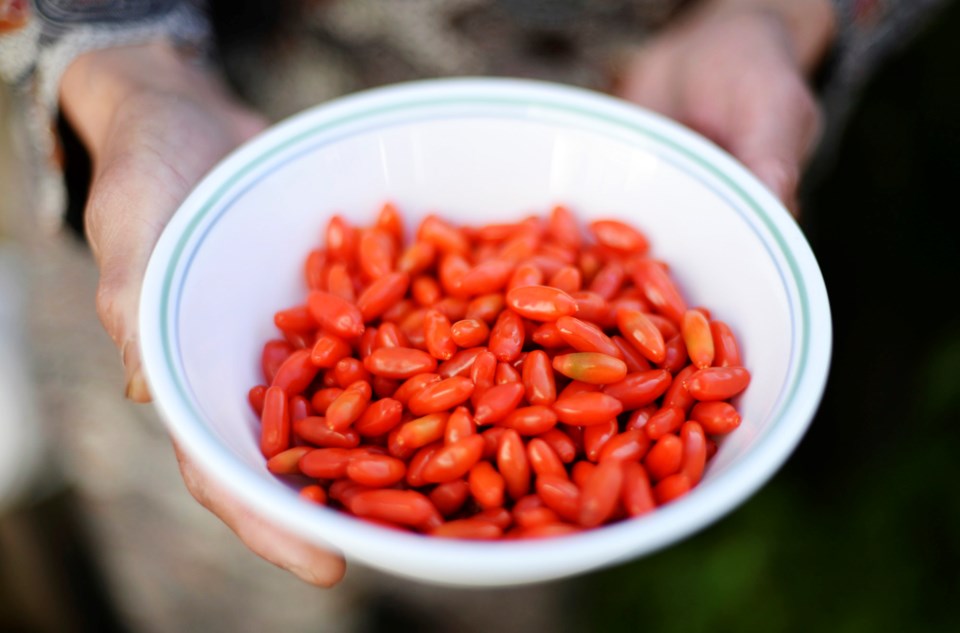 Mee Mee's not the only one with a casual but hardworking attitude towards urban farming. Walk down an East Vancouver street or alley and you'll eventually come across yards taken over by impressive amounts of produce.
Chayote squash and calabash. Cucumber and kale. Fuzzy gourds and bitter melons.
It's a mix of eastern and western crops, and you'll notice that many of the gardeners tending lovingly to their produce everyday are immigrant Asian seniors from a variety of backgrounds. A common East Van scene, one you seldom see on the West Side, with many seniors working hard because...
Well, just because.
"Nothing special?"
Try to praise these seniors for their garden work and they'll close their eyes, shake their heads and dismiss your compliment with the wag of a hand.
"My garden is very messy!" laughs Mee Mee.
"It's really nothing special," said Queenie Tien, 66, in Cantonese. Tien lives near Mee Mee, and grows winter melon and zucchini.
She's from Vietnam, with roots in Guangdong.
"It's just a good way to save money as I get older," said Mai Jian in Cantonese. Mai, 65, originally from Longchuan County in Guangdong, grows Indian lettuce, tung ho and chayotes at the back of his Joyce -Collingwood home.
The humility of these seniors seems mismatched to their abundant harvests. Like Mee Mee, they insist gardening is just a good hobby with good results to share with family and friends.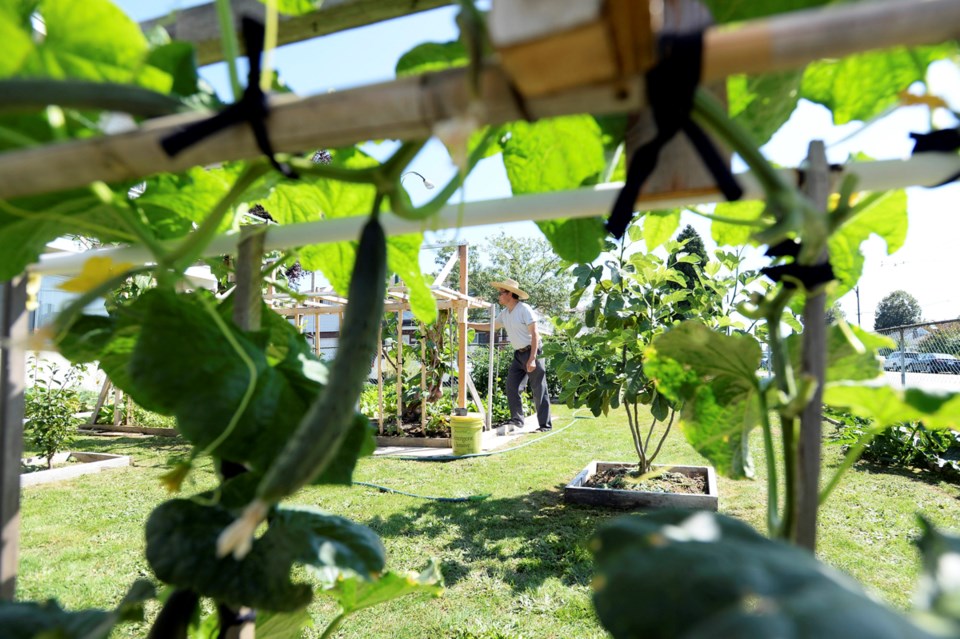 Jason Lee, who lives off Slocan Street, would agree.
"It's a great way to burn time now that I've retired," Lee said in Cantonese. He used to work for a furniture company. "Where did I learn how to grow produce? Right here in my garden!"
His yard is fuzzy gourds, bottle gourds, cucumber, choy sum, eggplant and okra galore.
"Some other Chinese like to go to the casino or dance, like my wife, but that's not for me."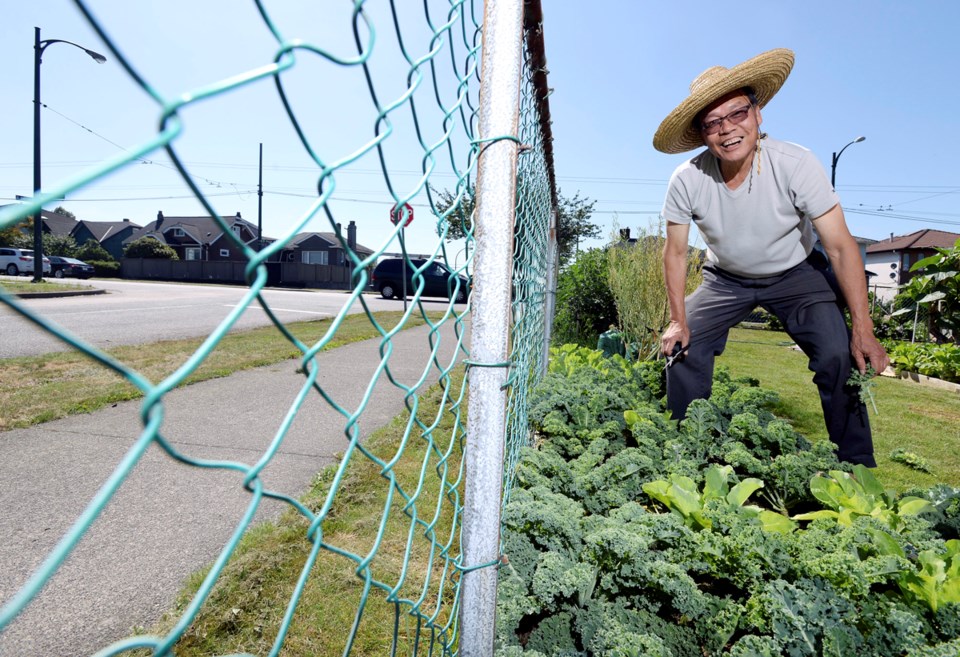 A brief history of urban farming
These seniors' view of urban farming is not the hip and healthy lifestyle many city dwellers have pursued it for.
Modern urban farming popularized as early as the late-1970s, but the relationship between cities and food production has had an extensive history long before it was deemed cool.
Farming happened in the cities of ancient Egypt and Mesopotamia. Farming happened in the 15th-century Incan city of Machu Picchu.
And farming in cities happened during the world wars, when the Canadian and U.S. governments urged citizens to grow "victory gardens," or "war gardens," to ensure there was enough food on home soil. Vancouver's Arbutus Victory Gardens is a remnant of that.
But then industrial agriculture came along, and regional specialization was deemed the most efficient strategy for feeding the masses. Supermarkets were stocked with produce from far-off places, and eating local was considered a novelty.
Of course, for Vancouverites like Mee Mee, eating local just meant grabbing something from the yard.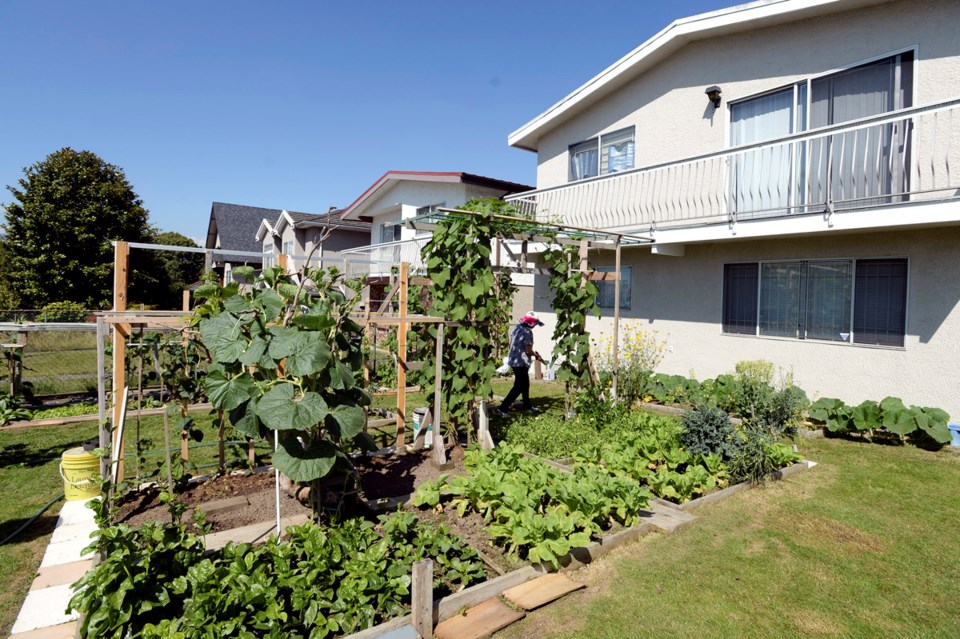 East and west
Slocan Street's Lee said he believes that more Vancouverites from Chinese backgrounds like to grow food compared to local westerners.
"Westerners like to grow flowers!" he said. "We don't like flowers because you can't eat flowers. There's no reward. You can only look at them. With produce, you can play in the yard, and you can have something to eat."
Perhaps this is why there are fewer home produce gardens on the West Side, as more immigrant Chinese chose to settle on the East Side in the mid to late 20th century.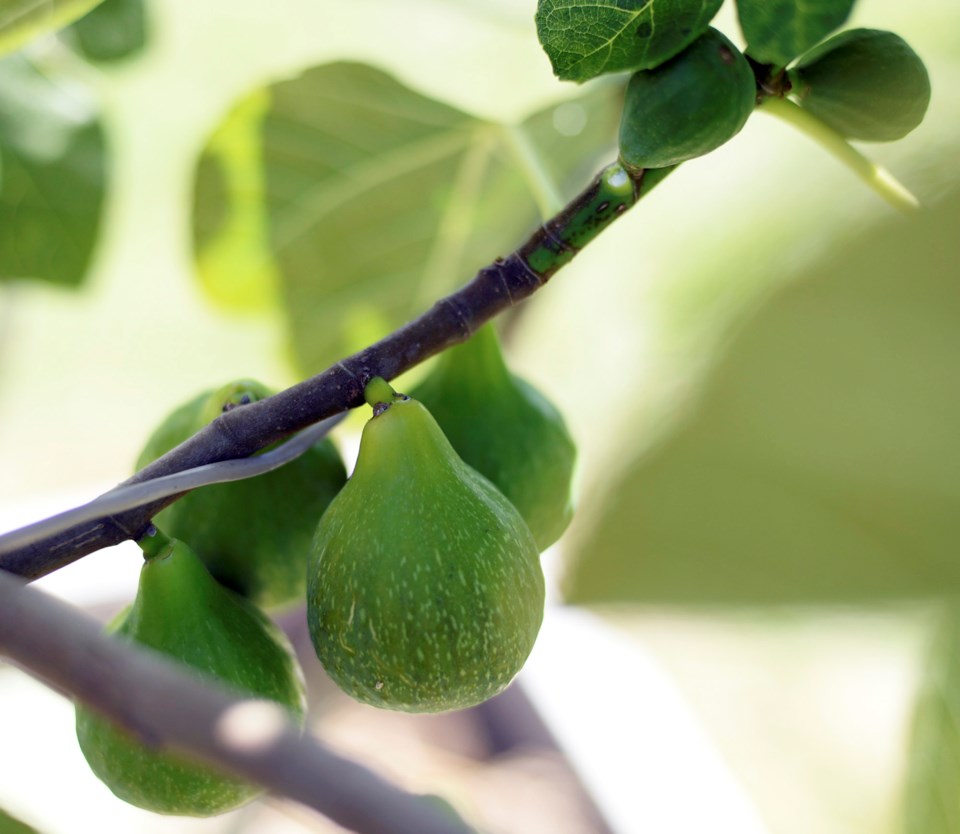 Leonard Lee, who lives on the West Side near Kerrisdale, has also noticed these gardens to be more of an East Side phenomenon. Almost no one who lives near him grows produce.
A retired dentist, Lee (no relation to the Slocan Lee) has more time to tend to his own urban farm.
It might be why he's more advanced with his gardening techniques than his East Side counterparts. He uses sticky tanglefoot to keep moths and larvae off his trees.
He's made use of grafting so that his apple trees grow four species (Fuji, Cox's Orange Pippin, red and golden delicious). He's even used hunting cameras to see if rats have been visiting his yard. They had. Unfortunately, he had to kill them. "I wish there was a better way than poison," said Lee, "but poison is the only thing that works."
Ingenuity on the East Side looks different. Bamboo, two by fours, barrels and bins are the tools of the trade.
And even more unusually, Mee Mee uses a huge roll of fluorescent orange fencing she picked up from a construction site across her alley. She cuts sheets of it as a canopy to grow her hanging chayotes.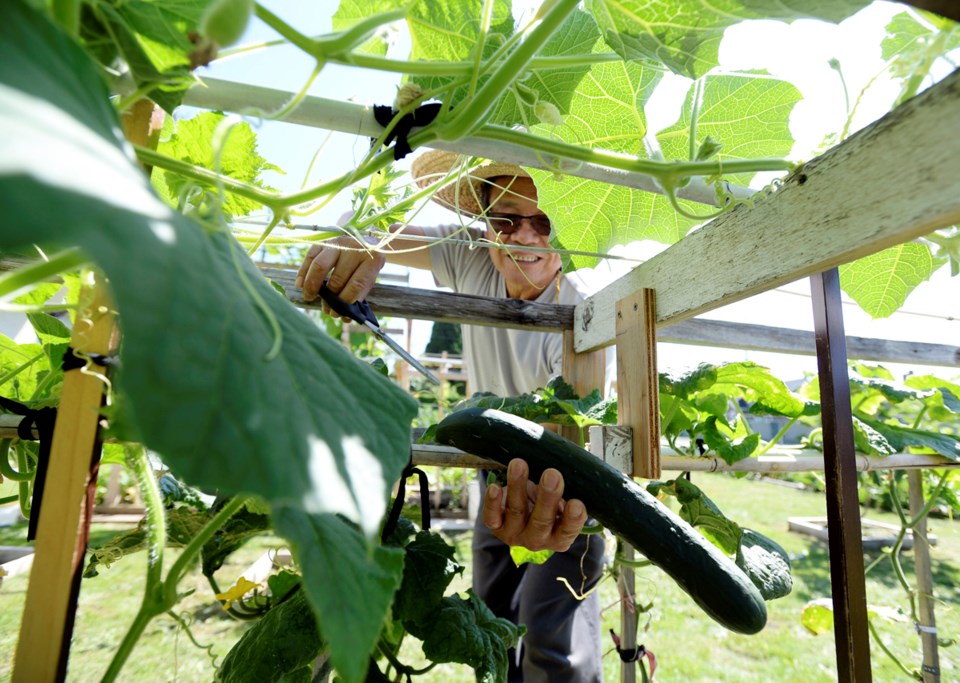 A meal for Mee Mee
In Brunei, Mee Mee's late husband used to grow red chili. He'd plant them in their yard neatly in a row with great care.
As for Mee Mee's mangoes and papayas? Same as her Vancouver method.
"I just threw the seeds everywhere," she said. "My husband always scolded me for planting like that and not planting properly.
Maybe you would laugh at me."
Properly or not, her garden is alive and well with the fruit to prove it. Maybe tonight, she'll be cooking some Swiss chard for supper.
bychrischeung@gmail.com
@bychrischeung