Since 2016, two English springer spaniels have been helping keep Vancouver hospital patients safe from a particularly nasty germ.
It might sound like a children's movie, but Angus and Dodger — along with their handlers Teresa Zurberg and Jaime Knowles — are basically resident staff at the Vancouver General Hospital where they do regular scans for the superbug Clostridium difficile.
Also known as C. diff, the bug is an antibiotic-resistant bacterium that can cause symptoms ranging from mild diarrhea to life-threatening colonic inflammations. Although anyone can be affected, the germ is more commonly a problem in people with compromised immune symptoms. 
This means hospitals can often be a haven for it. C. diff's relative ubiquity allows it to sneak in hospitals regularly and hide in places that would normally not be checked or cleaned. Which is where Angus and Dodger come in.
While it's difficult to determine the exact precision of their abilities, a study of their results between May 1, 2017 and October 31, 2018 revealed that the persistent pooches searched 659 clinical areas at VGH and "alerted" on C. diff bacteria 391 times. That means they found colonies of the bacteria on 54 per cent of their searches.
"During cold and flu season sometimes we might find C. diff more often than normal, but generally they find C. diff daily," Zurberg, the program lead for the Canine Scent Detection program, said at a press event at VGH, Aug. 26, coinciding with International Dog Day.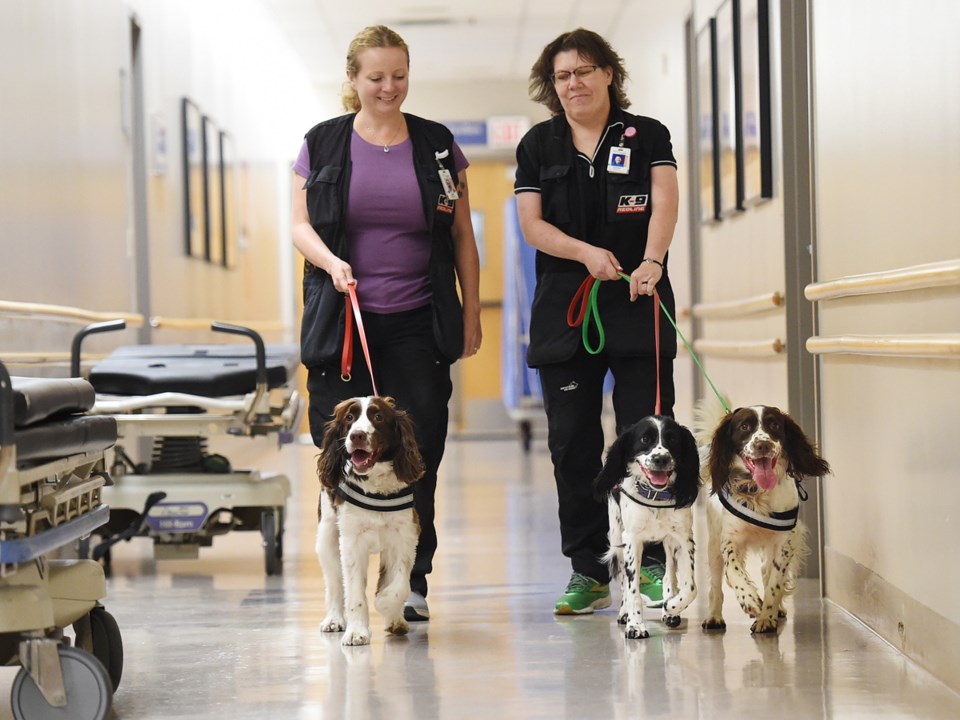 One of the surprising places the dogs have discovered the germ was the inside of a toilet paper dispenser. Until Angus stuck his nose inside, the dispenser had only been cleaned on the outside.The discovery of bacteria in these hard-to-reach places has led the hospital to reconsider its cleaning protocols, even changing the design of the dispenser to reduce chances of contamination when people stick their hands inside looking for more paper.
The percentage of the dog's brain that is allocated to analyzing smells is 40 times greater than that of a human, allowing dogs to identify smells between 1,000 to 10,000 times better than humans can.
The idea to use canine units for germ detection started around 20 years ago in the Netherlands, in response to the rising mortality rates of antibiotic resistant bacteria. A beagle named Cliff was trained to identify C. diff and was able to execute this task with amazing precision. Not only that, but he could detect it immediately, unlike existing culture tests that generally took two days for results.
Both Angus and Dodger are English springer spaniels, as is Rudi, who is currently going through his training to join the team.
It takes about nine months to a year to train the dogs, and they are taught only to identify one scent.
"We use [English springer spaniels] because they're softer looking dogs — so they've got the long floppy ears, they're cute and not intimidating like a German shepherd or a Malinois, which both Jaime and I used to work for narcotics and explosives," Zurberg explained. "Plus, these guys are bred to search and hunt, whether it be birds or C. diff, it's already genetically in them."     
Unlike the image people might have of drug sniffing dogs, Angus and Dodger alert their handlers to the scent of C. diff without barking, which could be a disturbance in hospitals.
"There's a change of behaviour. It takes thousands of hours [of experience] for us to be able to tell," Zurberg said.
Not everyone is so comfortable around dogs, so to avoid any problems, the team stays away from patients.
"Our dogs are trained to search the environment. We do not search patients, we do not search staff, we do not search families," Zurberg said. 
In the three years that the program has been operational, staff say they have seen a significant improvement of the hospital's ability to combat the spread of the germ thanks to Angus and Dodger.  
"They're small enough that they can get into complicated work areas," Zurberg says. "So if you're in an ICU where there's million dollar machines and you have a very sick patient hooked up to that machinery and there's lines everywhere, the last thing you want is a dog that's going to get tangled in that."
When Angus or Dodger raise an alert, the area is thoroughly cleaned. A fleet of rapid disinfecting "robots," which look like inverted stand-up tanning beds, augment the cleaning process by delivering bursts of intense U-V light that eradicate antibiotic-resistant pathogens. 
All in all, the project costs VGH $300,000 a year, which is less than the traditional costs of identifying and testing for the bug through a lab.
"It's cost effective and it's actually reducing the wait times," Allison Muniak, executive director of quality and patient safety and infection control at Vancouver Coastal Health, told the Courier.
"It has been so fabulous and so positive," she added. "Not only has it impacted our C. difficile rates, it has actually engaged our point-of-care staff, patients and families in the process of identifying new infection control ways of looking at improving C. difficile rates."
v.biancardidacamara@gmail.com