As the crowd started to file in for the Global Climate Strike at Vancouver City Hall today, a drone began buzzing.
It was flying above and around people, and since there was only a few hundred who came early, it wasn't hard to track down the pilot. They'd actually be pretty hard to miss.
Their name is Lexi, and they're one of the more interesting people I've met in the past few months.
Lexi was perched up next to Helen Gutteridge Plaza, expertly weaving their drone through trees, gathering cinematic aerial footage of the rally.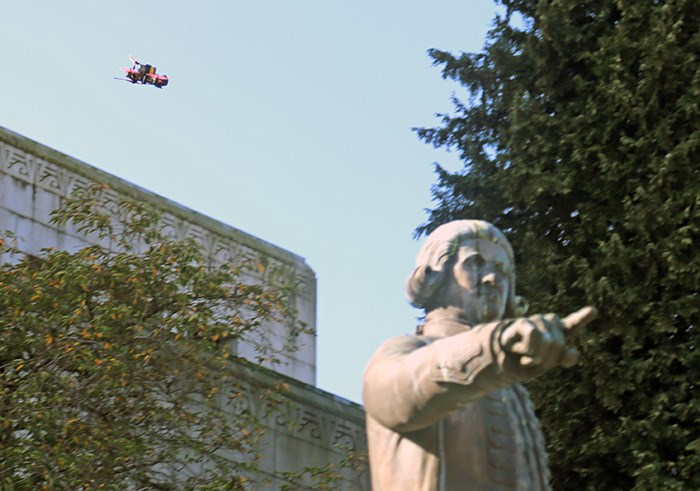 They schooled me on drone laws, which I had apparently misunderstood, as I initially thought what they were doing was illegal.
Lexi tells me that since their drone isn't one of those large, consumer drones (think DJI Phantom) and it's under 250 grams, it's perfectly legal to fly it within the city limits, over crowds.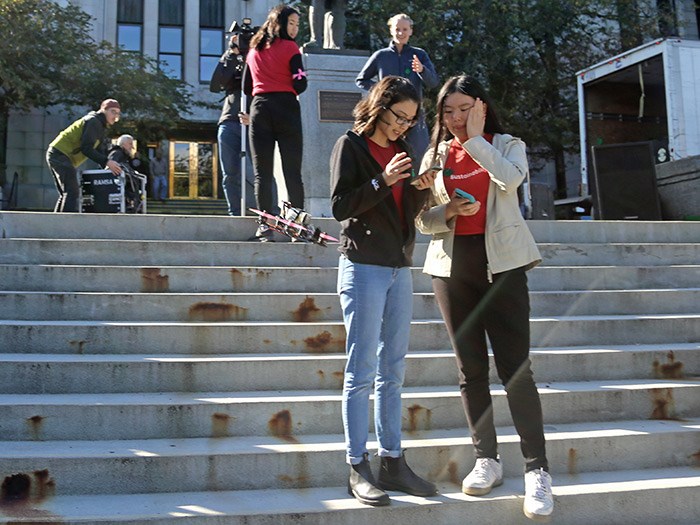 They've been operating different varieties of drones for the past three years, putting in over 1,000 hours of flying time.
The thing you see on Lexi's head is a VR set, which is used to see what the drone is seeing, and to pilot it better.
And the drone was made by Lexi at their home. All in, with the controller and the headset, it cost about $1,500.
Lexi has a commercial flying license, but today they're flying for personal enjoyment, so they tell me no permit is needed.
Look for Lexi's footage on their Instagram at @fpv360.
Click here for original article.