Metallica wrapped up the North American portion of their Worldwired Tour with stops in Vancouver and Edmonton. The long-lasting metal band is touring in support of their tenth studio album Hardwired...to Self-Destruct and their stop at BC Place was, apparently, fantastic.
Canucks defenceman Erik Gudbranson was at the show, but he wasn't the only Canuck in attendance: Johnny Canuck himself made an appearance, albeit in a somewhat altered form.
Metallica selling cool Johnnyesque shirts. pic.twitter.com/xIUyBFGS7n

— Johnny Canuck (@iamjohnnycanuck) August 15, 2017
This Johnny Canuck-inspired shirt was on sale in Vancouver and only in Vancouver. The tweet comes from the man who plays Johnny Canuck in the short films that began in 2011 that he also directed: Adam MacKay-Smith.
The shirt itself is part of a series of hockey-themed shirts that Metallica's merch team made for this tour, along with merch parodying other sports logos from whatever city they happen to be visiting. These were apparently done without permission from the respective teams, but they're likely covered under fair use in the US and fair dealing in Canada, which provide exceptions to copyright for various reasons, including parody.
So far, I've seen two other NHL shirts featuring the character on the Johnny Canuck shirt: one for the Oilers and one for the Islanders.
The Islanders shirt parodies the infamous angry fisherman logo from the 90's. If you don't remember it, here's new Canucks head coach Travis Green rocking both the jersey and a killer mullet from back in his playing days: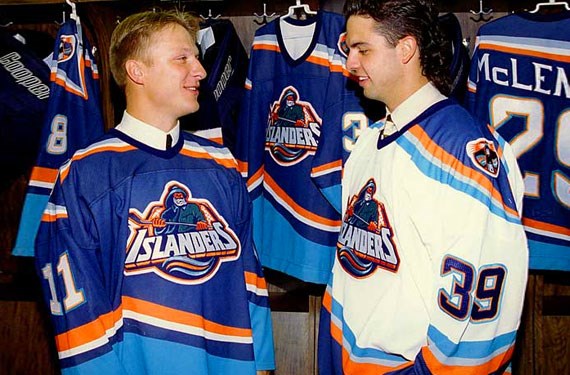 As for the Metallica shirt, it's a massive improvement on the fisherman, in my opinion: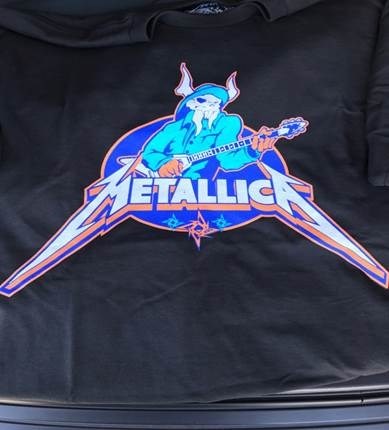 The sort-of-tentacle-toothed skeleton monster showed up in Edmonton as well, this time on the Oilers' secondary oil worker logo in use by the team from 1996 to 2007. While I haven't seen a clear shot of the shirt on social media, it did show up in this one Metallica fan's collage of pictures from the Edmonton show:
For the 6th time in my life @metallica DOESNT disappoint!! Summer Sanitarium in '03 in #Skydome (back then and #MetInEdmonton were the best pic.twitter.com/vkF7f03zOU

— Adam Lund (@hotshot8774) August 17, 2017

Fans of both Metallica and the Oilers were spoiled, in fact, with a Gretzky-themed shirt (sported here by Edmonton sports anchor Nahreman Issa)...
Love the #Oilers inspired @Metallica shirt!! #MetInEdmonton pic.twitter.com/PhBrlsEyML

— Nahreman Issa (@NahremanIssa) August 17, 2017

...Connor McDavid and NHL 94-themed shirts…
Ha ha ha! All their merch is Oilers inspired but they are playing in the Eskimos stadium LOL! #MetInEdmonton pic.twitter.com/rvJjp3mCoa

— Christa (@EdmOilers19) August 16, 2017

...and a killer Wayne Gretzky-inspired show poster.
Tonight's concert poster. #MetInEdmonton pic.twitter.com/eBF0lSFhpr

— CJAY 92 (@CJAY92) August 17, 2017

The band themselves are no strangers to hockey. James Hetfield and Kirk Hammett performed the national anthem for the San Jose Sharks during the 2016 Stanley Cup Finals and Hetfield, at the very least, is a legitimate Sharks fan and can be seen fairly often at Sharks home games. The Sharks had a Metallica night where Hetfield announced the starting lineup and you can see videos of him chatting about hockey with Patrick Roy or watching a game backstage with bassist Robert Trujillo.
Curious about whose idea the hockey-themed merch was and to see if they would ever be available for sale outside of these tour dates, I reached out to Metallica's PR team, but have not yet received any answers.