The Metro Vancouver board of directors voted Friday not to go ahead — for now — with a planned pay increase and retirement allowance that was first agreed to by the majority of elected officials in March.
Instead, the 40-member board of mayors and city councillors agreed to have Metro staff look at creating an independent panel to review the remuneration of directors.
Whatever is decided by such a panel is expected to go before a new board of directors that will be appointed following the municipal elections in October.
"It takes great leadership of this group to actually say 'yes, we might have missed the mark on this,' and we want to bring it back for reconsideration," said Port Coquitlam Mayor Greg Moore, who doubles as chairperson of the Metro board.
Moore called the board's decision in March "a mistake" but said directors should be "applauded" for listening to the public for reconsidering the motion.
He said "the principles" of the original motion are still sound for him, saying fair compensation and transition allowances for politicians leaving office are necessary to attract "good people" to serve on councils.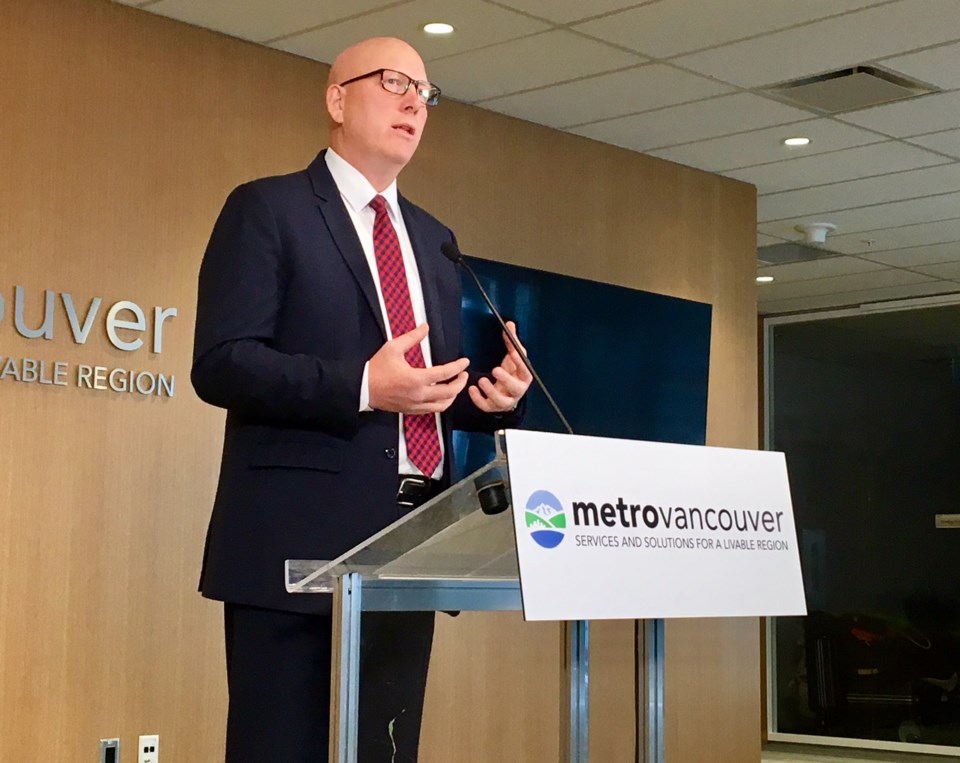 The board's move Friday came after the majority of directors voted March 23 to approve a one-time 15 per cent increase to salary remuneration and meeting attendance fees to off-set tax changes announced in last year's federal budget.
Effective Jan. 1, 2019, elected officials will no longer be eligible to exclude from taxable income one-third of their remuneration. The total cost for the pay increase was estimated at $131,333.
At the same meeting, the board approved a retirement allowance for directors based on the concern they don't get pension or retirement benefits. The allowance would have been retroactive to 2007 and total $498,000.
The increase in pay and addition of a retirement allowance angered the public and some members of the board, including West Vancouver Mayor Michael Smith, who spoke out again Friday about further compensating directors.
He countered Moore's argument made in March and held Friday that it was necessary for municipal politicians to be paid well to attract people from higher-paying jobs to serve on councils.
"Starbucks serves the public, should they get a third of their salary tax free?" Smith said. "It makes no sense. This is public money and our biggest responsibility is stewardship of that public money. I feel very strongly about it. People in Metro Vancouver are struggling to survive."
The exchange between Smith and Moore got testy at times, with Smith noting Moore had referred to him in the media as "the Donald Trump of Metro."
"I've got broad shoulders, so if you want to list me as the villain of the ages, I'm happy to wear that moniker," said Smith, who was critical of Metro's cafeteria for employees, subsidized massages and free parking for Moore and Vancouver Coun. Raymond Louie, who is vice-chairperson of Metro. "You, this board, drew attention to itself with the way you passed that retirement allowance and that pay increase. The press picked up on it and dug deeper. That's not my responsibility."
Moore shot back saying Smith had voted on "everything that you've been criticizing — you've never made an amendment, a motion, a policy or anything on the floor to change anything in our budget..."
Louie also pointed out that West Vancouver council recently gave itself a 15 per cent pay increase — a 77 per cent increase since 2012.
"I highlight this only to say that it's perhaps not fair to look at just the percentages," said Louie, who was joined at the meeting by his Vancouver colleagues Heather Deal, Tim Stevenson, Kerry Jang, Adriane Carr and Andrea Reimer. "But rather you should look at the scope of the work, the value for money and perhaps when is the last time a raise or change in remuneration was made."
Reimer was not present at the March 23 meeting, but told directors Friday she would have voted against the increase in compensation. She said she would have preferred to listen to the public's views on compensation before the decision in March.
"We didn't afford the public that opportunity because of the way this decision was made, and that is much more concerning to me than any other piece of this debate," said Reimer, who also "took issue" with Moore's comments that politicians' pay should be attractive to people who wouldn't otherwise run. "We are here as public servants. If we can pay the rent or our mortgages and eat—and perform our duties—I think that's reasonable. I already take some exception with the fact that some of us get full-time salaries and then also collect more when we come to Metro."
All civic politicians serving on the Metro board and committees earn $387 for each meeting that lasts up to four hours. If a meeting extends past four hours, the rate climbs to a maximum of $775.
All mayors and councillors appointed to the board earn salaries from their respective municipalities and receive other benefits, including—in Vancouver's case—a transportation allowance.
Councillors in Vancouver who take on roles as deputy or acting mayor are also compensated. As vice-chairperson of Metro, Louie earns $38,737 and Moore's salary as chairperson is $77,474, which is on top of his $96,752 per year as mayor.
Some politicians on the board also have other jobs, while some such as Louie considers his work as an elected official as his full-time employment.
Moore is not seeking re-election but Louie, who has been a city councillor since 2002, has told his Vision Vancouver party that he is interested in running for mayor.
Kris Sims, the B.C. director of the Canadian Taxpayers' Federation, welcomed the board's decision Friday, saying "taxpayers won." She said Smith was fully within his rights to speak up over the last month, and in Friday's meeting, about the compensation and retirement allowance.
"I think he made very good points, and the fact that they went after him personally was very telling," Sims said. "This is a very good decision. They made the right decision, they were also responsive. And, frankly, [Moore] is correct in that other politicians would just bury their heads and try to get away with it, or move on with business as usual."
mhowell@vancourier.com
@Howellings