His name was Michael.
Described as fiercely talented, creative and kind, he regularly sold Megaphone magazine outside the JJ Bean coffee shop at East 6th Avenue and Commercial Drive. He was comfortable in that neighbourhood, where he established a home base and a community of friends.
Michael, whose family didn't want his surname published, was homeless.
And on Dec. 7, 2016, when temperatures dipped below zero, the former movie set builder, father and brother died in an alley behind the First Ravioli Store on the Drive. He was 57.
"The Michaels of the world, there are many of them – and they're our brothers and they're our sisters and successful individuals and talented people," said his brother David, a businessman living on Vancouver Island. "They're not just the guys on the other side of the tracks."
Megaphone magazine, which released a report Wednesday showing 394 people in B.C. died homeless between 2006 and 2015, featured Michael's story in its pages, saying the loss of their friend left a hole in many people's lives.
Jessica Hannon, Megaphone's executive director, said Michael's story – from being the youngest of three siblings to getting married to having a son to working in the film industry to becoming a vendor and then ending up homeless – shows how anyone can fall on hard times.
"He's gone now, and should still be alive," Hannon said. "Likely, he would still be alive, if he wasn't homeless."
Megaphone's report, which compiled statistics primarily from the B.C. Coroners Service, showed that more people died homeless in B.C. in 2015 – at least 70 -- than in any year on record. It's a 56 per cent increase from 2014 and a 40 per cent increase from the previous high of 50 deaths in 2008.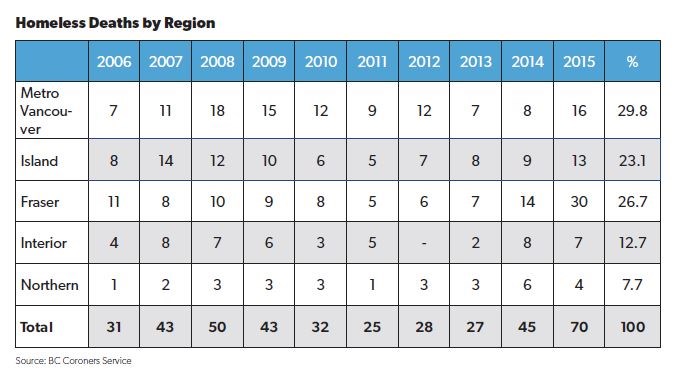 Of the 70 who died in 2015, 16 resided in Metro Vancouver and 30 in the Fraser Region. The majority of those who died were male and between the ages of 40 and 49. A total of 36 died on the street, 23 in some form of shelter and 11 people's location of death was classified as "unknown" by the coroners service.
The majority – 34 – died from alcohol or drugs, or a combination, while 13 died from a natural disease and six by hanging. Another 14 deaths remain under investigation, as does Michael's. (The coroners service has not released homeless death statistics for 2016).
How Michael ended up homeless is still unclear to his brother, who last saw him about five years ago. David said Michael was working in the film industry ("a master artist who could build anything from anything"), had a place to live and was healthy. Time passed and then in December David received a phone call from his former sister-in-law, who informed him of his brother's death.
"I'm not sure about the full picture of what happened but he did fall out of the norm in society," said David, noting he was living in the United States and wasn't in regular contact with his brother. "It was hard to keep track of him, actually. He wasn't easy to find. I think he was very humbled and very embarrassed by his situation."
At the memorial service, David said he met many "angels" who helped his brother and talked to homeless people who considered Michael a friend. Meeting those people changed his view of the homeless, which he admits he had no empathy for before he lost his brother.
"I see the world through a different lens now," said David, who supports a series of recommendations in Megaphone's report to reduce homelessness and homeless deaths. "If the numbers are increasing and the deaths are increasing, then we should be doing something different. We should be getting more engaged."
Megaphone wants the next provincial government to create a panel to review homeless deaths in B.C. Its purpose would be to identify trends, patterns and factors related to the death toll. Such information would help reduce the likelihood of similar deaths in the future.
Megaphone also wants more detailed data on indigenous homeless deaths to better understand why that population is overrepresented in homeless count statistics. Vancouver's total homeless population was recorded in March as 2,138 people, an all-time high for the city.
A strategy to reduce poverty and having an annual government-led report on homeless deaths should also be implemented by the next provincial government, Hannon said.
"The way to end homeless deaths is to end homelessness," she said. "That is a very big issue, obviously. So if we can look at the specific interventions that can take place in specific areas of the province, then we can move forward on what is exactly causing people to die."
twitter/@Howellings