The Canucks overhauled their defence on the first day of free agency, signing Tyler Myers and Jordie Benn. Canucks general manager Jim Benning made it clear, however, that he wished they could have done more to address the team's needs at forward.
A combination of the Canucks' big contracts for bottom-six forwards and the Roberto Luongo cap recapture penalty, which Benning called "a kick in the shins," limited their ability to pursue a top-six forward. Gustav Nyquist had been connected to the Canucks in rumours, but they just couldn't fit him and his eventual $5.5 million cap hit in their salary cap while leaving room to re-sign restricted free agents Brock Boeser and Nikolay Goldobin.
After the frenzy of July 1st, however, there was a lull as the secondary market opened up: free agents that weren't as hotly pursued, but could still be difference makers. On Wednesday, the Canucks added some grit and goals by signing Micheal Ferland, the team's one-time nemesis, to a four-year contract with an average annual value of $3.5 million.
The last time the Canucks made the playoffs was in 2015. They lost in the first round to the Calgary Flames and Ferland, then with the Flames, played a significant role in the series. Perhaps his influence was overstated, but he was a physical force on the forecheck, causing seemingly endless turnovers, and
Kevin Bieksa tried to shrug him off as "irrelevant" halfway through the series, but then Ferland capped off his performance with two goals and three points in the deciding Game 6. A rookie that wasn't even expected to be in the Flames lineup became a focal point for the entire series.
Ferland has spent the years since that series establishing that it wasn't just a fluke or a set of fortuitous circumstances. He's tallied at least 40 points in his last two seasons, accomplishing that with two different teams in the Calgary Flames and Carolina Hurricanes. Instead of just the third-line grinder he appeared to be back in 2015, he's become a complementary top-six winger.
What Ferland brings to the table is a gritty game with surprising skill, which should be a nice fit alongside Elias Pettersson, Bo Horvat, or even Adam Gaudette on a scoring third line. He can throw crushing hits with his 6'1", 217 lbs frame, but also finesse the puck into the net.
Ferland has a fantastic shot and can finish around the net, but he also has above-average vision to set up his linemates as well.
There's a lot to like about Ferland, but there are some red flags, beyond the ones on the Carolina Hurricanes' third jerseys. One is that at 27, he's at the end of his prime, so could see his play start to decline over the next four years, though he'll still only be 30 at the end of his contract.
Another is that Ferland's underlying numbers show a player that doesn't drive puck possession. His heatmap from Hockey Viz shows a player that is below-average both defensively and offensively at even-strength, though he's an above-average finisher and solid on the power play. He also draws more penalties than he takes, which makes sense given his agitating style of play.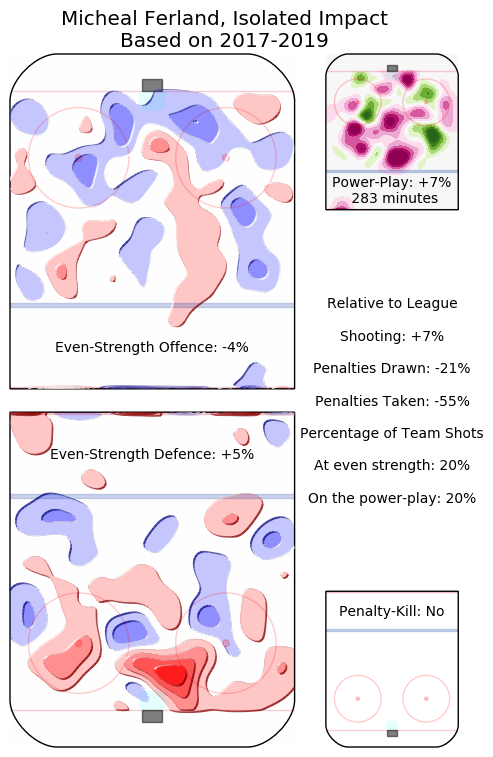 Then there's the history of concussions. That has to be a concern for someone like Ferland that plays a heavy-hitting game and needs to play on that edge to be effective. A four-year term might be an issue in that regards.
Ferland also got a no-movement clause, that becomes a modified no-trade clause in time for him to be exposed in the Seattle expansion draft. Depending on how modified that no-trade clause, it could make it difficult to trade Ferland in the future.
My understanding is that #Canucks were the only team willing to give Michael Ferland 4 years. Other teams were involved but on 3-year deals. His NMC turns into a modified NTC for 3rd year of deal so he does not require expansion draft protection.

— Matthew Sekeres (@mattsekeres) July 10, 2019
Ferland's signing also raises a lot of questions about the Canucks' potential lineup. Ferland is yet another left winger on what is becoming a crowded left side, though he can also play on the right. Does Ferland push Tanner Pearson down to the third line? What does this mean for Sven Baertschi and Josh Leivo? If Ferland or J.T. Miller move to right wing, will Jake Virtanen ever get a sniff at top-six ice time?
More importantly, Ferland's signing makes for an interesting salary cap crunch with new contracts looming for Brock Boeser and Nikolay Goldobin.
If the Canucks want to sign Boeser to a long-term deal, they're likely looking at a $6.5 to $7 million cap hit. As it currently stands, they can make that cap hit work by sending Adam Gaudette to the AHL, waiving Tim Schaller, and putting Antoine Roussel on the IR. That leaves little-to-no room for Goldobin, though that is admittedly a smaller concern at the moment.
What happens when Roussel returns, however? Can the Canucks rely on a seemingly inevitable injury to clear up enough cap space when he comes back? That's a dangerous game to play.
Moving out a contract would make things a lot more comfortable and also allow the Canucks to get the full cap benefit of putting Roussel on LTIR. Perhaps the addition of Ferland makes Sven Baertschi expendable in the eyes of the Canucks and they try to trade him. Alternatively, they could look to clear up some serious cap space by finding someone willing to take the Loui Eriksson contract, along with a sweetener, or a trade partner looking for a veteran bottom-six centre like Brandon Sutter.
There are also the long-term cap implications to consider. Ferland adds another contract when Elias Pettersson, Quinn Hughes, and Thatcher Demko need new contracts in 2021. While there will be a decent amount of money coming off the books before then, it's something to consider.
Ferland makes the team better for next season, though he's more of a complementary player than someone that drives a line. Does he move the needle enough, along with the other additions, to make the Canucks a playoff team? That remains to be seen.