A vacant city lot in the Downtown Eastside that was recently a homeless encampment has been paved with asphalt and transformed into a $10,000-a-day mobile medical unit to respond faster to drug overdose victims.
The 1100-sq.foot trailer, which begins operation Tuesday on the property at 58 West Hastings St., will be staffed and equipped to function as an emergency room and addictions referral centre from 9 a.m. to 3 a.m., seven days a week.
"There's not a place where you have an emergency physician resuscitating people and then handing them off to the addictions physician," said Dr. Eric Grafstein of St. Paul's Hospital, who is the co-medical director of the Mobile Medical Unit Opioid Response Centre. "This is a chance to do that."
Grafstein said the purpose of the centre is to first save lives. Then, he said, have patients follow through with addiction services, better connect to community care and participate in prescription drug therapy programs.
The doctor acknowledged the medical unit is a temporary measure — "two to three months to start" — but one that could perhaps buy health providers some time to create more permanent solutions to the overdose crisis.
"I would love it if we were just slammed and every day was really busy and we were doing good work because it might then lead to the suggestion of building an urgent care-style clinic down here," he said, noting it would cost millions of dollars to build and operate.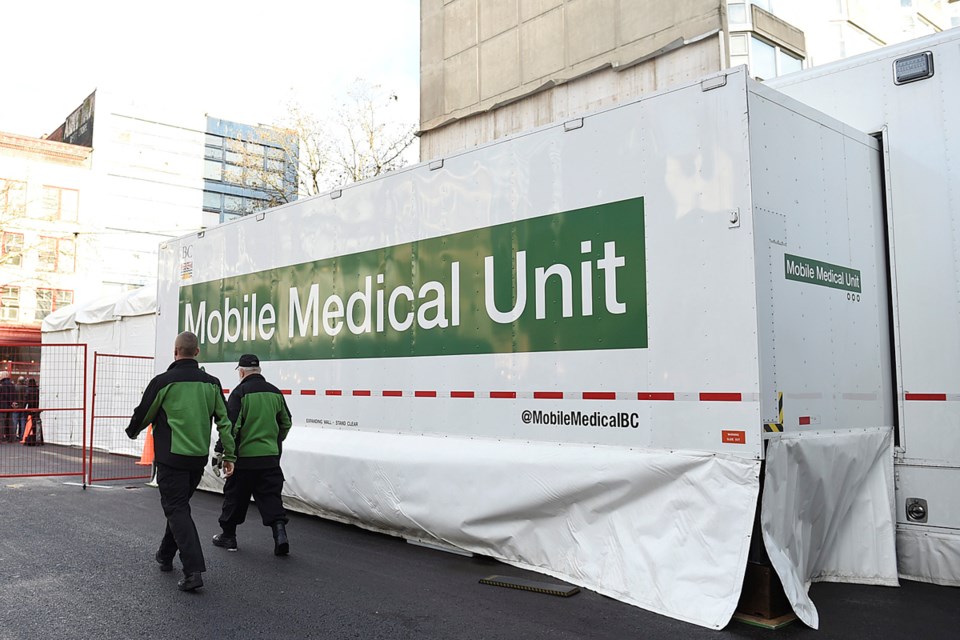 Grafstein said the location of the centre will decrease paramedics' travel times to hospital and reduce delays associated with unloading a patient at the busy St. Paul's Hospital on Burrard Street, which has been the go-to facility for the city's overdose victims.
"There would be days where there was 15 or 18 people sitting in a waiting room, which is not really monitored and not a great environment either for those patients or other people," he said, noting the mobile unit is capable of treating up to 12 people at a time.
The provincial government purchased the unit for the 2010 Winter Olympics and Paralympics and stationed it at Whistler.
Ambulances will pull into the lot on West Hastings behind a tall metal fence patrolled by security guards. Paramedics will decide which patients will be dropped off at the centre, although Grafstein said he expects to get walk-ins with emergencies unrelated to overdose.
"The short answer is we'll treat anybody who is really sick and needs medical attention," he said. "But the primary focus is really around the opioid response. We're going to know more after the first few days what comes up. We wouldn't want to see a situation where we're like a drop-in centre, or walk-in clinic."
Activating the centre is the latest move by governments to combat a public health emergency in B.C., where 622 people have died of a drug overdose in the first 10 months of this year, including 124 in Vancouver. At least 60 per cent of the deaths are linked to the deadly synthetic narcotic, fentanyl.
Media were given a tour of the facility Monday, shortly after federal Health Minister Jane Philpott announced the Trudeau government will streamline the application process for cities wanting supervised injection sites.
Last week, the provincial government opened what they called "overdose prevention sites" at a low-income hotel and two drug users' centres in the Downtown Eastside, where people are injecting drugs under supervision of their peers instead of alone in alleyways.
mhowell@vancourier.com
@Howellings