A section of an orchard and a downtown parkade will soon be transformed into temporary housing for up to 120 people on income assistance and fixed incomes as part of an innovative approach by the city to create more affordable housing.
The orchard at 1500 Main St. and the parkade behind the Bosman Hotel at 1060 Howe St. are expected to have modular "micro suites" of about 250 sq. feet placed on the city properties by late fall.
The 40 to 80 suites on the orchard site will be equipped with bathrooms and kitchens while the 40 suites on the parkade will come with bathrooms and shared kitchens.
"The opportunity to put modular housing in place on sites that will someday be redeveloped really enables high efficiency, good living conditions and the opportunity to build a community, in the short term, at a very affordable rate," said Mayor Gregor Robertson at a news conference held Thursday in the orchard near the Main Street Skytrain station, which is operated by Sole Food Street Farms.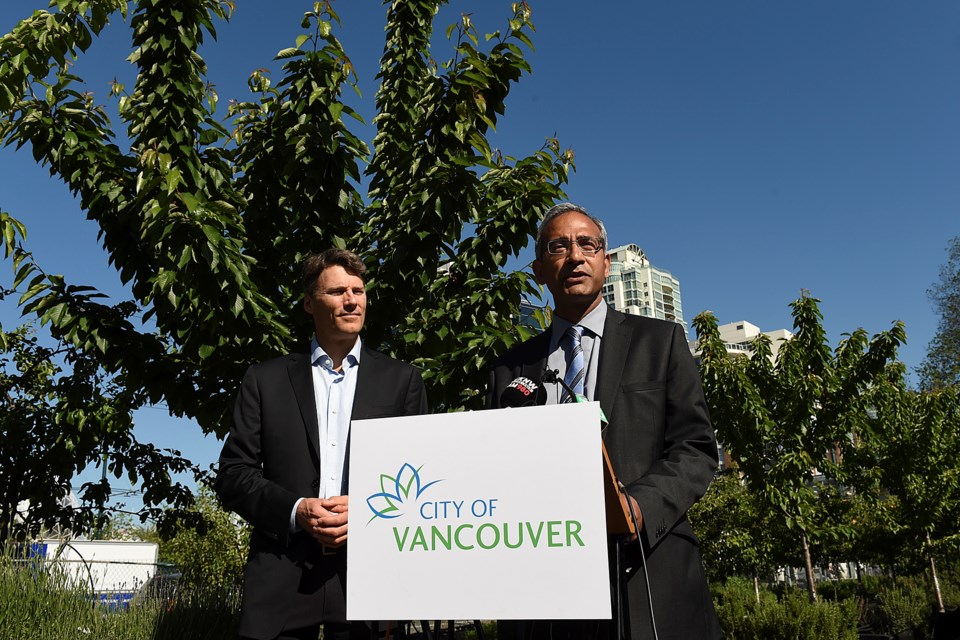 Mukhtar Latif, the city's chief housing officer and head of the Vancouver Affordable Housing Agency, said the housing could be in place for two to five years before having to be relocated. Latif said the tenants' rents will be subsidized and the city will look to senior governments and the private sector for funding.
Typically, modular housing is pre-fabricated in a factory and will sometimes involve recycled shipping containers. Once built, the pieces are loaded onto a truck and transported to a site, where they are assembled and hooked up to city services and utilities.
The city has chosen five companies to compete and produce the best proposal for one or both of the projects. They are: Horizon North, Britco, Atco, Dialog/Kindred/Stack Modular and Ladacor, a Calgary company working with Atira Women's Resource Society.
Rhys Kane, director of business development for Ladacor, was at the orchard Thursday to survey the site and said he has an interest in submitting a proposal for the parkade, too.
Kane said the company uses repurposed steel shipping containers in the construction of its modular developments, which include a hotel north of Edmonton, a rental apartment building in Edmonton and a seniors' housing complex in northern Alberta.
"It's a very cost-effective way of being able to supply a steel structure," he said of the containers, also pointing out the studs used in construction are steel, making the dwelling safe from a spreading fire, durable to live in and to transport.
Though a modular housing project experiment is new for the city, Atira already has experience with container housing, having worked with JTW Consulting a few years ago to build 12 self-contained apartments on Alexander Street.
Atira has another proposal for a seven-storey building constructed from shipping containers on Hawks Avenue. That proposal goes to public hearing May 17.
Janice Abbott, CEO of Atira, joined Kane at Thursday's news conference and said the society is attracted to the environmental aspect of recycling containers that might otherwise be destroyed or left in a junkyard.
Kane and Abbott said they won't know how much it will cost to build a project on either site until the city releases details in the request-for-proposal documents.
"We don't want to say too much either because we're competing against other companies," Abbott said.
When modular housing is moved on to the orchard site, it will cover between 8,000 and 10,000 sq. feet of the 28,000 sq. foot property. Sole Food set up the orchard so it could move its trees without having to re-plant them; the trees grow in large plastic containers designed to allow a forklift to pick them up.
"We're well aware of the high value of land, here in the city and that we are temporary tenants," said Michael Ableman, "chief executive agrarian" of Sole Food. "But if the city came to us with an eviction notice and they were going to put an extension to the [adjacent] Fiat dealership, you'd be hearing a very different conversation right now. I would have been quite vocal."
Ableman, who employs workers from the Downtown Eastside, said he's glad the city wants the orchard to stay alongside whatever new housing is built, saying he doesn't believe you can have one without the other.
"A community is not just a few modular houses dropped into place," he said, standing in the orchard. "A community involves all kinds of things, not the least of which is some semblance of a natural environment, food, employment – all those things."
The orchard has 500 trees, including apple, pear, figs and persimmons that were planted three years ago. Herbs and vegetables also grow in the orchard, which is one of five sites Sole Food operates in the city. About 50,000 pounds of food is produced every year and it goes primarily to local restaurants, community kitchens and farmers' markets.
Ableman said he is hopeful Sole Food will be included in the design of how the modular housing is incorporated into the orchard. He also believes the tenants should have a connection to the orchard, including working for Sole Food.
"That's our mandate, that's what we're here to do," he said.
@Howellings