As another Mother's Day approaches, we're reposting this 2004 cover story that revealed what some well known Vancouverites felt about their mothers. Originally published May 9, 2004.
Every time I look at old pictures of my mother, Helen Penner, I'm amazed at how glamorous she looks, no matter what she's doing. Camping with three kids — glamorous. Picking raspberries on my grandpa's farm — even more glamorous. Posing beside a totem pole in Alberta during a road trip — glamorous. '
In many of the pictures, her wavy hair is pulled back on the sides with hair combs, leaving the rest to tumble down her back, a la Betty Grable. In shorts, she looked like a pin-up girl. It always amazed me how she could look so put together with so much going on around her. Mom got her fashion sense growing up in Glasgow, Scotland and carried it with her to the farm in Chilliwack, where she moved with my father after World War II.
As a war bride, she instantly went from urban party girl who loved to dance to farm wife. It never occurred to me how difficult it must have been for her in this new life because I never knew her as anything but the superwoman who baked, cleaned, canned, got us off to school, then later learned to drive so she could chauffeur me and my two sisters to our numerous lessons and social events.
Then there were the pets. We were never short of at least one large dog, a couple of cats and a budgie. Despite our promises to care for each one, somehow that chore always ended up in mom's hands, too. When my dad died in 1969, mom had to go back to work for the first time since she moved to Canada.
She got a job at the Canadian Forces base in Chilliwack as a kitchen supervisor, where she worked shifts, most days starting at 5:30 a.m. Despite the hard work, she still looked great and I was always proud when she showed up at my sports days or school concerts. After mom retired, she kept busy volunteering and taking dance lessons.
 Unfortunately, not long after that, she started showing signs of early dementia and eventually had to move out of the large home she loved to an extended care facility in Chilliwack. On one beautiful day in September 2003, I was out visiting her. We had just settled onto the patio to enjoy the sun when, out of the blue, she asked me what the date was. I told her. "It's after Labour Day?" she asked incredulously. "Yes, mom," I replied. "And I'm wearing white shoes," she said indignantly.
This Sunday marks the first Mother's Day since my mother's death last June, and in honour of the occasion, I asked several well-known locals — everyone from Mayor Larry Campbell to businessman Jimmy Pattison and MP Jenny Kwan — to reminisce about their mothers.
Larry Campbell
Darting back into his office after an all-morning meeting with just minutes to spare before Tuesday's regular council meeting, Mayor Larry Campbell takes a few minutes to talk about his mother, Vera Lucille Campbell.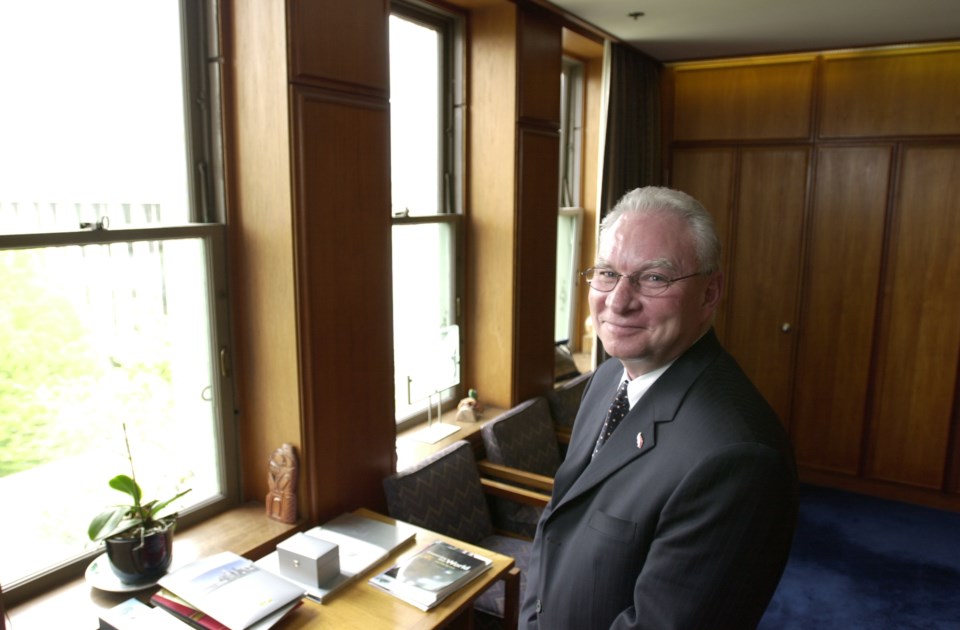 "My mom never really gave me much advice growing up," he says. "But she taught by example. She was kind and generous and loyal to her friends. If you're a friend of my mom's, you're a friend for life." Campbell said his 70-something mom worked as a secretary while raising him and his two younger sisters and keeping up a traditional 1950s home in Brantford, Ont., with their dad John Campbell. "
She worked very hard and managed to take care of the family and keep the house together. She taught me about hard work." Campbell says he had a typical small-town Ontario upbringing in Brantford, the town later made famous by local son Wayne Gretzky. Each winter, at least two outdoor, homemade ice rinks were kept flooded by local dads for their kids to play on.
It was a tight-knit community that didn't lend itself to getting into trouble. "If you did anything wrong, the news would get back to your parents before you even got home. My mother was firm but couldn't carry the big stick.
She was of the, 'Wait until your father gets home,' school." Campbell said his mother encouraged him in everything he did, whether or not she agreed with it, but was particularly proud of the time he spent in cadets and the militia.
Her faith gave him the courage to try just about anything, including politics. When he announced he was running for mayor of Vancouver about three years ago, Campbell says his mother didn't bat an eye.
"Mom's pretty used to me by now. First I announced I was leaving the mounted police after 12 years to become a coroner, and then 20 years later I told her I was retiring from being a coroner to enter politics. In between, I was writing for Da Vinci's Inquest," he says. "My mom and dad are really proud of that. But they're proud of all their children."
Campbell gets home to see his mother as often as possible--more now than ever, because as mayor, he attends meetings in Toronto several times a year. He's sending flowers this Mother's Day and though that might lack imagination, he says she really loves flowers. "And I love her very much. She's the glue that holds our family together."
Robert Kaiser, a.k.a. drag queen Joan-E
Local actor and entertainer Robert Kaiser, better known as drag queen Joan-E, says his mother, Elizabeth Kaiser, is the ultimate monarchist. "I can tell you if they played 'God Save the Queen' on the radio or TV at our house we would stand," says Kaiser, who grew up in Calgary and remembers getting up with his mother at 3 a.m. to watch the wedding of Lady Diana and Prince Charles on TV.
"I come from a good line of monarchists." Kaiser says his "70-something"-year-old mother Elizabeth's proudest moment came last year when he was awarded the Queen's Golden Jubilee medal for his volunteer and fundraising efforts in the gay community and particularly for people with HIV and AIDS. "She was beside herself. She always had to hear about my cousins getting married and going to university and there I was wearing a dress and lip syncing, but now she's got something to brag about too. Needless to say, she has the medal."
His mother was strict and big on good manners, Kaiser says, but always had a dry, cutting sense of humour--a trait anyone who knows Kaiser would confirm he's inherited.
"She's a small little lady, but she's not scared of anyone and doesn't suffer fools gladly." Kaiser, who was adopted as an infant, says his parents were always supportive and are proud of his new acting career, including a hefty role in the new Nia Vardalos (My Big Fat Greek Wedding) movie, Connie and Carla.
The movie, shot in Vancouver, tells the story of two female singers running from the mob. The pair end up in L.A. where they pose as drag queens on the club circuit. Kaiser says while his parents won't see the movie at the theatre — "They don't go to the movies"— they're planning on renting the DVD as soon as it's released. Kaiser tries to get home to Calgary to visit his mother at least once a year, especially in light of the fact she won't travel here.
"She figures it's up to children to do the visiting. But I don't mind. I have been very well loved all my life."
Jimmy Pattison
Life is a leaf of paper white
Whereon each one of us may write
His word or two and then comes the night
Greatly begin!
Though thou have time
But for a line, be that sublime
Not failure, but low aim, is crime.
Local businessman Jimmy Pattison, the world's 94th richest man, keeps those words by American poet James Russell Lowell close to his heart. More than 40 years ago, Pattison's mother Julia presented him with a framed copy of the poem when he started his first job at a gas station.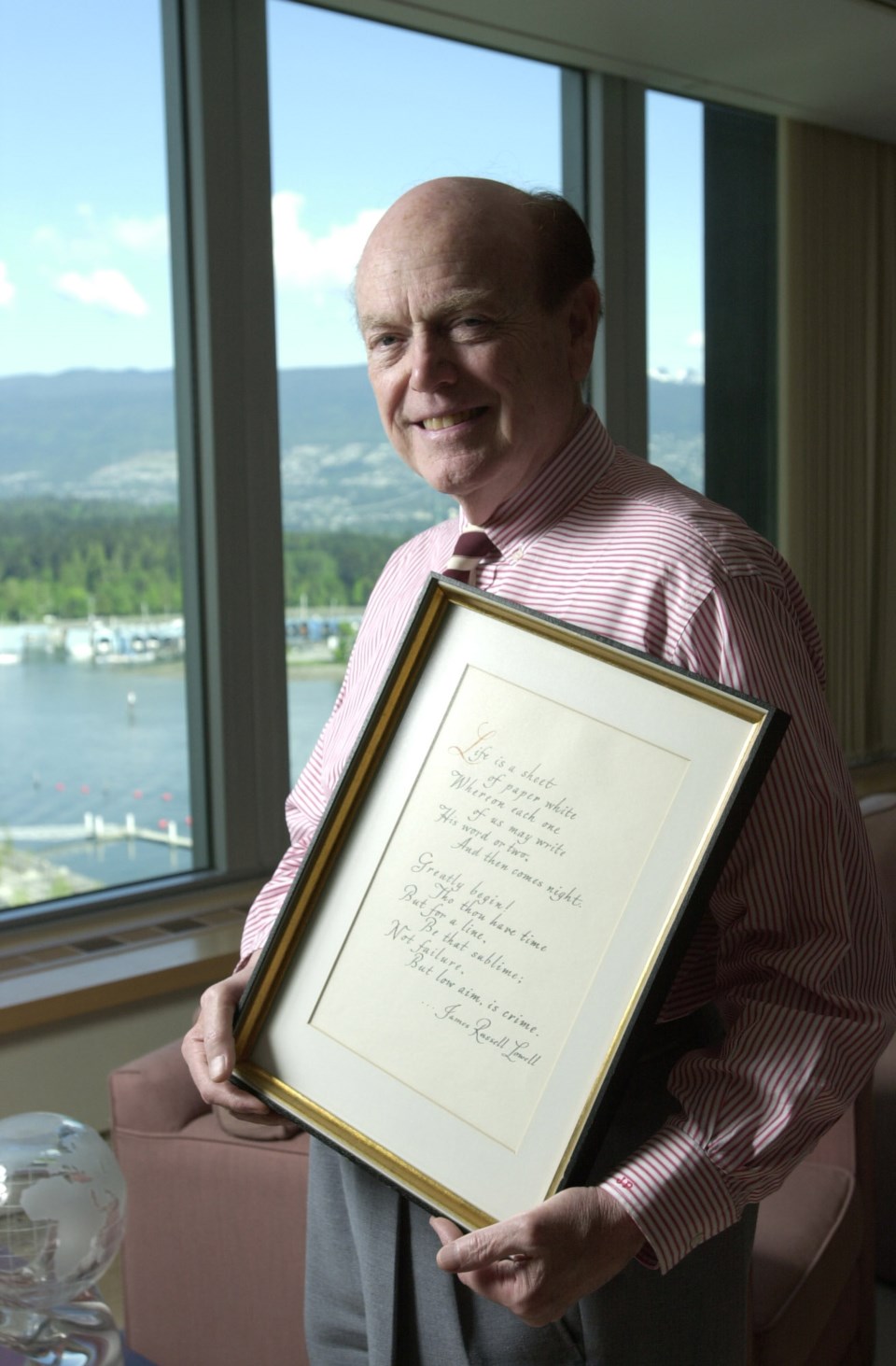 "We didn't have any money, but she went down to the library with a piece of paper and copied it by hand. She used India ink and had it framed and then gave it to me from her and my dad," says Pattison, whose mother died 10 years ago.
"I've had it on my wall for 43 years." Pattison credits the poem's message — "don't worry about failure and don't look back if you do" — for his success.
"One of the great lessons I learned from my mom was how to stick with something even when things don't go right the first time or even the second time."
Pattison credits that no-fear attitude with helping him build a financial empire starting with a single car dealership in 1961. Last year, Pattison was ranked the 177th richest person in the world by financial powerhouse, Forbes Magazine, with a net worth of $2.2 billion.
This year, that number more than doubled to $4.6 billion, making him the 94th richest person on the globe. The numbers are particularly impressive in light of the fact Pattison is self-made. Along with other car dealerships, a billboard company, radio stations, packaging outlets and grocery stores, Pattison's holdings now include companies as diverse as Ripley's Believe It or Not shows.
In fact, Jim Pattison Holdings is Canada's third-largest private company. He's come a long way from humble beginnings. His mother was born in a sod hut in Saskatoon and moved to Luseland, Sask. after marrying his dad. There, she gave birth to James Allen Pattison in 1928.
Seven years later, the family moved to B.C., settling in Chilliwack, where Julia Pattison home-schooled Jimmy at night for Grade 1, while he helped his dad de-moth pianos during the day.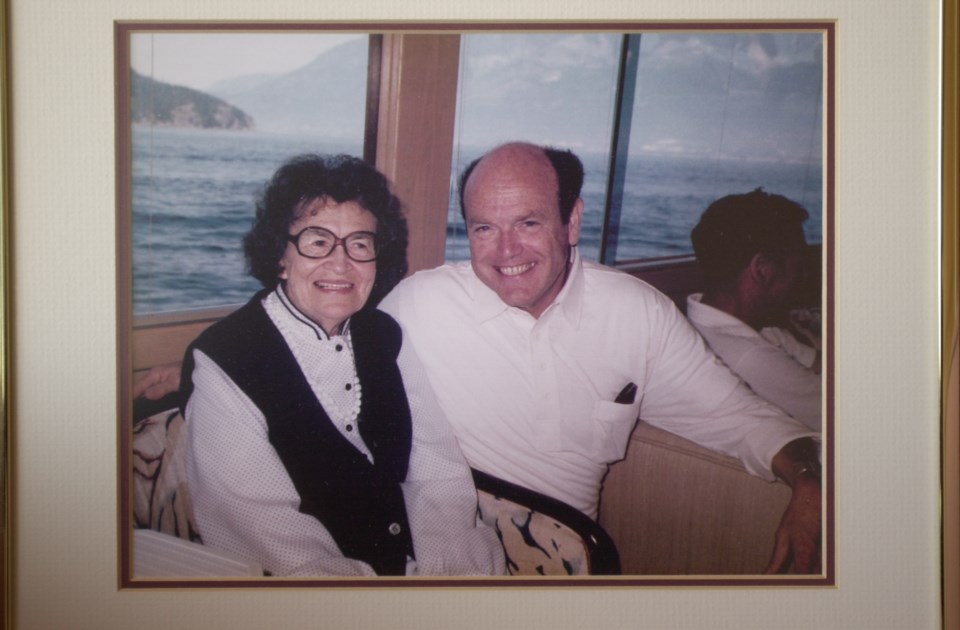 "We'd go door to door and get $2 for each job," Pattison says. "We were so poor, I always wore secondhand clothes, but my mom altered them to fit me."
The family eventually moved from Chilliwack to Vancouver, where Pattison made his fortune. He says his mom could never really comprehend just how very well he was doing financially.
"She didn't understand my success," he says. "But I bought her a house on the water in West Vancouver and kept her in Cadillacs until the day she died."
Jenny Kwan
The day after the hospital workers' strike ended and a week after an all-night meeting of the legislature, NDP MLA Jenny Kwan takes a breather to talk about her mom, Po Kwan. Kwan says since her daughter Cee-yan was born last year, her mother has made it possible to be just as dedicated to her job as a member of the official opposition as she is to her child.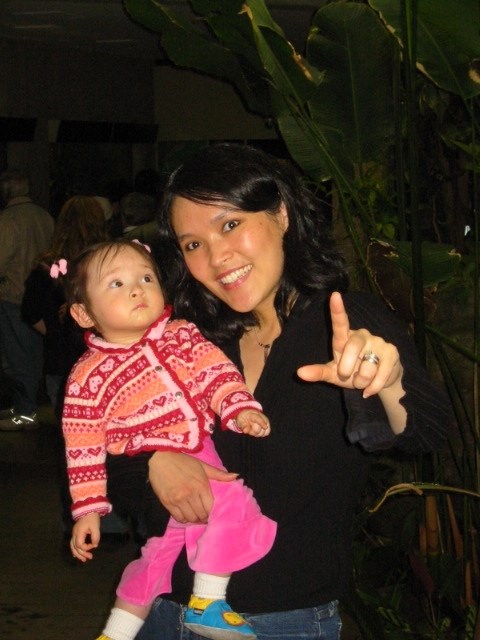 Kwan's mom stays with her to watch Cee-yan on the week days she's in Victoria on government business.
"We're all still recovering from that overnighter last week," says Kwan, who has her work cut out as one of only two NDP members in the Legislature. "I've never been away from her all night since she was born, but I didn't get home until six in the morning. My mom was able to put her down and then soothe her when she woke up in the middle of the night looking for me. That meeting would have been really difficult to get through without my mom there."
When Kwan was nine years old, she moved to Vancouver from Hong Kong with her mother, father and six siblings. While her father struggled to find work as a tailor, Po Kwan decided she would do her part to support the family, despite the fact she had a very traditional upbringing and had never held a paying job. Because she had no formal education past Grade 7 and couldn't speak English, job opportunities were limited.
"But she just rolled up her sleeves and took a job as a farm worker," Kwan says. "She'd leave at 5 a.m. and not get home until seven or eight at night and make $10 a day." Kwan credits that work ethic for inspiring her to work so hard.
"She taught me the strength of a woman. She also taught me that when you wake up in the morning and look in the mirror, the only person you have to answer to is yourself." Kwan regrets giving her mother such a hard time as a teenager, when she resented her parents for moving to Canada, blamed them for the fact they were Chinese and fought their changing life with every step.
"I had a huge chip on my shoulder. What I realize now is the gift they gave me by moving here." Kwan says her mother, a long-time Buddhist, was surprised when she announced plans to enter politics. Po Kwan's reservations came from living in a country where people end up in jail or even dead because of their political beliefs.
"She thought I was nuts," says Kwan. "She had a real fear of retribution. But she knows her daughter and that when I set my mind on something, I'm going to do it."
Later, however, Po Kwan started to dabble on her own.
"Mom got a job at a restaurant in North Vancouver and she used to take three buses to get there. All of a sudden she's telling me about all of the politics she's discussing on her trips to work and home. I was fascinated to see that develop."
Kwan says she now seeks her mother's opinion on grassroots issues. "She knows what the people want because she talks to them. I think that's very important."
Bob Rennie
Vancouver condo king Bob Rennie also credits his 75-year-old mother with helping him succeed, by encouraging him and his sister to be independent.
"If I had to say anything about my mother and our household, I'd say we were allowed to be ourselves," he says. "She was very supportive in everything I did."
Rennie, who has sold more residential real estate than any other realtor in Canada, works with developers of high-profile residential complexes such as the Wall Centre, Coal Harbour and the Palisades.
He says the strong work ethic his Italian mother, Margaret, taught him allowed him to pursue his passion in real estate.
"You have to understand, I don't have Grade 12. I'm a fluke, but I was always independent and managed to make it on my own."
Rennie describes his mother as a loving but strict disciplinarian. The tight-knit family lived on the East Side, where his mother stayed home to raise the kids while his dad worked as a truck driver.
"I'm not from an affluent family. We never travelled except for once when we drove to Portland. We had never been on a vacation before, so we spent the whole time screaming because we thought we were lost."
Despite the family's economic limitations, Rennie says his mother has always been a fashion maven.
"I remember she showed up for a PTA meeting when I was in Grade 1 and she was the only mother there wearing a hat. My mother is very young looking and still very conscious about looking good."
Rennie rarely talks about his success to his mother, who taught him modesty is important when he was growing up.
"Success is such a weird word. I am not a huge household topic. If someone in the family sees me on the news, they might mention it, but it's not something we talk about."
A few years ago, Rennie moved his mother from her Burnaby home to a condo downtown.
"There's more action downtown. You don't get old living downtown and she likes to go to the casino." As for Mother's Day, Rennie says the family will gather at an Italian restaurant on 4th Avenue this Sunday to honour their mother, bringing flowers, as is tradition. "Well, flowers and jewelry."