A nine-storey building that's geared towards households earning low to moderate incomes will open at Main and Sixth Avenue in about two-and-a-half years. Half of the 145 units will be suitable for families.
The City of Vancouver, the Vancouver Affordable Housing Agency and Catalyst Community Developments Society (CCDS), a non-profit real estate developer, are involved in the project at 188 East Sixth Ave., which marked its ground breaking Jan. 31.
Units include 29 studios, 43 one-bedrooms, 43 two-bedrooms and 30 three-bedrooms.
One-third will rent at BC Housing's Housing Income Limits (HILs) rates, while the remaining units will rent at a minimum of 10 per cent below current market rates.
Vancouver Mayor Kennedy Stewart called it a "great day" for affordable housing in Vancouver, saying that he is particularly pleased that half the homes are family units.
"Housing affordability is council's number one priority and this new building will provide affordable homes for hundreds of people in Vancouver and ensure residents, especially families, can stay living and working in the city," he said.
Stewart added that working with non-profit societies is the best way to build homes for low- and middle-income households.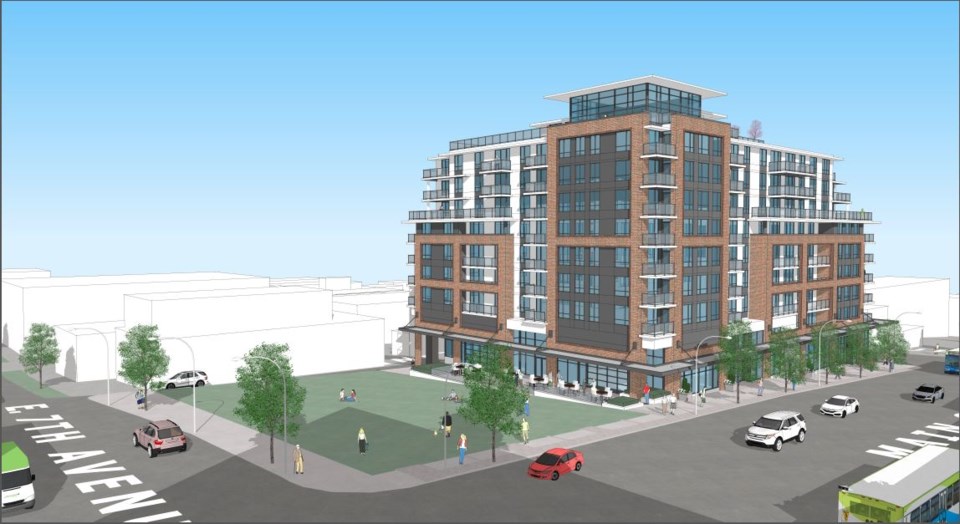 Robin Petri, vice president of development at CCDS, said the project will deliver critically needed below-market housing to families living and working in Vancouver.
"These are people who may have had a hard time finding affordable housing and either living in stressful financial condition or considering moving out of the city to somewhere less expensive. As a non-profit that develops, owns and operates below-market rental housing in British Columbia, Catalyst knows how important it is to have secure, affordable homes in our community," she said.
"We know from experience that residents who have a home offering long-term stability and rent that is affordable to their income can experience a significant and wide-ranging improvement in their quality of life."
Petri said rents are set up such that households are not paying more than a third of their income on rent.
Rents for studios, for example, would range from $1,000 to $1,320, which associate to incomes of $41,520 to $52,800.
Rents for three-bedroom units would range from $1,700 to $2,970, which relate to incomes of $68,000 to $118,000.
@naoibh