Are you prepared when you go out? With the increasing threat of fentanyl being found in party drugs, people are taking extra precautions when it comes to their party habits, including having a Narcan kit on hand to prevent opioid overdoses.
According to the province's chief coroner, Lisa Lapointe, cocaine was found in 46 per cent of all fentanyl-related deaths in B.C. in 2016. This number is higher than heroin-related deaths, only 30 per cent of which contained fentanyl in the bloodstream. Fentanyl, a powerful synthetic opioid pain medication similar to morphine, has also been found in other drugs, such as MDMA, oxycodone, and Xanax.
Many party spaces now have people who are Narcan-trained in attendance carrying naloxone kits. Narcan/naloxone can be used to reverse the effects of an opioid overdose when administered within three to five minutes of the onset of symptoms.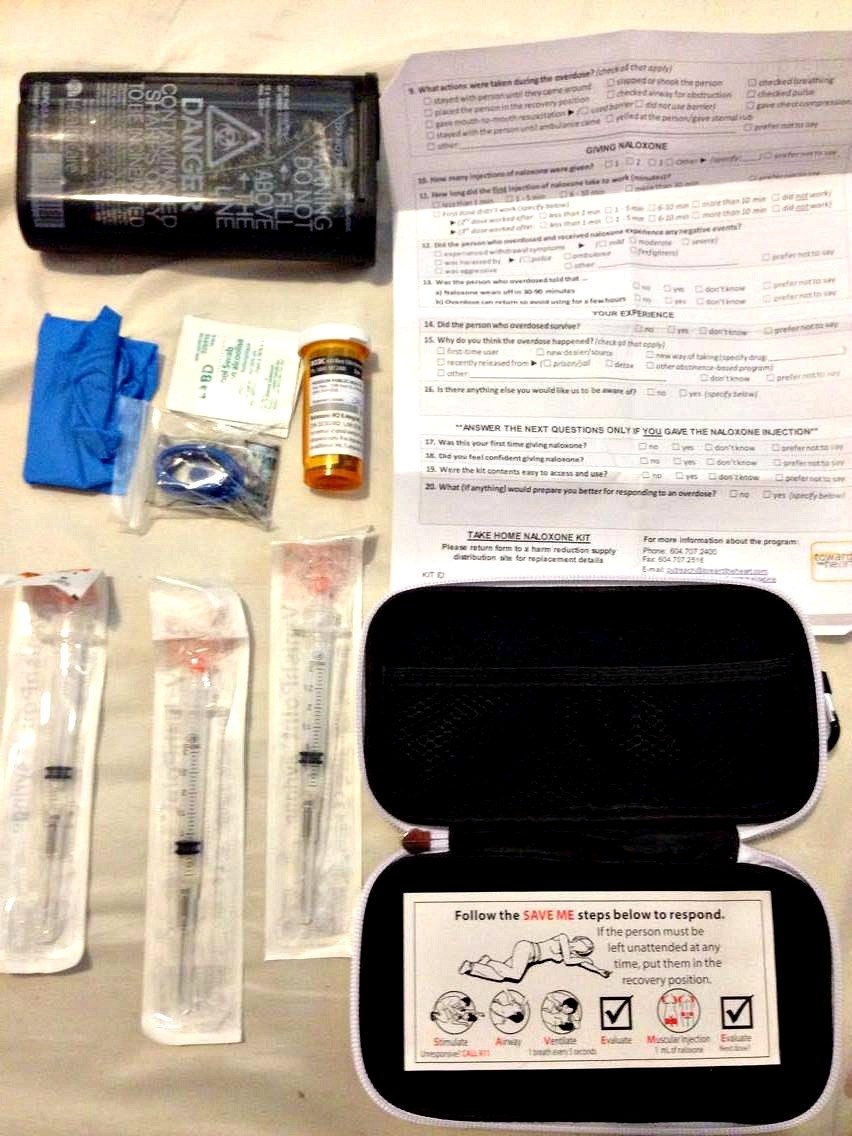 Man Up, a monthly party and drag show hosted at the Cobalt Cabaret in Vancouver, always has a Narcan-trained "buddy" at its shows. February's buddy, Emily Groundwater, thinks that the crisis has started important conversations about how to party safely in the city. "It's created a wonderful dialogue for safe party spaces," Groundwater said, speaking in the Man Up dressing room before February's show. "I also see it happening not just with the buddy system, but in other party spaces around the city, such as the Red Gate."
At Man Up, the buddy on duty carries a "buddy kit." The kit contains bottled water, tampons, granola bars, condoms, lube, and a naloxone kit. Groundwater said that the buddy system helps everyone feel safe at shows. "Most of the time, people just need a bottle of water or help getting a cab," she said, adding that the buddy system is more frequently called upon at busier shows, such as Halloween or Pride.
Groundwater added that the key to staying safe is to never use drugs alone. "Always be with a friend," she advised. "Especially if you're taking substances. It's just generally not a safe idea to be doing [drugs] alone."
With drug overdoses claiming a staggering 914 lives in B.C. in 2016, Groundwater said that the chance of overdosing or ingesting something other than what you thought it was is high.
Dr. Jane Buxton, harm reduction lead at the BC Centre for Disease Control, warns that using alone is very dangerous. "People should talk to each other and work to reduce stigma," she said over email. "Also, help people make a plan, talk about how to use more safely and help each other find and access resources."
A THN kit contains the following: a pair of gloves, a breathing mask, two alcohol swabs, two needles, three doses of naloxone, a list of SAVE ME steps, and a form to fill out when the kit has been used.
Caleb Tiessen, 21, has taken it upon himself to purchase a kit to keep himself and his friends safe. "When I go to parties, I make sure I tell the host of the party, I make sure I tell all my friends that I have a Narcan kit," Tiessen said. "So it's for everybody and anybody."
Tiessen said that $50 is a small price to pay for a kit and that everyone should carry one and be informed. "I think everyone should be educated on the symptoms of opioid overdoses," he said.
To find out this information, you can search for videos online, talk to a pharmacist, or take a Narcan training course.
Student Saphira Evans, 20, started carrying a kit last year when she realized that not everyone knew how to help someone who may be overdosing, and she wanted to be among the people who could help.
"After having two friends overdose and live, I wanted to be someone who could do something if someone I know, or someone I don't know is overdosing and something needs to be done immediately," Evans said. "I don't personally use, but I would highly recommend getting a drug testing kit."
Evans got a Narcan kit for free at Fraser Health when she took a training course there. She thinks that everyone should know how to deal with an overdose if you see one happening in front of you.
"Try to stay compassionate," Evans said. "Try to remember that [addicts] are people, too. I think there's a lot of stigma around people who use drugs."
Tiessen and Evans both believe that doing your research is how you can keep yourself and the people around you safe.
"Educate yourself on different drug overdoses, educate yourself on drug interactions. Don't mix drugs," Tiessen said. He also recommends weighing out doses. "It's pretty dangerous to eyeball powder," he said. "[And] never use alone. I would say always have someone with you."
Tiessen believes that the crisis is forcing people to think more about their drug use. "It's actually forcing people to educate themselves more, and I think people are, overall, being a lot more cautious. I think it's a good reaction to it," he said. "People are a lot more reticent to take random drugs."
To read the original version of this story, go here: http://www.westender.com/news-issues/news/narcan-kits-becoming-a-party-essential-1.11789416