David Eby found himself Tuesday night in the same bittersweet spot he was in when he first won the Vancouver-Point Grey riding for the NDP in 2013 --jubilant about his victory, but anxious his party may remain in opposition for another four years.
The 40-year-old button-pushing-human-rights-lawyer-turned-politician fought off a challenge by the Liberals' James Lombardi to secure a second term in a riding that was once a political beachhead for the Liberals. Green Party candidate Amanda Konkin finished a distant third.
As of 11:45 p.m. Tuesday, Eby had won 54 per cent of the vote, or 8,653 votes, to Lombardi's 6,534, a margin of victory far greater than the 785 votes that distanced him from Christy Clark in 2013.
The NDP and Liberals were running neck-and-neck and the Courier was unable to predict at deadline whether Eby would be possibly heading for a cabinet post or remaining in opposition. His convincing win Tuesday, however, suggests his toppling of the premier was not a fluke.
"There were a bunch of polls we won tonight that have never been won by the NDP, and I think we broke through some of that partisan feeling by simply representing the interests of the community," Eby said from the Coppertank Grill on West Broadway, where he celebrated his win with his wife, mother, father-in-law and volunteers.
If there was an advantage Eby had going into this race, it was an obvious one: he was the incumbent and parlayed his 2013 victory into bringing attention to issues of affordability in Vancouver and across the province.
His popularity and name recognition surged as he hosted housing forums in his riding and was a keynote speaker at others in Metro Vancouver, Vancouver Island and the Sunshine Coast, where the Liberals came under attack for not doing more to tackle the out-of-control real estate market.
During the campaign, the NDP promised to build 114,000 rental and co-op homes and provide renters an annual $400 cheque. Implementing a $10-a-day child care plan, increasing the minimum wage to $15 and cancelling Medical Services Plan fees were other platform planks aimed at making life more affordable.
With the NDP possibly failing again to win back the power it relinquished to the Liberals 16 years ago, Eby can expect to get questions – as he did Tuesday night – about whether he's interested in becoming the party's next leader.
NDP leader John Horgan was re-elected in his riding of Juan de Fuca. If he fails to become premier, pressure will likely come from within his party to step down, as was the case when then-leader Adrian Dix failed to defeat the Liberals in the 2013 race.
"There's lots of great leaders in our party and I really hope that if we're elected into a majority, then each of those voices gets a chance to shine," said Eby, who considered a leadership bid in 2014 but declined after learning he would become a father. "John Horgan is really good about making sure that people get their chance. The success that I've had on the housing platform is because of the confidence he had in me on that file."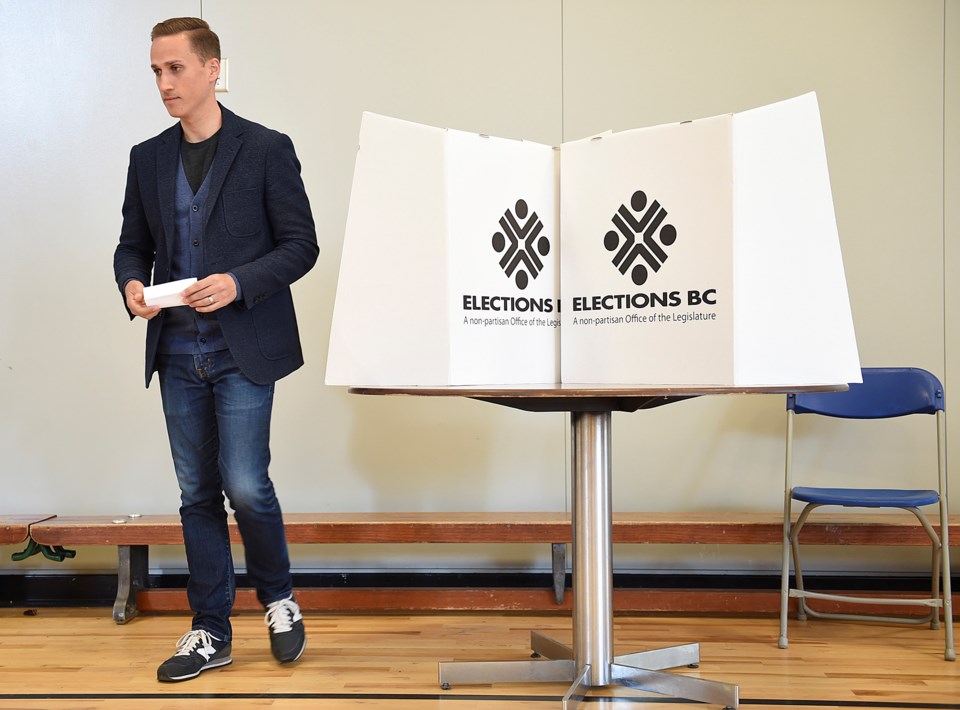 An extremely confident Lombardi believed last week that Eby wouldn't get a chance to consider a run for the NDP's top job. The 32-year-old businessman described Eby's victory in 2013 as "the exception, not the norm," referring to the fact the Liberals held the riding for 17 years before Clark's loss in 2013. Former premier Gordon Campbell was the MLA from 1996 to 2010.
"This time next week, we may very well be looking at the next leader of the NDP having lost his own seat before his leadership campaign even gets off the ground," Lombardi told the Courier last week.
After results came in Tuesday night, Lombardi conceded on a sidewalk outside a subdued group of supporters inside Simpatico restaurant on West Fourth Avenue that Eby's experience and name recognition got him re-elected.
"David ran a hard campaign, he's been campaigning in this riding since 2011, so we were always the underdog and we're proud of where we ended up," Lombardi told the Courier. "I give him credit but I think it's bigger than that. I think there are generational and global challenges here and people are trying to sort of find their way in a new world and they're wondering which party and which government is going to offer them the best path. They opted here in Point Grey for the NDP because they saw something that would maybe help them or lift them up a little bit more."
Lombardi was in tough not only against Eby's popularity, but in trying to win back a riding that not even the premier could hold.Clark was forced to run in a byelection in Westside-Kelowna after she lost to Eby in 2013. Unlike Horgan who visited Eby during the campaign, Clark never toured the Vancouver-Point Grey riding to support Lombardi's run. Lombardi deferred to the party when asked last week to explain Clark's absence in the riding.
"I couldn't say, you'd have to ask the party," he said. "The Liberals are working on winning this entire province, which is why you've seen the premier spend a lot of time north of 50, on the island, across the Lower Mainland."
To some in the riding, Eby's transformation from dogged Pivot Legal Society lawyer to West Side politician seemed improbable, as the candidate himself explained in an interview last week at his campaign office.
"I had one guy say on the doorstep, 'I thought you were crazy, but I've been impressed with what you've done since you were elected, so I'll be voting for you,'" said Eby, noting he's fought for residents of University of B.C. neighbourhoods upset about a fire protection tax and governance issues related to the University Endowment Lands. "I've been glad to for the chance to show the diversity of the things I can do in representing this community."
Eby worked for the B.C Civil Liberties Association before moving to the West Side in 2011 to run unsuccessfully in a byelection against Clark. He now rents a two-bedroom apartment with his wife and young son on the University of B.C. campus.
@Howellings