New Beginnings, a 98-unit temporary modular housing complex located near Cambie and 33rd, marked its official opening Jan. 11, with Lil'wat Nation elder Seis'lom and Musqueam elder Shane Pointe providing ceremonial blessings and songs.
Seis'lom called the two-building housing complex, which is designated for Indigenous people, a safe place for residents to come, "perhaps on their road to recovery… perhaps to reunite with their families and, for that matter, for them to come home to their own spirit."
Pointe recognized all those involved in the project, from the three host First Nations to the City of Vancouver to the workers who put the buildings up.
"What they're doing, in my mind, is they're demonstrating true Coast Salish words: nə́c̓aʔmat ct — nə́c̓aʔmat ct simply means we are one. Those wonderful people came together as one to help all of our relatives, to help all of our relatives who need the help the most. The poorest among us, they need the most help."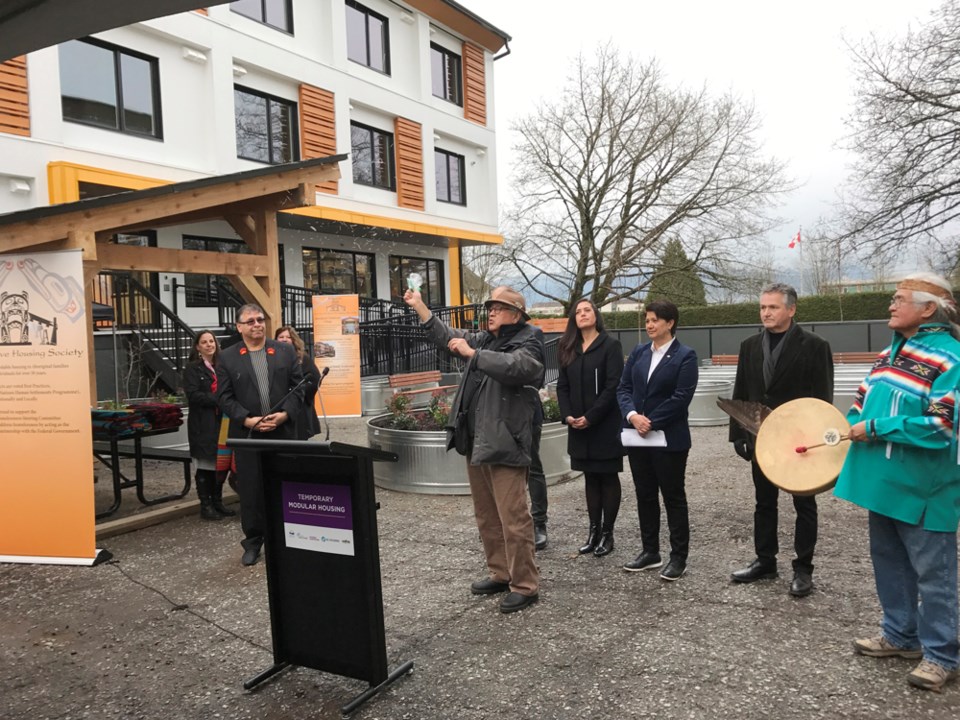 People of Indigenous identity make up 40 per cent of Vancouver's homeless population but only 2.2 per cent of its overall population.
The 98 units at New Beginnings are among just over 600 units that have been built, or are being built, on 10 sites across the city through funding from the provincial government.
L'uma Native Housing Society will run the complex, which is located at 5077 and 5095 Heather St. One building is for women, while the other will be co-ed.
L'uma formed more than 38 years ago to provide affordable housing to the Aboriginal community.
Kent Patenaude, the society's president, said over the years the organization has strived to improve the Aboriginal people's lives through a variety of programs and services.
"The New Beginnings project represents the next step in our progression in achieving this goal," he said.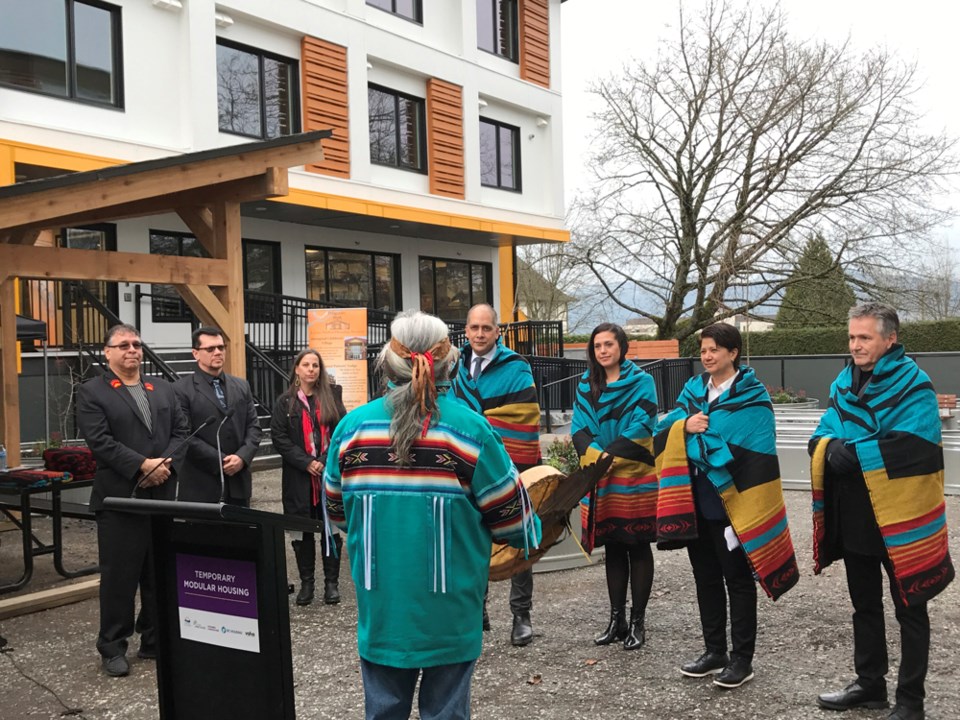 Residents will start moving in mid-January but it will take several weeks to fill up all the units.
Support services will be provided to residents 24/7, including meals, life and employment skills training, health and wellness support and opportunities to do volunteer work.
Each unit is about 320 square feet in size and includes a bed, a kitchen, a seating area, and washroom with a shower. Twelve are wheel-chair accessible.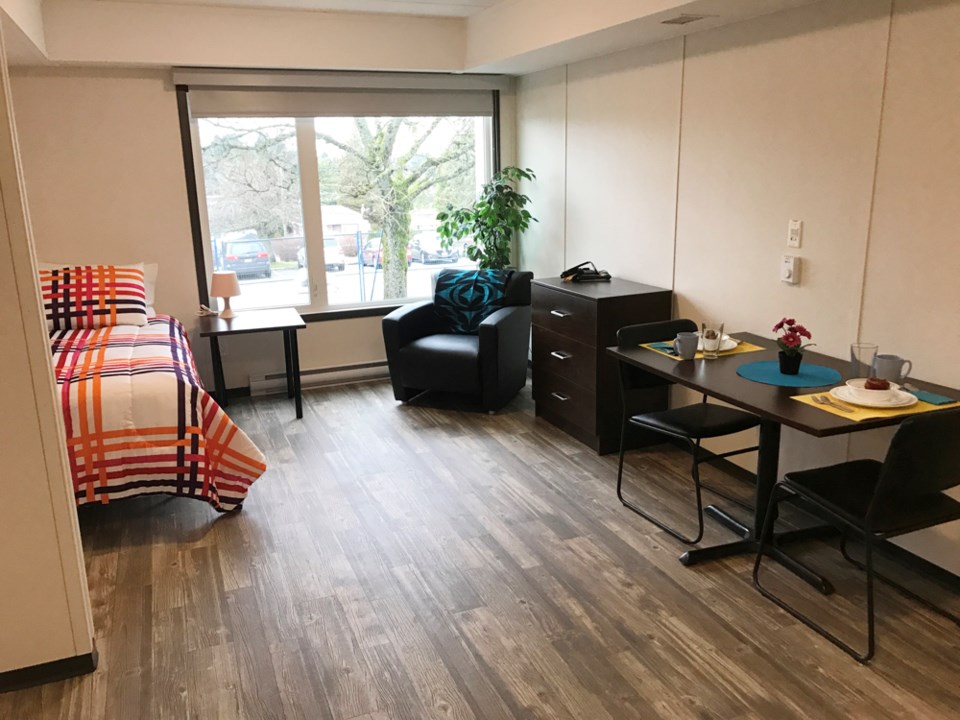 The complex sits on a portion of the 21-acre Heather Lands property, which is slated for development. The landowners — Canada Lands Company and the MST Partnership, which includes the Musqueam, Squamish and Tsleil-Waututh Nations — provided a five-year licence agreement to the City of Vancouver for the project.
Mable Elmore, MLA for Vancouver-Kensington, said people have been struggling for far too long under the housing crisis in Vancouver.
"For many Indigenous peoples, the struggle to find a safe and affordable place to call home is even greater. And we know that Indigenous people are overwhelmingly represented in the homeless population. Governments have a clear responsibility to help…. These homes, and the ones like them that are opening across the province, will change the lives of thousands of Indigenous and non-Indigenous people who currently don't have a place to call home."
Green Party Coun. Pete Fry, who spoke on behalf of mayor and council, said the modular housing complexes being erected are making a "huge difference" in the city.
"As I stand here wrapped in the warmth and protection of this [ceremonial] blanket, I think of our Indigenous brothers and sisters, [and] my friends in my neighbourhood — Strathcona — too many of whom are living rough on the streets. And, I think of the warmth and protection this facility will offer them — these new homes, 98 homes for people who are at risk of homelessness. It's a beautiful thing.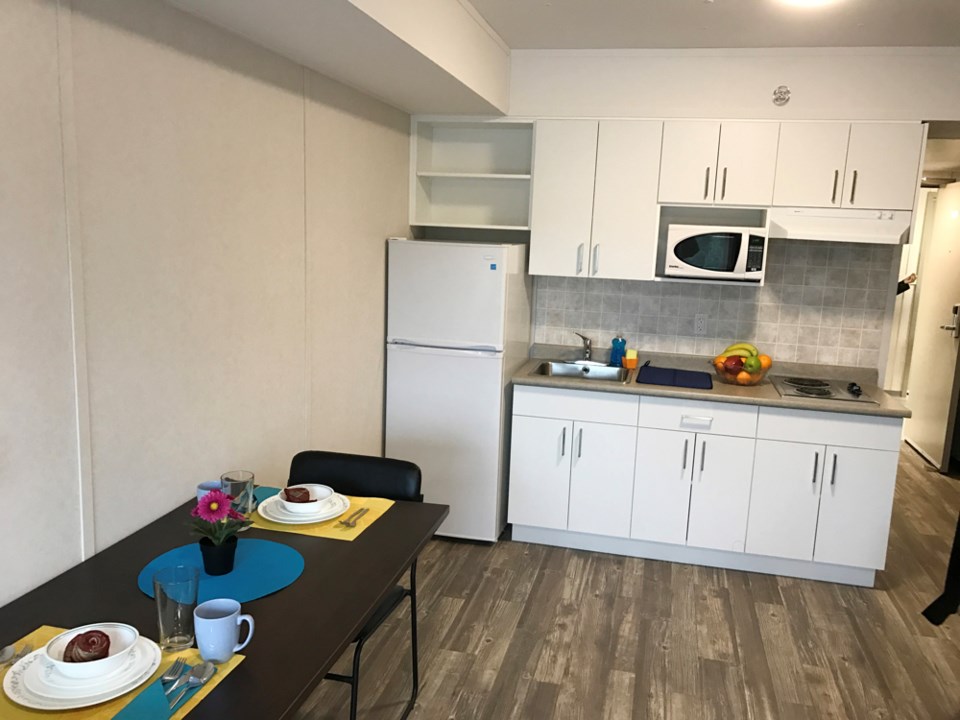 @naoibh