Another 70 units of social housing were officially opened in Vancouver July 6 at 947 East Hastings St. near Campbell Avenue.
The units, located in a building named Belcourt Residence, are in the larger Strathcona Village complex developed by GBL Architects for Wall Financial, which is highly visible on East Hastings thanks to its bright orange exterior. The development also features 280 market condo units.
Mayor Gregor Robertson, speaking at a ceremony to mark Belcourt Residence's opening, said the social housing units are much needed given the housing and homelessness crisis.
"Vancouver is leading the region when it comes to creating social housing. We're very focused on rolling out more and more social housing," he said. "…This is an example of a project that took shape when we did not have enough support from the B.C. government and had to rely on partnerships with builders and developers in the city like Wall Financial."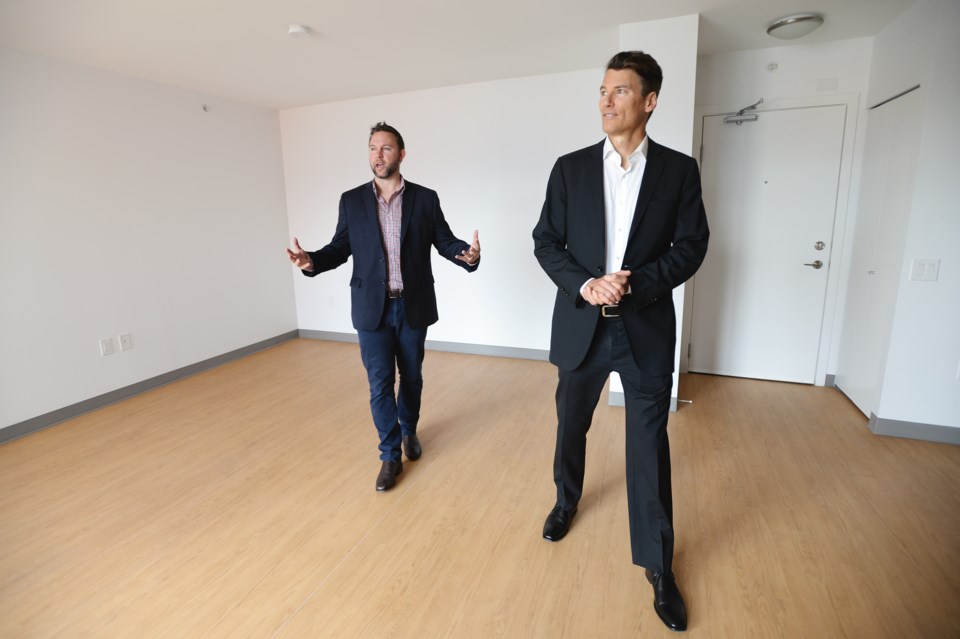 Lookout Housing and Health Society is operating Belcourt Residences. Rents will range between $375 and $1,750 — 24 studio units will rent at shelter rates, 15 one-bedroom and 10 two-bedroom apartments will rent at Housing Income Limits (HILs) rates of about $950 to $1,215, while the 21 remaining units will rent at the low end of market rates.
The overall development also includes commercial and light industrial space.
Robertson said it will "animate the streetscape."
"This was kind of a dead block on East Hastings for many years going back to the industrial days along here," he said. "Now, we're going to see it really come to life with retail and all the business and trade activity that will happen in this building."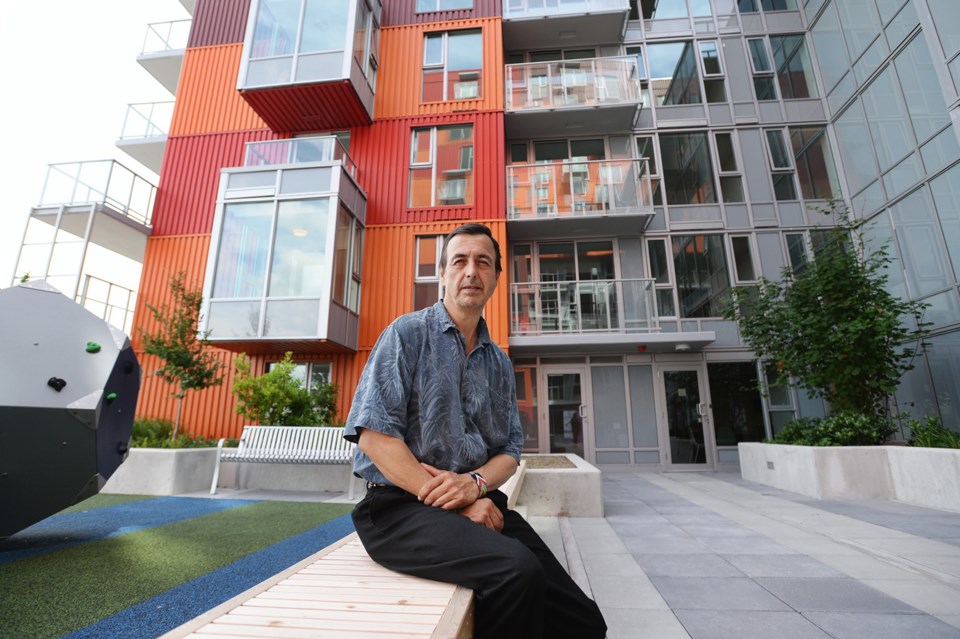 Robertson said the 70 units are providing a "big boost" to the city's social housing supply.
"We're adding more than 1,000 units of social housing in Vancouver this year, in 2018," he said. "Many of these have been created in developments like this where the city approves a larger building with some market housing and some social housing included in [it]."
Belcourt Residence is named after Josefa (Josie) Belcourt, a Lookout employee who was killed at age 57 on March 14, 2016, in a hit-and-run in Surrey. She was crossing King George Boulevard at 83rd Avenue to catch a bus to work. The driver was never identified.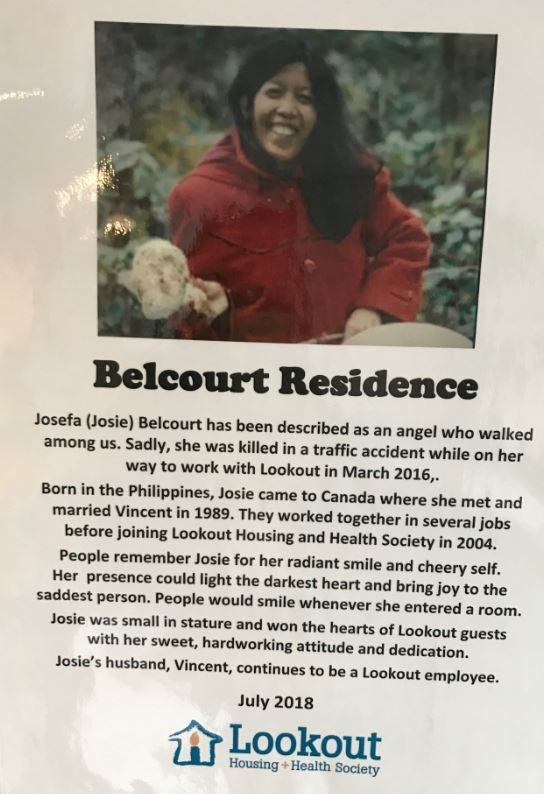 Belcourt was a homemaker for Lookout, doing work such as cleaning rooms and laundry.
"People at Lookout, people who work at these organizations that look after the most vulnerable citizens in our city are really unsung heroes," Robertson said. "Celebrating their incredible contribution to building community and looking after people is important."
Her husband Vincent Belcourt, also a Lookout employee, said it "honoured him greatly" that the building was named after his wife.
"When she walked into to a room, everybody wanted to be around her, talk to her," he told the Courier. "She had special people that wanted only to have [her] as their worker. She was amazing. A homeworker is someone who goes in and cleans the rooms and does extra little things for the people. She went beyond that. She would sit and talk with them. It was amazing what she could do. She lit up the whole place when she walked in."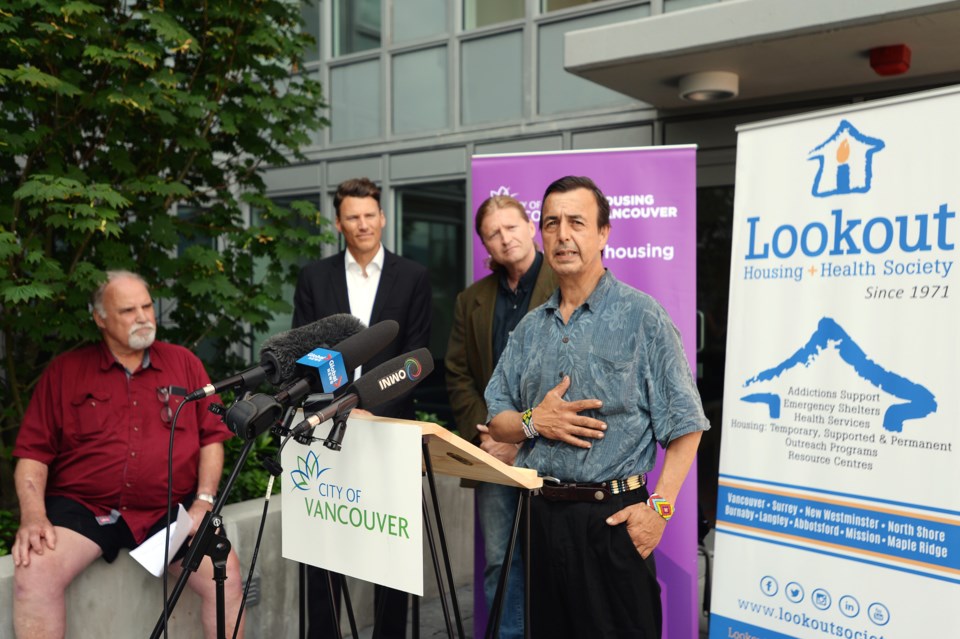 Lookout executive director Shayne Williams said losing Belcourt was hard on the organization. She brought "heart" to her work, he said, and created a rapport with vulnerable residents in some of the most difficult buildings. He described her personality as vivacious and happy, which was contagious to those around her.
"What we really wanted to capture was that spirit that she had and embody that into a community, into a building," he said. "That's our hope — what she brought intangibly and naturally to the organization in every shift that she worked and contributed — that it would be the same kind of feeling within the building."
Tenanting of the social housing units will begin next week and is expected to be completed in a month. Thirty people have already applied for the 24 shelter-rate units.
Williams said the building's opening was an exciting day for the society.
"This is a mixed rental building and it's new to Lookout in terms of its operating model," he said. "It's very exciting for us because we see a real variety of individuals accessing shelters in the Lower Mainland and this is going to help us get folks housed and comfortable very quickly in this community."
@naoibh