A decades-long wait for a library in Strathcona ended April 19 with the opening of a new branch near Heatley Avenue on East Hastings Street.
It's the first major civic building in Vancouver to have an official aboriginal name — nə́c̓aʔmat ct, which reflects the idea of "we are one" in the hən̓q̓əmin̓əm̓ (Musqueam) language. It was inspired by the community suggestion "Namwayut" — the theme of the City of Vancouver's Year of Reconciliation activities.
(Click here for pronunciation of nə́c̓aʔmat ct).
The new 11,000-square-foot library takes up the first two floors of a six-storey building designed by Dialog, which also features four floors for the YWCA's Cause We Care House — 21 units of social housing for single mothers and their children.
The library and social housing complex is the result of a partnership between the Vancouver Public Library, YWCA Metro Vancouver and the City of Vancouver.
Mayor Gregor Robertson, who spoke at the official opening, said the library and affordable housing units have been long-anticipated and are a welcome addition to the neighbourhood.
He cited the importance of the library's First Nations name.
"We want to see lots more of this. This is the beginning of a big change to welcome back the place names, welcome back the language, the hən̓q̓əmin̓əm language, to make sure we recognize the history of this place and the names that evolved with our city and the places around us," he said.
"We're looking forward to a vigorous process, particularly in this year of 150 plus, at recognizing the history and looking at naming opportunities of our city assets of important parts of the city that right now don't have names or have names that were bestowed in absolute disregard or ignorance of existing names many years ago."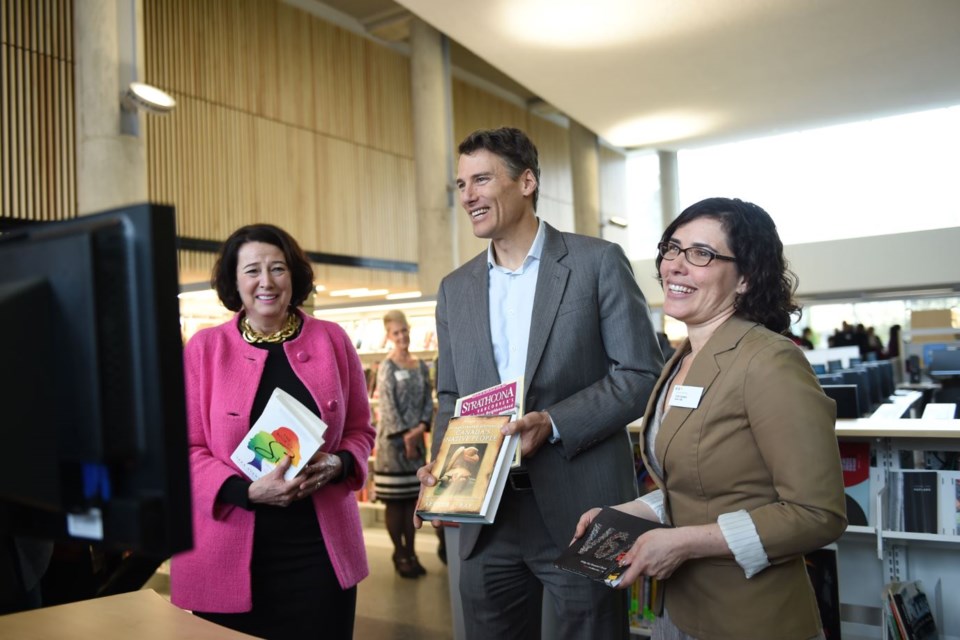 VPL board chairwoman Kyla Epstein described public libraries as the "only fee-free centres for life-long learning, knowledge exchange, cultural exchange and for preserving our communities' memories and history."
"Regardless of whether this is done through books, films, music, physical objects or digital platforms, public libraries ensure that everyone has access to information and culture and the opportunities to share and create their ideas," she said.
Sandra Singh, the VPL's chief librarian, said opening a branch in Strathcona has been a priority of the board since the early 2000s.
It's the only neighbourhood in Vancouver that didn't have a full-service library branch. There is the Carnegie reading room at Main and Hastings, as well as a small branch in Strathcona elementary school, but that had limited hours and space. The new library replaces what was offered at the school.
"Having a full-service branch where we can offer the full range of services for a community is really important," Singh said.
The library features a reading room, an Internet area, a children's space, a teen zone and the adult collection. There's also what's been dubbed "the Bud Osborn creation space." It's a digital media creation space, similar to, but smaller than, the digital inspiration lab at the central library. Osborn was an activist and poet who wrote about the Downtown Eastside and was recognized for helping to establish Insite, the city's first supervised injection site. Osborn died in 2014.
Community rooms have been named for Wo Soon (Mary) Lee Chan, a Strathcona community organizer in the 1960s who fought plans to build a highway through the neighbourhood, as well as Nellie Yip, a nurse and midwife who served women in Chinatown from the early 1900s to 1930.
The social housing part of the building features individual suites along with 4,500 square feet of outdoor and indoor community space for its residents where things such as medical services and mother-and-child programs will be provided.
Janet Austin, CEO of Metro Vancouver YWCA, said single mothers and their children can be particularly vulnerable — they have the highest rates of poverty and have the greatest difficulty finding affordable, safe housing of all family types.
She listed off various donors who helped the organization raise $10.2 million to cover its share of the capital costs, and to establish an operating endowment fund of $700,000, including a family that wished to remain anonymous. The family contributed a "substantial" amount, according to Austin, who said she couldn't disclose the actual amount.
But she read a note the family sent to her, which stated: "Coming from a first-generation Chinese-Canadian immigrant family, we feel a deep sense of gratitude towards the First Nations people whose unceded territory has provided us with a treasured city to call home over many decades. We hope, in turn, that this beautiful new residence will be a place of healing, thriving and flourishing for all the women and children who inhabit it."
noconnor@vancourier.com
@naoibh