Vancouver will see 25 new police officers and 30 firefighters hired next year after city council voted Tuesday to raise property taxes by seven per cent to help pay for the new emergency personnel.
The total impact to next year's $1.6-billion operating budget, which includes 10 new staff for the Vancouver Police Department and five fire safety staff for Vancouver Fire and Rescue Services, is $7.2 million.
The approval to hire new officers and firefighters came after Police Chief Adam Palmer and Fire Chief Darrell Reid each presented their case over the past two weeks to council for the need to hire more personnel.
The chiefs cited increased calls, a growing population, more fires, longer police response times, Internet crime and stress on staff as factors in making the request to add more people to their departments.
Lee Lax, the public engagement chairperson of the Vancouver Fire Fighters Local 18 union, echoed Reid's concerns in speaking to the Courier moments after council finalized the budget.
"The community's grown by 200,000 people in the last 30 years, we go to three times as many calls and we're twice as busy as any other fire department in Canada," Lax said.
"This has been a moment we've been waiting for for over 30 years."
The police and fire departments represent 30 per cent of city spending — 21 per cent for police, nine per cent for fire — while utilities such as sewer, water and solid waste services account for 23 per cent.
The police department's authorized strength of officers working in Vancouver will now increase to 1,352 while the number of firefighters will jump to 775. The new hires will be phased in over next year.
Palmer said 16 of the new officers will work in patrol in the north half of the city. The others would be assigned to investigations involving child abuse, domestic violence and Internet exploitation.
The five fire safety personnel includes two fire prevention officers, one accreditation manager, one mental health professional and one analytics support expert.
COPE Coun. Jean Swanson made an unsuccessful attempt during debate to have money used to hire new police officers be spent instead on addressing the city's homeless crisis.
Swanson, a longtime housing advocate focused on alleviating poverty in the Downtown Eastside, pointed out police deal regularly with homeless people and those living with a mental illness.
"These are issues that could be better dealt with if people had homes," she said, adding later in the debate: "I'm OK with cutting the police, as you all know, in fact I think they should be cut more."
The draft budget before council Tuesday suggested an 8.2 per cent property tax hike would be required to pay for all fixed costs and new spending for 2020, which was estimated at $23.8 million.
Last week, staff presented council with alternative tax hike options for what services, programs and new initiatives would be lost or gained under tax hikes of five per cent, six per cent and seven per cent.
Some of those scenarios suggested cutting in half the funding requests to hire new police officers and firefighters in 2020.

Council used the scenarios as a guide, but not a prescription in settling on a seven per cent hike, which was reached after Green Party Coun. Adriane Carr successfully moved a motion that outlined a list of reductions to achieve a lower percentage than 8.2 per cent.
Some of the bigger reductions include:
• Cut more than $1 million from the Vancouver Plan city-wide planning process.
• Cut $1 million from fund to pay for storm and snow events.
• Cut $500,000 for infrastructure renewal.
• Cut $500,000 to address Oppenheimer Park homeless camp, and spend the remaining $500,000 of the Oppenheimer budget on services for homeless people living in and around the park.
The seven per cent hike will require parking revenue be increased by $1.6 million next year, which will mean a combination of increases for paid parking and the installation of more meters.
Carr's motion ensured $6.8 million will be spent on work to accelerate the city's action on climate change and $4.1 million "to address affordability and the housing crisis."
A series of smaller cost reductions in spending across departments, including on travel and training, were also approved by the majority of council.
Under a seven per cent tax hike, a "median overall residential unit" assessed at $1.2 million — which reflects the median for all residential properties in Vancouver including strata condos, single-family homes and other residential properties — will cost $131 more in 2020 than this year.
It will be $225 more next year for a business property assessed at $976,000.
Council also approved a five-year financial plan, including a $502 million capital budget for new projects in 2020.
Early in the day-long debate, NPA Coun. Lisa Dominato was unsuccessful in getting a majority of council to delay final approval of the budget until April, which is allowable under the Vancouver Charter.
Dominato wanted staff to further review the fixed costs of running the city that included options to reduce every department's budget by five per cent. The review, however, would not include the police and fire departments, the library or park board.
Throughout the debate, NPA Coun. Colleen Hardwick repeatedly said how she lacked the necessary information from staff — particularly on fixed costs of the budget and the rationale for an increase in new staff — to approve the budget.
She pointed out the years of tax increases coupled with a $700 million capital budget — and an expansion of the city's scope of priorities — has translated to more costs for taxpayers.
"As I look into the future, if we keep up this pace, it's just unfathomable to me — I can't imagine any scenario where we're not going to hit a financial wall," Hardwick said.
"A year ago, we approved a budget that was led by the prior council. We said at the time that this was going to be the first budget that was coming from this new council. And I'm pretty sure when people voted us in, they were not expecting a seven per cent increase in property taxes."
Hardwick was successful, however, in getting council to agree to look at taking $750,000 from the city's "innovation fund" to spend towards the establishment of an auditor general's office — an office she successfully lobbied for earlier this year.
Several councillors suggested during debate that more budget workshops were required for next year's budget process. Others said they had enough information on which to base their vote.
In addition to the workshops this year, council received a presentation from staff in July on costs related to the 2020 budget. It was a point mentioned by city manager Sadhu Johnston in the council chamber.
"When we brought the [budget outlook report to council] in July, we were hoping for a more substantive conversation about what council was expecting and hoping for out of the process, and what the expectations were regarding the tax rate," Johnston said.
The seven per cent tax hike for next year does not include the increase in utility fees, which for a median single-family home was estimated at 9.7 per cent for water, 11 per cent for sewer and 6.8 per cent for solid waste.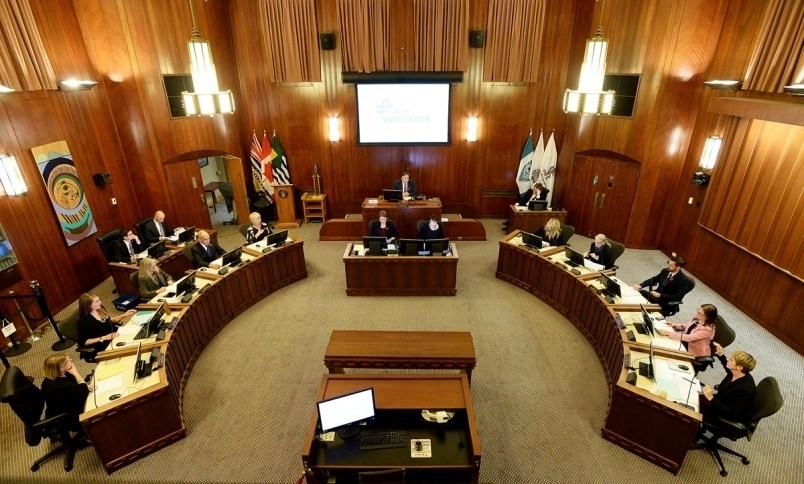 If council had approved the 8.2 per cent property tax hike, the combined cost with utilities was estimated to cost $354 more in 2020 for a home assessed at $1.7 million.
The total increase for a business assessed at $976,000 would have been $406.
For property owners who don't fall under those assessment levels, or who own a condo instead of a house, the proposed tax hike could mean a higher cost, or none at all.
A city staff report pointed out that while a property tax increase applies to the overall tax levy, the extent of change year over year in a person's property tax "is determined primarily by how that property's assessed value has changed relative to the average change within its property class."
"Properties with a higher increase in value relative to the average change of their class could experience a much higher increase in property tax beyond the council-directed increase, while properties with a lower increase in value could experience no change or a reduction in property tax," the report said.
This year's property tax rate was 6.1 per cent, a rate set partly to reduce the amount of tax paid by business. Earlier this year, council approved a three-year tax shift from business to residential, with one per cent in 2019, 0.5 per cent in 2020 and 0.5 per cent in 2021.
The property tax hike was 4.24 per cent in 2018 and 3.9 per cent in 2017.
Taxes between 2012 and 2016 averaged two per cent, with Vancouver at one point having the third lowest property tax increase in the region. At the same time, property values have skyrocketed in the past decade.
As they have done each year, city staff pointed out in its report that the city does not generate higher property tax revenue because of rising property values. That's because city council determines the total tax levy to be collected.
"To establish the city's tax rates, Vancouver city council divides the tax levy by the assessment base provided by B.C. Assessment," the report said. "Under this approach, property tax increases are driven by the city's funding requirement to support the annual budget, not by rising property values."
Patrice Impey, the city's chief financial officer, told council during the budget meetings that new development in the city — which expanded the city's tax base — accounted for $5 million in revenue.
The 2020 budget is pegged at $1.6 billion, a $111 million increase over this year's budget. More than half the budget — 56 per cent — is funded by property tax. Thirty-five per cent comes from parking revenue and fees for utilities, licences, development and programs.
@Howellings