Two students who launched a camp for children from Syria, Iraq, Somalia and other countries ravaged by war are looking to the community to help them reach a $30,000 fundraising goal.
The organizers want to increase the number of refugee children aged six to 12 who can participate in the East Vancouver Newcomer Camp (EVNC), where kids are taught English language skills and can participate in organized sports.
"We won't be able to accommodate as many children" without additional donations, says Duncan Bernardo, a co-founder of EVNC who recently completed his second year of a Bachelor of International Economics at UBC.
Bernardo and Dakota Koch launched EVNC last year, providing 15-20 refugee kids – mostly from Syria – free access to camp, along with monthly bus passes to get to and from camp via public transit, and Halal lunches and snacks.
"Some of the kids had no experience with formal education and had never held a pencil before," notes Koch, who is studying history at UBC. "We had some kids who had never experienced anything but refugee camps. So when they arrived in Canada, they were overwhelmed by just how different things are."
This year's EVNC is scheduled to run throughout July and August from 9:30am-4pm on Tuesdays and Thursdays at the Hastings Community Centre in Vancouver, and Mondays and Wednesdays at Oak Avenue Neighbourhood Hub in Surrey.
The organizers want to accept up to 30 kids at each camp, but say that will depend on whether they can bridge a $20,000 funding gap – they've raised $10,000 so far. Many camp staff members have a background in athletics and can speak Arabic, the native language of a lot of the campers.
The bulk of the labour costs for running the camp are covered by an employment grant from the Government of Canada, says Bernardo, but the camp relies on private donations – largely from local residents – to cover much-needed sports equipment, insurance, transit passes for campers, advertising and additional labour costs.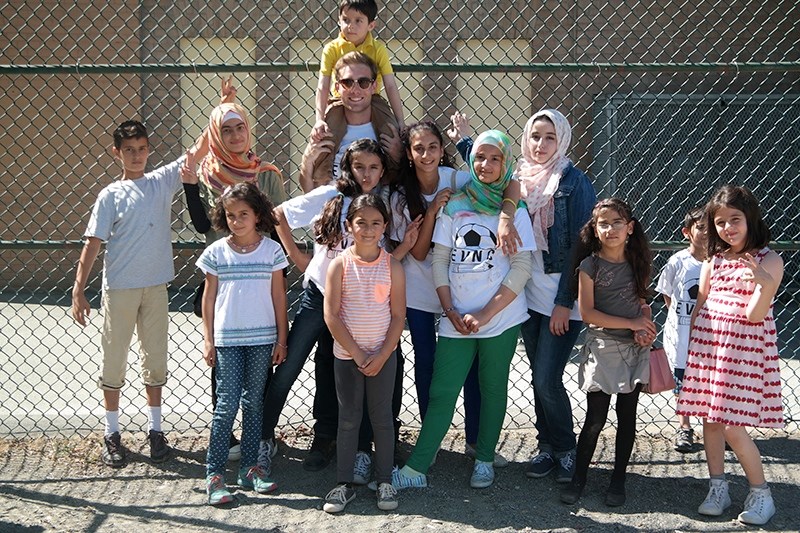 From one newcomer to another
Bernardo relocated to Spain when he was 11 years old and couldn't speak a word of Spanish. Playing soccer with kids at his school helped him overcome language barriers and form friendships with his classmates.
When he heard of Canada's plans to welcome tens of thousands of Syrian refugees (Canada welcomed over 46,700 in 2016), he knew wanted to do something to help them adjust to their new home. He and Koch landed on EVNC as a way to provide a safe space for refugee kids in Greater Vancouver to learn essential language skills, make friends and stay occupied during summer break.
Shaima Bozan, 15, was one of the campers at last year's EVNC. Bozan and her family moved to Vancouver from Lebanon and she says she was very happy to be able to go to the camp with her brother and sister. Bozan enjoyed the English language lessons offered at EVNC along with playing sports, such as soccer, basketball and T-ball.
"The camp was easy and really fun," she says, adding that she plans on attending EVNC again this year. "I liked everything."
Donations can be made at eastvancouvernewcomercamp.org.