It was, without question, an extraordinary year in Vancouver civic politics.
A topsy-turvy election campaign had everything to do with that.
So it will not come as a big surprise to readers that our choice for Newsmaker of the Year is the overhaul at city hall that saw Vision Vancouver's 10-year rule come to an end.
The party's crushing loss at the polls influenced our decision.
So did the plot twists and turns of the various campaigns and leadership races.
But the Oct. 20 election was, in fact, the climax of a long narrative that really began in January when Gregor Robertson announced he would not seek a fourth term as mayor. His announcement led naturally to all kinds of speculation on who would run to replace him.
It also led to non-stop talk about who had the best solutions to get Vancouver out of its housing mess.
Robertson's decision came as a shock to some, but his move wasn't inconceivable. The previous year, his longtime friend and colleague, Andrea Reimer, announced she would not seek re-election. Geoff Meggs, another Robertson loyalist, resigned months earlier to take a job as chief of staff with Premier John Horgan.
Meggs' resignation triggered a byelection in October 2017 which saw Vision's council candidate, Diego Cardona, finish fifth, far behind winner Hector Bremner of the NPA. Bremner, on the night of his victory, boldly declared Vision was "done."
The results of the Oct. 20 general election showed Bremner was almost bang on in his assessment: Vision's Allan Wong, a longtime school trustee and former COPE member, was the party's only candidate to get elected.
The party that ruled city hall since 2008, and once boasted a membership of close to 20,000 people, would not have any representation on council or park board, let alone someone in the mayor's chair; the party failed to run a mayoral candidate for the first time in its history.
The Vision era was clearly over.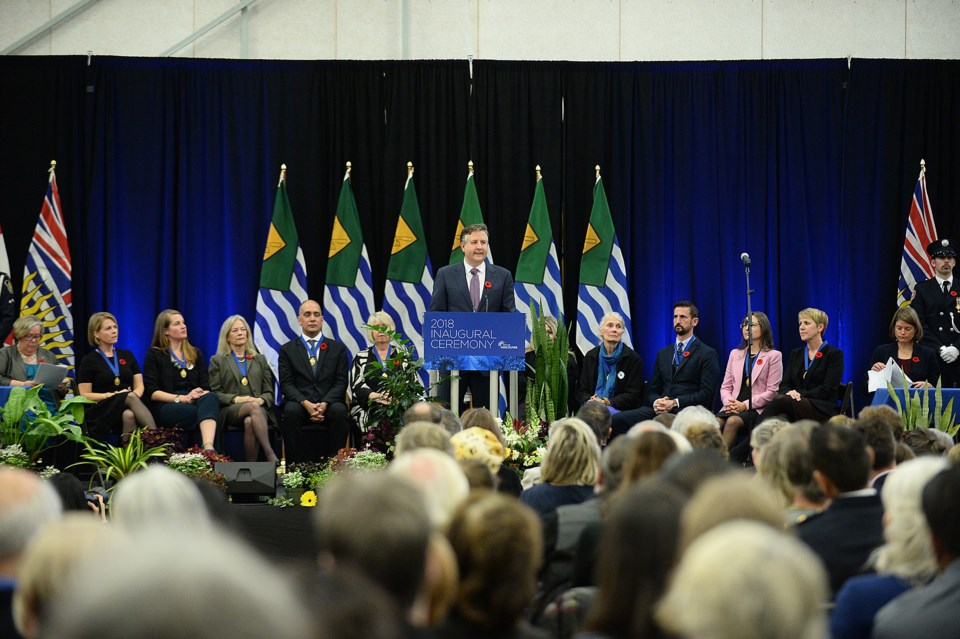 Kennedy Stewart, the former Burnaby NDP MP, is now the city's mayor. Stewart, who ran as an independent, leads what is largely an inexperienced council, with only the NPA's Melissa De Genova and the Green Party's Adriane Carr winning re-election.
For the first time in decades, no one party has a majority at city hall, with the NPA holding five seats, the Greens with three and OneCity and COPE with one each. Of the 10 councillors, eight are women, which is unprecedented in the city's history.
Overall, it's a big change, and big civic news.
The shake-up at city hall, as the Courier's editorial staff concluded, was more newsworthy than any other event or development in Vancouver over the past 11 months.
That's not to say there were no contenders.
Homelessness, which is at an all-time high with more than 2,100 people recorded in the city's March homeless count, and the opioid crisis, which for the second consecutive year will see more than 300 drug users die of overdoses in Vancouver, were serious considerations.
In fact, they were choices for Newsmaker of the Year in previous years.
The ongoing affordability crisis (also a previous choice for Newsmaker two years running) was on the list. New to the conversation this year was the legalization of marijuana and the B.C. wildfires, which brought heavy, debilitating smoke to the city for a good chunk of the summer.
But it was the overhaul at city hall that dominated the Courier's news coverage for the year, beginning in that second week of January when Robertson announced he would not attempt to extend his winning streak in a fourth election.
"Something shifted for me that surprised me," Robertson said in an interview from his office on the day he made the news official. He was reflecting on his Christmas break and time spent with family and friends. "It came up in conversations, and I had time on my own to think about it and consider what was next for me. I felt it was time."
On the home front
Although he denied it back in January, Robertson must have known after the byelection that his party's demise was inevitable.
Cardona's disastrous fifth-place finish was proof of voters' growing intolerance for Vision.
Why the intolerance?
The common response from critics was that Robertson and his Vision administration allowed developers to have free reign on the city, make lots of money while doing it and, as a result, turn Vancouver into one of the most unaffordable cities in the world.
Robertson vehemently disagreed.
"It's ridiculous to assert that," he told the Courier in October in one of his last interviews as mayor. "The numbers are very clear — we've built more rental housing than any city in the country. Last year, over half of the rental housing we approved was for people on low to middle incomes."
He continued.
"Ten years ago, rental housing was five per cent of the housing supply being approved at city hall. We broke through 25 per cent a few years ago, and now we're at two-thirds this year. So we've made huge progress on adjusting the mix, and ensuring there's the right supply of housing for people who live and work in Vancouver."
Still, the vacancy rate is less than one per cent and rents are extraordinarily high.
The Canada Mortgage and Housing Corporation released its annual rental market survey last week and it showed the average rent for an occupied one-bedroom apartment in Vancouver was $1,408 per month. The average rent for a vacant one-bedroom was $1,679 per month.
The price of a single-family home, meanwhile, continues to be way north of $1 million and out of reach for many people with good jobs.
Those realities, no matter how Robertson steered the conversation about the city's efforts on housing and stressed the need for help from senior levels of government, were central to the campaigns of many, if not most, of the mayoral and council candidates in this year's election.
The common theme: Vision didn't do enough, we can do better.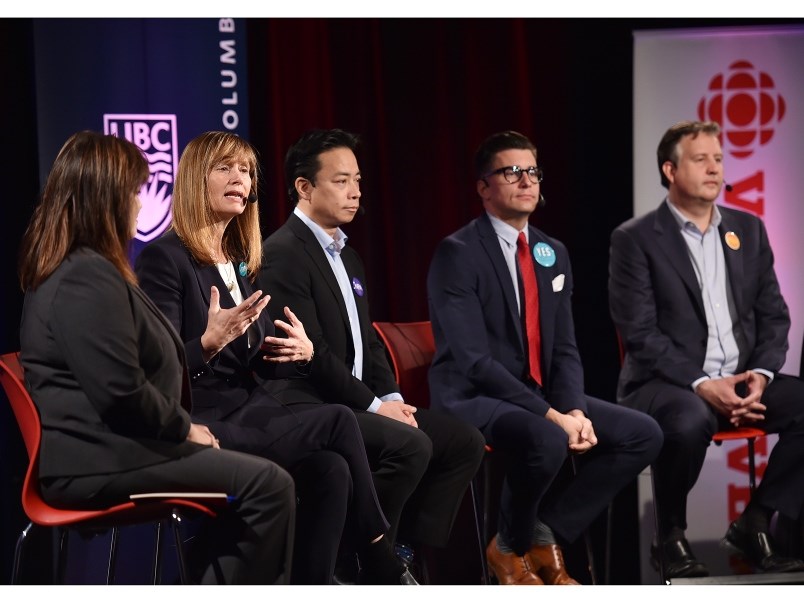 Many candidates promised more affordable housing and to find ways to use existing municipal government tools and create policies to dampen speculation and protect renters.
They also promised to pressure the provincial and federal governments to bring relief to the city's red-hot housing market, including leveraging cash for projects on city land, providing incentives for developers to build rental housing, implementing market-correcting taxes and other measures.
Which, by the way, were elements of Robertson's housing playbook, too.
Now it's Stewart's turn to tackle affordability.
Critics characterized him during the campaign as an ally to Vision and said his housing plan wasn't much different from Robertson's, except for the fact Stewart promised to build 85,000 homes over 10 years instead of the 72,000 finalized by the Vision administration.
Under Stewart's plan, at least 25,000 of those homes will be non-profit and affordable for households earning $80,000 or less per year. Another 25,000 purpose-built market rental homes and laneway homes will be "fast-tracked" over the next 10 years.
Stewart, a renter, also promised to triple the empty homes tax and hire a renters' advocate. He is expected to deliver a report within the first year of his term that outlines how to make life more affordable for renters.
Seeing his housing plan through, however, will mean he will have to work harder than Robertson in the council chamber on the diplomacy front. As an independent mayor without a caucus, he must convince a council dominated by the NPA that his agenda is the best way forward.
That challenge will be interesting to watch.
Although Stewart beat the NPA's Ken Sim in the mayoral race, it could be argued the NPA's housing plan resonated most with voters—that's if the election of five council candidates is a measure of the public's desire for changes to the city's approach to tackle the affordability crisis.
The party's plan calls for allowing two secondary suites in detached homes and fast-tracking housing for vulnerable seniors and people with disabilities. Municipal taxes, fees and charges for laneway homes and new secondary suites that house long-term renters should be reduced, too, the party said.
Renewing outstanding co-op rental leases and designating city land for "attainable rental accommodation" is also part of the NPA's plan, as was the call for a city-wide plan, which was not an original idea and one promoted by various candidates.
Last month, the new council unanimously approved the first step to develop such a plan.
The move saw Stewart and his fellow councillors congratulate themselves on the cooperation it took to kickstart what will be a years-long undertaking by the city's planning department to map out how growth should be accommodated in Vancouver.
He, Carr and the NPA's Colleen Hardwick held a joint news conference following the vote.
"I couldn't be more pleased," the mayor told reporters. "We had a robust, respectful debate, which is really important. We've been working for over a week to put this motion into form, and credit to both councillor Carr and councillor Hardwick for doing that work, and here we are."
'Change election'
Stewart's successful run as an independent was a first in decades in the city's political history.
An independent mayor hadn't been elected since Mike Harcourt won the 1980 election, although both politicians' NDP lineage and support from the Vancouver and District Labour Council were well known during their campaigns.
"I never will [distance myself from the party]," Stewart said in an interview two days after his victory. "I mean I'd been an NDP MP [in Burnaby] for seven years. So it would be kind of disingenuous for me to do that."
The power of a party brand was evident again in this year's election, despite some high-profile candidates running as independents. Sarah Blyth, a former Vision Vancouver park board commissioner and current harm reduction activist, had the best showing of an independent, finishing 19th in the council race with 29,456 votes.
All seats went to party-affiliated candidates, including Christine Boyle of OneCity — the party's first-ever council win — and Jean Swanson of COPE, a party that saw a rebirth at the polls with Gwen Giesbrecht and John Irwin elected to park board and Barb Parrott to school board.
New finance rules were another first in this year's election.
Candidates and parties could no longer accept money from unions or developers, although big money was in play: The NPA raised more than $800,000 from individuals two weeks prior to election day, and Stewart and 26 other candidates got a boost in third-party promotion from the Vancouver and District Labour Council.
The final tally of what all candidates, parties and organizations spent will be disclosed early in the new year. That will mean a pile of documents to examine because a total of 158 candidates ran in the election, including 21 for mayor and 71 for council.
Ian Campbell, a popular hereditary chief of the Squamish Nation, would have made it 22 candidates for mayor, but he suddenly withdrew from the race in September as Vision's leader, citing his "complicated personal journey" among the reasons.
Vision's campaign took another blow the day before the election when the party dumped council candidate Wei Qiao Zhang because he failed to disclose an incident that contravened the party's candidate agreement. The party refused to provide specifics on the incident.
Many candidates and pundits referred to this year's campaign as a "change election."
Robertson was retiring, so were many of his colleagues, new finance rules were in place, the election ballot was randomized and a record-setting number of 49 independent candidates took a shot at getting elected.
What didn't change is eligible voters' apathy for elections. Voter turnout was 39.3 per cent. That means only 176,450 people out of 448,332 bothered to cast a ballot. That's a sobering number to keep in mind as the public calls on politicians to respond to persistent crises in affordable housing, homelessness, overdose deaths and mental health.
Those who did vote elected a mayor and city council that is all white except for Green Party Coun. Pete Fry, who is of mixed-race heritage, with a British father and a mother from the Caribbean nation of Trinidad and Tobago.
It was an outcome Stewart addressed at his inauguration.
He acknowledged the council does not reflect the ancestral diversity of Vancouver. He said he was deeply concerned that not one person of Chinese, South Asian or Filipino descent holds a council seat.
That means more than 50 per cent of the population's ancestry is not represented at city hall.
The mayor pledged to do "everything I can to reach out to your communities and to make sure the decisions we make at city hall take your experiences and realities into account." He also acknowledged there was no one of Indigenous descent on council, but promised to continue the work of the previous council's reconciliation efforts.
Some of the analysis of why Vancouver elected a predominantly white council, which spawned the Twitter hashtag #CouncilSoWhite, pointed to the city's at-large voting system. Stewart himself has been a critic of the system and plans to implement a different method of voting for the 2022 civic election.
"For me, it's that it's shown in many, many U.S. court cases to be racist," he said a few days after his victory. "It's very disproportional, too, in that one party can win all the seats with 40 per cent of the vote, which happened in 1996 [Vancouver election]. It's very biased against ethnic minority groups, and that's not acceptable in this day and age."
So, according to the mayor, Vancouver could have a ward system or some form of proportional representation in place for the 2022 election. That will, undoubtedly, take some convincing of his council mates before he even thinks about approaching the provincial government for such a change.
In the meantime, the newly minted council — white or not — has to demonstrate to the voting public that its work over the next term, particularly on housing, has an impact on all those residents who are tired of surviving in this city and just want to live in it.
They've got four years.
mhowell@vancourier.com
@Howellings
Newsmaker runners-up:
Homelessness at all-time high
Unlike Mayor Gregor Robertson who promised to end "street homelessness" by 2015, Kennedy Stewart has not been as bold in his early days in office. He takes over as mayor at a time when Vancouver's homeless population is the highest it has ever been since data was first collected in 2005 to determine how many people are living on the street and in some form of shelter. The city's homeless count in March revealed 2,181 people were homeless in Vancouver.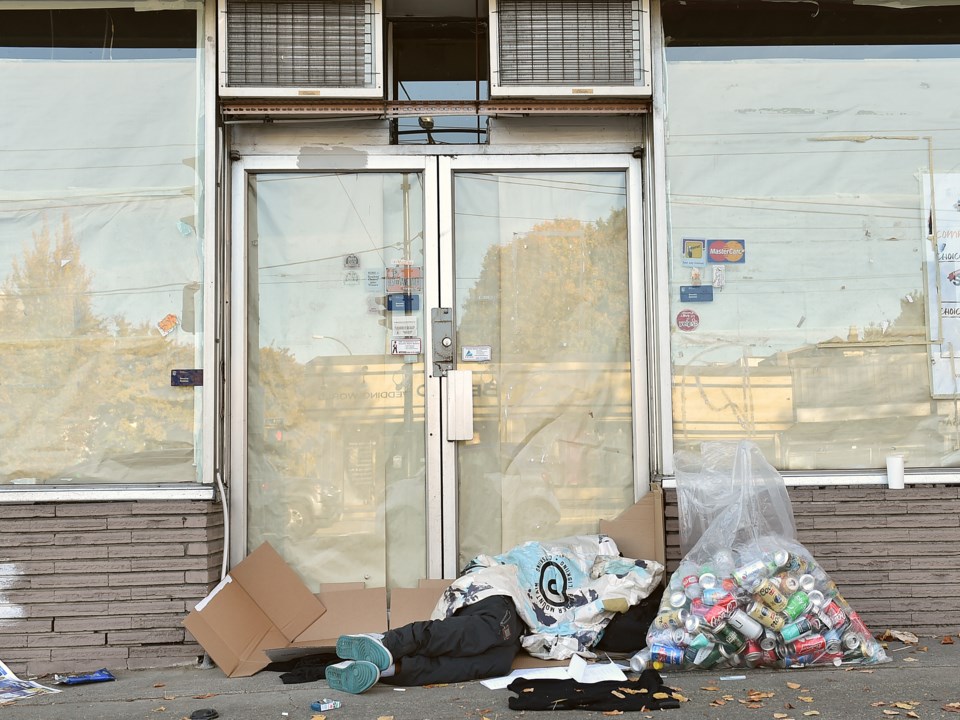 Overdose deaths persist
The topic was the Courier's Newsmaker of the Year in 2017. It could have been again this year, with more than 300 people expected to die in Vancouver for the second consecutive year. Last year, the total number of deaths reached 367, which was a substantial increase over the 234 in 2016 and 138 in 2015. In the past decade, the lowest number of overdose deaths occurred in 2008 when 38 people died. Fentanyl has been responsible for the surge in deaths, with 79 per cent this year connected to the deadly drug and 81 per cent last year.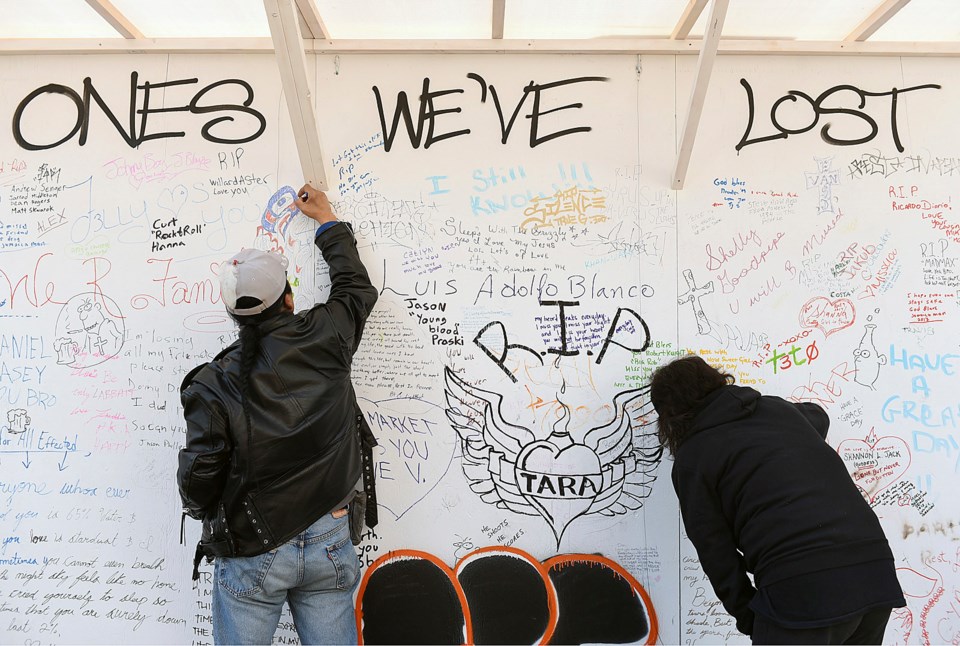 Unaffordable city
Vancouver is no more affordable than it was last year, even though the city has added rental housing stock across the city and implemented measures such as the empty homes tax, which is directed at property owners who leave homes vacant instead of renting them out. In November, the city released an annual report on the empty homes tax that showed 99 per cent of all owners made declarations on the status of their properties. Out of 186,043 properties, 178,120 were said to be occupied and 5,385 were exempt. Total number vacant: 2,538. So far, the city has collected $21 million from the tax on an anticipated $38 million. Net revenue will be used to pay for affordable housing initiatives.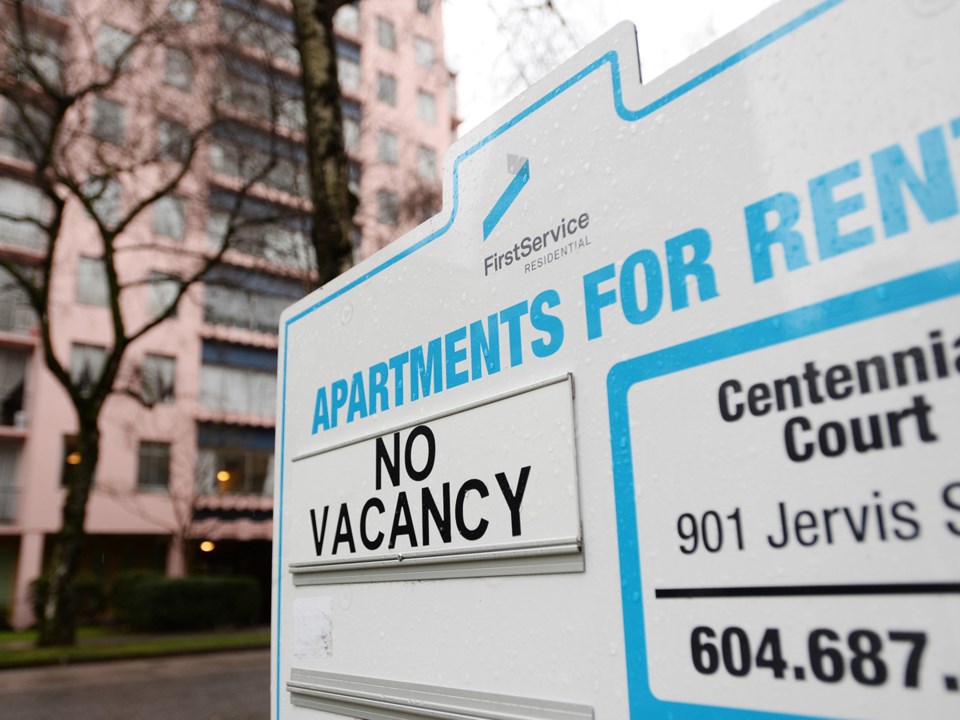 Legalize it
The legalization of recreational marijuana Oct. 17 was a big day for cannabis enthusiasts. People are now allowed to smoke pot in public (but not in parks or on beaches) and carry up to 30 grams — which is the same amount allowed to be carried on B.C. Ferries and on a plane travelling in Canada. Four plants can also be grown per household. So far, no B.C. government licences have been granted to any Vancouver dispensaries, although some are being processed. Police will continue to focus on impaired driving and illegal marijuana grow-ops.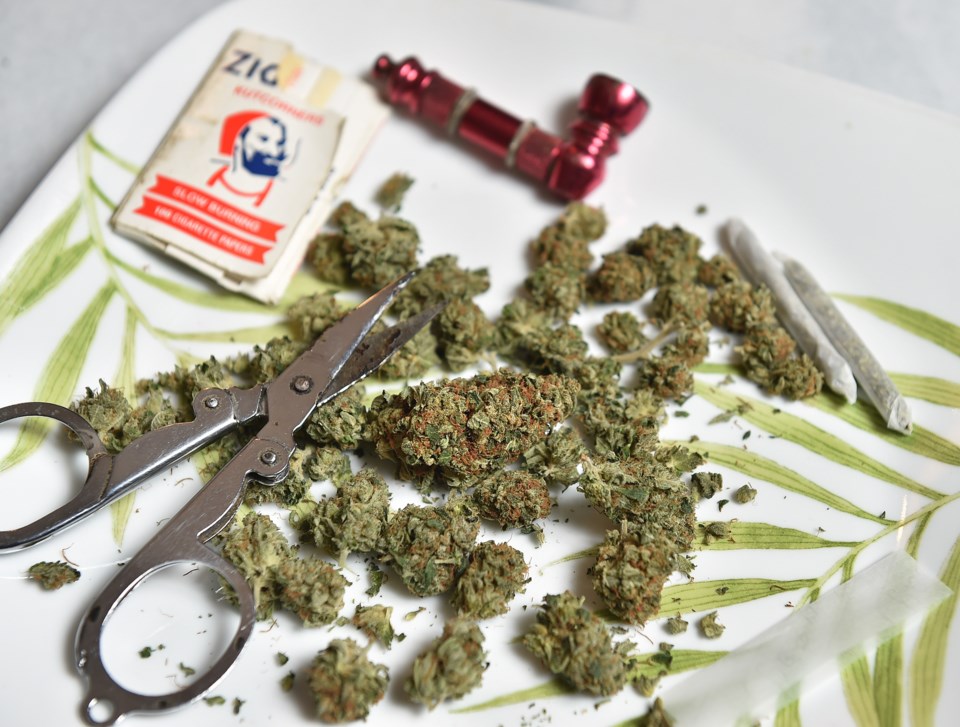 Smoke on the water
This summer's wildfires across the province were not only a hazard for residents and travellers on Vancouver Island and up country, but for Vancouverites too. Heavy smoke hung over the city and across Metro Vancouver for a good chunk of the summer. Air quality warnings were commonplace, with 21 issued in Metro Vancouver in the summer. A  14-day span of continuous advisories from Aug. 13 to 26 was a new benchmark. At the time, more than 500 fires were reported and close to 1.3 million hectares had burned since April 1.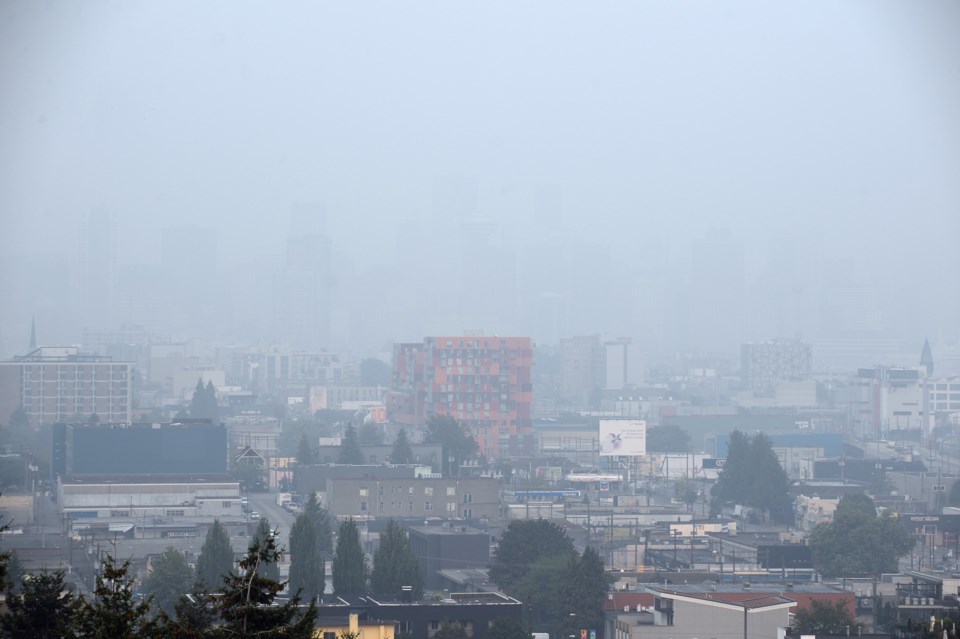 With files from John Kurucz