The historical NPA stronghold of Shaughnessy saw a 15 per cent drop in the number of eligible voters since 2006 while the Vision Vancouver-friendly downtown saw a 63 per cent gain in voters for the same period.
Those are the findings of Andy Yan of Simon Fraser University's City Program, who compiled data from Statistics Canada, the 2006 and 2016 Census and additional files from the City of Vancouver's open data catalogue to measure losses and gains of voters in city neighbourhoods.
"This is a case of 'dad'— demographics, affordability and development," said Yan, when asked about the factors that have shaped Vancouver's new electoral landscape.
In pure numbers, Yan's data shows 915 fewer voters in Shaughnessy and an increase of 16,690 downtown — a geographic area he has dubbed a "power neighbourhood" for its potential to have a direct impact on the outcome of Saturday's civic election.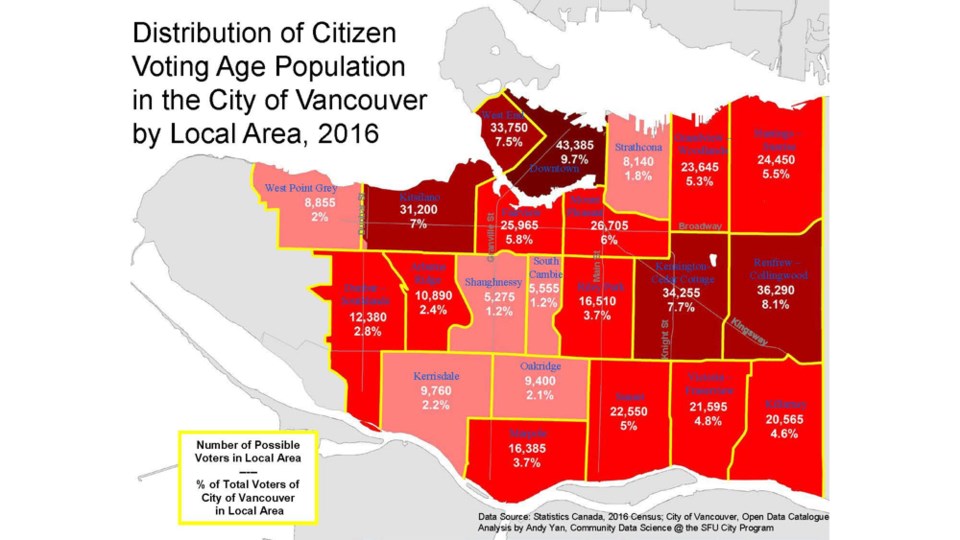 Other West Side neighbourhoods whose residents have historically voted for the NPA also saw decreases since 2006 — eight per cent in Dunbar-Southlands, seven per cent in West Point Grey, six per cent in Arbutus Ridge, two per cent in Oakridge and one per cent in Kerrisdale.
The only East Side neighbourhood to see a decrease in eligible voters was Strathcona, where Yan believes older multi-unit homes replaced by new single-family homes is part of the explanation for the loss.
Mount Pleasant, at 47 per cent, saw the second biggest gain in the city of voters. Yan said the increase was influenced by the development of the Olympic Village, in which hundreds of apartments were sold to buyers after the 2010 Winter Olympics.
In other neighbourhoods, Renfrew-Collingwood saw an increase in voters of 15 per cent and Kensington Cedar-Cottage climbed 12 per cent. Killarney and South Cambie saw gains of 11 per cent each.
Altogether, the data shows the majority of eligible voters are concentrated in downtown (43,385), Renfrew-Collingwood (36,290), Kensington Cedar Cottage (34,255) and the West End (33,750).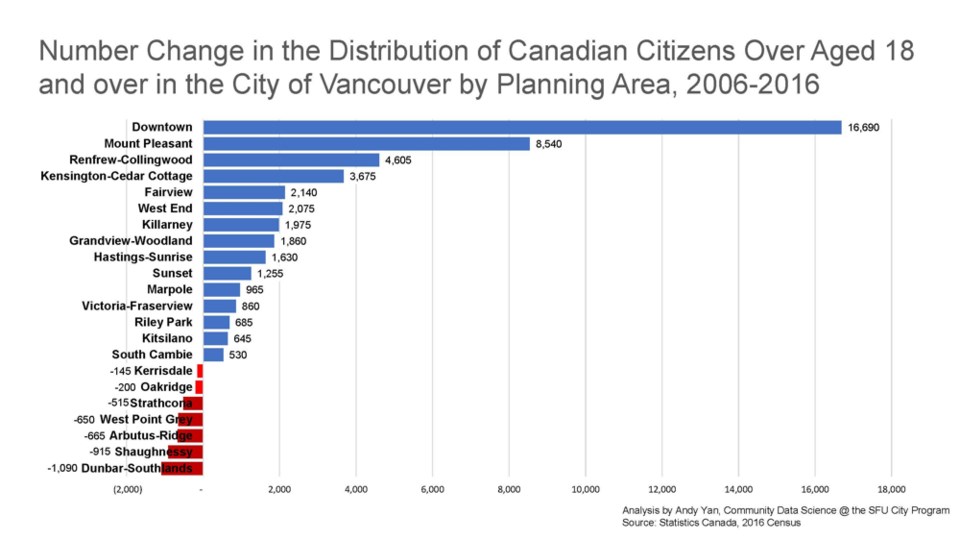 To give some context to those numbers, total ballots cast across the city in the 2014 election was 181,707. It was 144, 823 in 2011. Mayor Gregor Robertson and his Vision councillors won majorities in both elections.
What Yan's data doesn't show — and something he plans to track in a future analysis — is where those voters in Shaughnessy and other West Side neighbourhoods have gone. Some could have moved downtown or other parts of the city, some could have moved out and others may have died.
Yan is curious whether voters who moved downtown or to the East Side have taken their politics with them — and how many, for example, are renters versus owners, which can dictate a person's politics.
He expects the results of this election to answer those questions and reveal whether Vancouver is shifting from an East-West political divide to more of an East-West-Downtown triangle.
Yan will be paying particular attention to results downtown and in the West End, where provincially the ridings are divided by the NDP's Spencer Chandra Herbert (a former COPE park board commissioner) and the B.C. Liberals' Sam Sullivan (a former NPA mayor).
Also, in recent civic elections, Vision Vancouver has dominated polls downtown and the West End, except for pockets in Yaletown and Coal Harbour.
While Yan's collection of data captures a time when the city's politics was divided between the NPA and Vision Vancouver, this year's election is unlike any in the past two decades.
Mayor Gregor Robertson is retiring in a month and his party is not running a mayoral candidate. The provincial government imposed new campaign finance rules, several council incumbents are also retiring and many independent candidates with high profiles are seeking office.
"For this particular local election cycle, the past may not be prologue," he said, quoting a line from the Shakespeare play The Tempest.
No matter what the data suggests, Yan said, the key to measuring how powerful a neighbourhood can be in affecting an election is whether its residents get out to vote.
"You can argue that in Shaughnessy there's a much smaller number of voters," he said. "But then if they all come out to vote, it can counter a really large pool of prospective voters who don't vote."