Chief Coroner Lisa Lapointe announced Monday that 755 people have died in B.C. of an illicit drug overdose between January and November, a 70 per cent increase over the same period last year.
The death toll reached that level after a record-breaking November in which 128 people died, the highest number of deaths recorded in a single month in recent memory in B.C.
In Vancouver, the statistics show 164 people died in the first 11 months of the year. That's 30 more for the same period last year and 64 more than in 2014.
Police said an additional nine people died in the city last Thursday night, one of many troubling statistics that has Lapointe warning that December "is looking like a very bad month."
The synthetic narcotic, fentanyl, has been largely to blame for the carnage, with 60 per cent of the deaths between January and October in the province linked to the powerful drug.
Police in Vancouver have also confirmed that carfentanil, an opioid that is 100 times more toxic than fentanyl, was linked to the overdose death of a 39-year-old man last month in an East Side apartment.
"Clearly, illicit drugs are becoming increasingly unpredictable and increasingly perilous," Lapointe told reporters at a news conference in Victoria. "It may be that there has been more toxic fentanyl than usual circulating, or we may be facing the terrifying possibility of carfentanil being introduced broadly into the illicit drug stream, or the arrival of another particularly lethal analog of fentanyl."
In reviewing 325 of the fentanyl-related deaths this year, the B.C. Coroners Service found that at least one other substance — mostly cocaine — was present in 96 per cent of the cases. Alcohol, methamphetamine, amphetamine and heroin were other substances.
Men aged 30 to 49 accounted for the largest number of people who died this year. People were more likely to die inside, on a weekend and in Vancouver, Surrey or Victoria, the coroners service statistics show.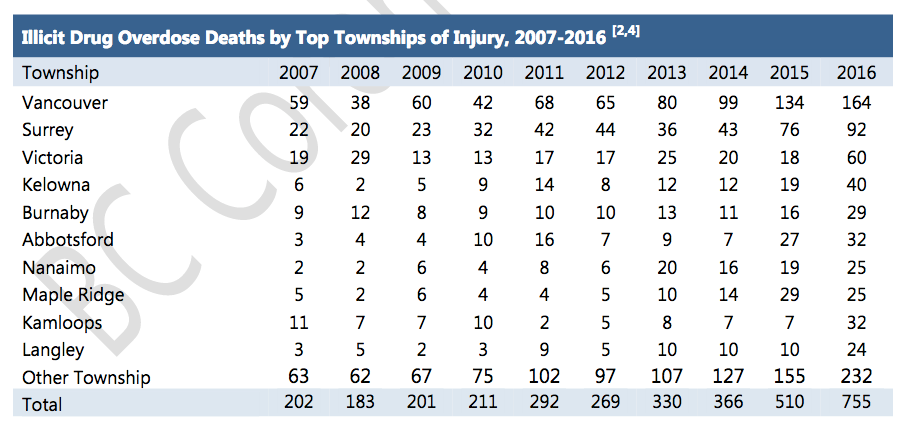 Lapointe said 12 coroners continue to collect detailed information on the deaths to help health authorities, emergency personnel and others better respond to the crisis and prevent deaths.
The information includes location of the overdose, mode of drug consumption and the presence or absence of naloxone at the scene. Also recorded is a victim's previous contact with a health authority, previous overdoses, medical history and whether the person participated in any treatment programs.
"The number of deaths we're seeing is heartbreaking, and everyone working on this issue across agencies and government is working diligently to save lives," said Lapointe, noting the provincial government recently opened "overdose prevention sites" for drug users to inject illicit drugs inside a facility and set up a mobile medical unit in the Downtown Eastside.
She also referred to the "broad national acknowledgement that a health-centred approach is necessary." Last week, the federal government announced it was overhauling a Harper government bill that made it difficult, if not impossible, for cities to open supervised injection sites.
The overdose drug statistics were released four days after Police Chief Adam Palmer led a unified plea from the mayor, doctors and his counterpart at the fire department to pressure the provincial government to provide immediate treatment for drug users.
"Right now, there's a huge gap in the system and it's failing those people who put up their hand and ask for help to get clean," the chief told reporters last Friday.
mhowell@vancourier.com
@Howellings