When Kate Palmer's disease flares up, this is how she describes her pain.
"My hands are on fire and the bones in my feet feel crushed. There's burning on the tops of my feet, there's stinging on my lower legs and I have aching under the armpit."
When it causes a spasm in her arm, "it feels like a snake is wrapped around it and crushing it," she says. "One day it was so horrific I thought I'd like to run my car over my arm because the pressure would be such a relief."
She knows people might be skeptical. How could she be in that much pain and not be writhing on the floor?
The truth is she might have spent the previous hours in exactly that position. It's her determination not to stay there that has earned her the 2019 Courage to Come Back award in the medical category.
Palmer has CRPS, a rather nondescript acronym for a condition that's been given an equally antiseptic name — Complex Regional Pain Syndrome.
"It's a progressive, neuro-inflammatory chronic pain condition that seems to be a result of dysfunction of the peripheral and central nervous systems," Palmer says. Nerves misfire in a cacophony of pain.
Called Reflex Sympathetic Dystrophy when she first showed symptoms after routine foot surgery 20 years ago, it's suspected to affect about seven per cent of people who've injured a bone.
The symptoms initially went away but, two years later when she was 22, she broke her wrist skiing. That's when one of the signs of CRPS became abundantly clear: pain that is out of proportion to the injury.
"It used to be believed that there was something wrong with people who described pain this intense," Palmer says. "They have never been able to figure out why one person develops this condition and someone else doesn't. If doctors listen to the description of the pain, it's distinctly different than the injury itself. With my foot surgery, you'd expect throbbing but not burning. Burning is nerve pain."
During two excruciating years of treatments, Palmer pushed through the pain and graduated top of her class in child and youth care at Vancouver Island University, completing her exams and papers orally, since writing or using a keyboard were impossible.
She changed her lifestyle, married and, with the disease in remission, had two children. It was five months after her third child was born that the disease unexpectedly returned with a vengeance. It has never left.
Palmer's doctor recommended opioids, but she refused.
"I was nursing my baby and I wasn't willing to give that up to the disease. It was trying to steal everything from me, and I would not let it steal that connection," she says. "And I had to be a parent. I had to function. It was more important to me to find ways to manage the pain than rely on those."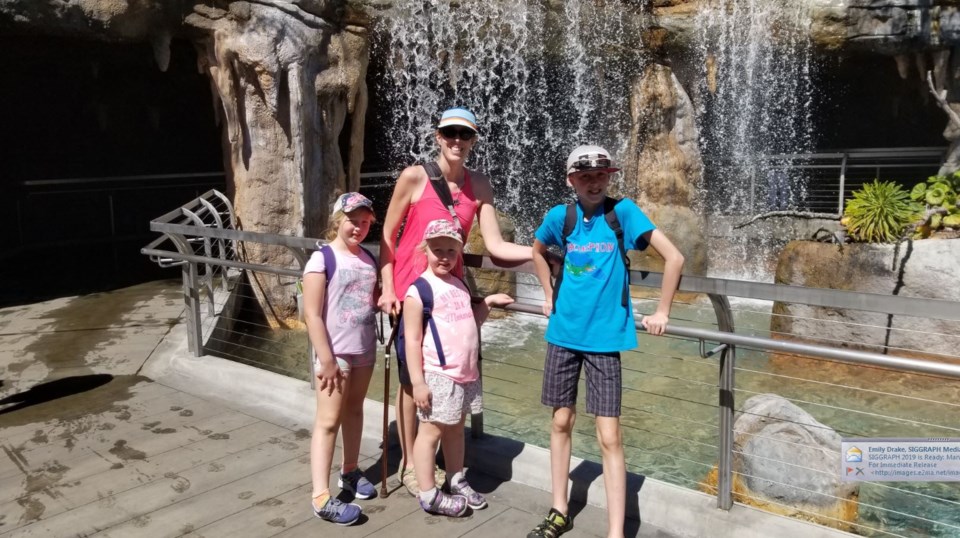 That was five years ago. Today, Palmer feels cut off from medical support. Doctors tried everything they could think of and, with no options left, she feels left on her own to cope. But she's not alone. Her husband, parents and in-laws have been incredibly supportive. She has a network of friends and, with fellow sufferer, Jen Morley, has founded the CRPS Hope and Awareness Foundation from their base in Nanaimo.
"There were a lot of days when I thought, 'Why me?' But then it was 'How can I make sense of it and give it meaning that will serve me better?' Asking 'Why me?' all the time isn't helping. Maybe it's because I'm strong enough. I'm a good advocate, I'm educated, I can do research. A lot of people with CRPS aren't functioning as well.
"Jen and I knew this anger, this frustration, had the potential to destroy us or we could turn it into energy that will propel us forward so we can make a difference."
Palmer has found ways to cope with the constant daily pain as well as its intense incarnations during flare-ups, which happen about every three months. "My biggest asset is distraction," she says. "I stay pretty busy and have things to focus on."
Although she has to dole out her energy carefully, she says the reality is she's in pain no matter where she is. "I can be in pain at home and feel isolated, not giving my kids the opportunities they deserve, or I can go out and do things. I might as well live… I can't always choose to serve my pain. There are other parts of me and I have to meet those other needs."
Forced to give up her career as a therapist, she says the psychological toll is more challenging than the disease itself. "Every single day there are reminders that my life is not the way I imagined it would be… I was a person who aimed for the stars and always did my best and achieved what I set my mind to. Feeling like I can't do anything really well any more is heartbreaking. I don't feel like I'm the best mother any more, or the best friend, or the best wife. I feel like the disease has stolen my potential to be the best person I could be.
"I'm caged. My passions, my mind, my joy are still alive, but I'm stuck in this body that doesn't work very well. I feel trapped and there's a lot of grief and agony in that. I don't look to the future all that much because I find it difficult that this is it, I don't expect it to be pain-free anymore."
Accepting that it was a chronic disease was traumatic. "When my youngest child was six months old, it was the first time it came into my consciousness that this is forever. I was lying there in pain and heard the baby crying. I got up and did what she needed me to do. I got through literally taking each day moment by moment and putting one foot in front of the next until I couldn't."
That's what people find so hard to comprehend — the constancy of the pain. If you have a disease such as cancer, there is pain and suffering as the medical system kicks into gear to cure it. But, in most cases, what follows is wellness. It's this hope of getting better that helps people endure the bad parts. What if you know you will have pain and suffering for the rest of your life?
The rate of suicide among CRPS sufferers is high; it's estimated that 20 per cent have tried to kill themselves while half have contemplated it.
"There have been many days when I've wondered if I'd have the strength to go on," Palmer says. "Not that I wanted to die, but do I have enough strength to get up and keep going knowing that every day is extremely difficult? I think about my three kids and I have to. And I want to for them. They need their mom and they need their mom to be the best she can be."
The Courage to Come Back gala is April 24.
For the past 20 years, the Courage To Come Back Awards have raised more than $16 million for Coast Mental Health to support people recovering from mental illness in the Lower Mainland, through housing, support services and employment. The awards celebration is a major fundraiser for Coast Mental Health, which believes that, through compassionate care and support, everyone can recover. More information at couragetocomeback.ca.